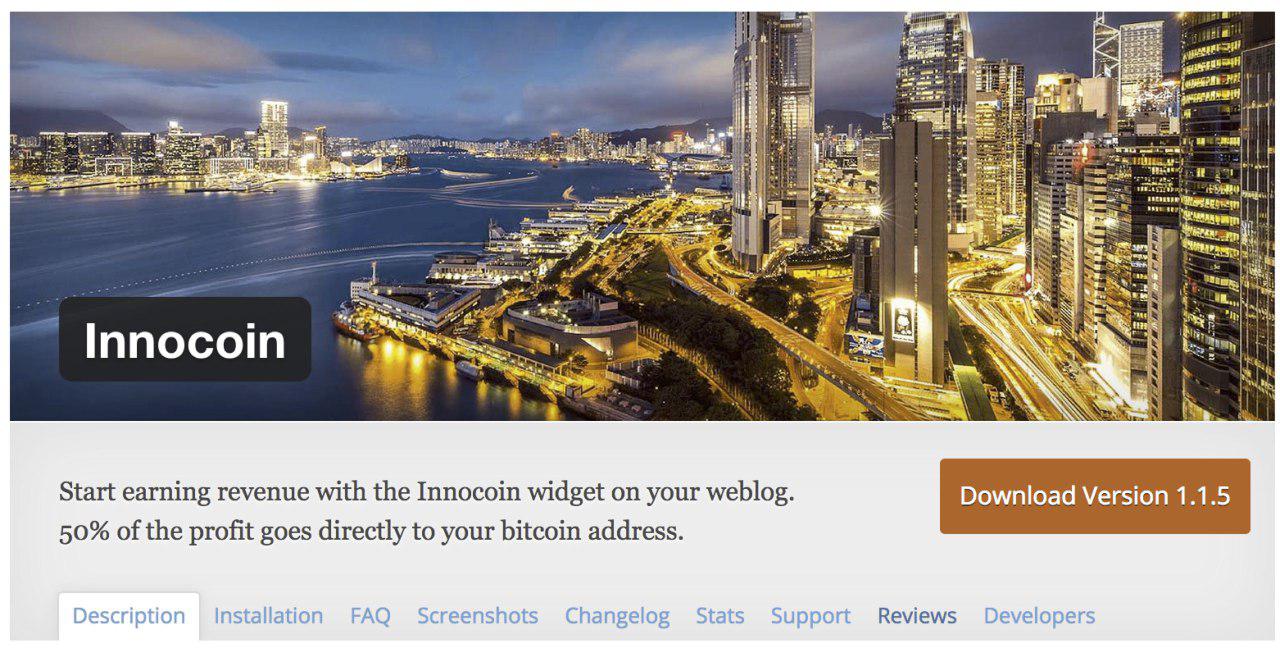 Altcoins
Innocoin Co-Founder Talks Details on Crypto Trading Service
---
Innocoin is a new crypto currency exchange service that allows visitors to buy altcoins with bitcoin, without making an account at an exchange. It is based on an affiliate model and the fee is split 50% with the website owner who puts the Innocoin widget on his site.
The widget is also available as a WordPress plugin. Webmasters can just download the plugin and enter their bitcoin address, email address and preconfigure desired currency pair, in order to get started.
Also read: CM Punk vs. Micky Gall: UFC 203 Bitcoin Betting Picks
Innocoin is an initiative of Dirk-Jan de Groot and Peter Reitsma. Bitcoinist sat down with Dirk-Jan, co-founder of Innocoin and front-end developer, to discuss the ins-and-outs of his project
---
Dirk-Jan Speaks on Innocoin
How did you get into bitcoin?
Myself personally I read this article on Wired in June 2011 on the silk road. The thing that caught my interest in that article was the reference to Bitcoin; an 'untraceable digital currency'. At that time the price was already going up very fast (I believe it was around $30) so I bought only a few. I did some experimenting, realised this was something big, and I then promised myself to buy some more at the first time the price would crash, which happened after the first Mt Gox panic, caused by breach of accounts that didn't have two-factor authentication. The price dropped back to something like 1 euro at that time. The other founder was pushed down the crypto rabbit hole by me in early 2016.
Why did you decide on creating a WordPress plugin?
Innocoin is a cryptocurrency exchange service. We have a widget configurator on our site at innocoin.com. This widget configurator generates an iframe with specific query parameters that you can embed on your website.
We think this is still too complex for WordPress weblog owners so we decided to create a plugin that can be installed from within the dashboard. This plugin is only changing the query parameters, but is in fact just pointing to the location of our widget on swap.innocoin.com; our widget server. This way we have the best of 2 worlds, the security of our SSL secured server and the easy of installing a plugin directly from the dashboard of WordPress.
So far this approach has been quite successful, and we currently have almost 200 downloads, and we have acquired some nice partners such as Ethereum Vietnam, icoined.com, buy-ether.com, sebfor.com and much more.
The feature that many partners like is that they can configure the background colour by choosing different themes. This means in theory the widget will fit graphically onto any website.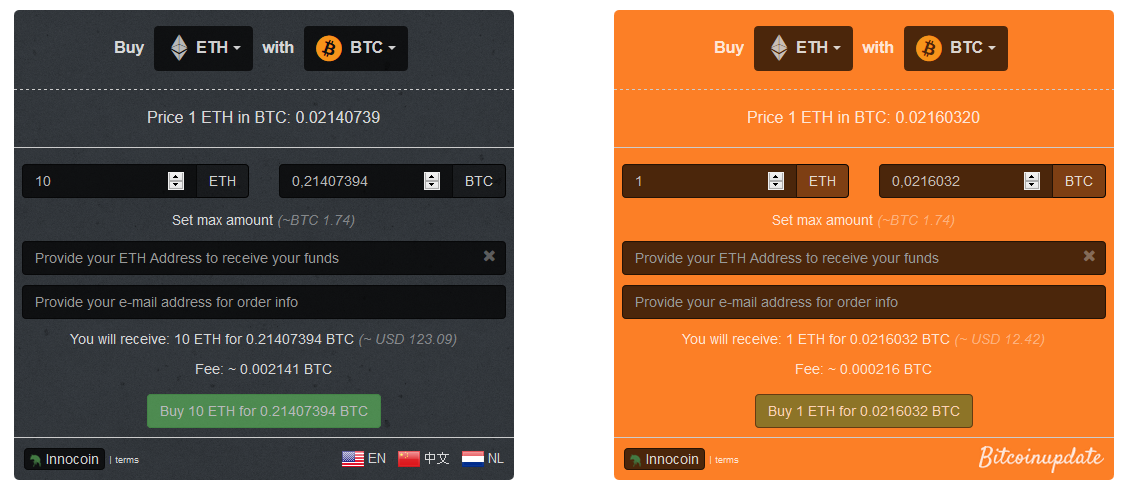 You just added support for ETC and Dash, do you plan on adding any more altcoins?
Yes, we plan to offer about 15 coins in total initially. We would like to offer coins like Bitcrystals, Counterparty and interesting Ethereum tokens such as DGD, Firstblood, Augur (REP), Plutus, Gnosis and so on. We will be adding new coins in batches of four in the coming weeks.
What is the max order?
We set the max order on 999 USD in Bitcoin.
Is the price that I see locked?
Yes. Under very extreme market situations, or when a user waits too long to fulfil the quote, the system might reject a transaction. In these cases, the customer gets redeemed 100%. Our automated redemption system offers the buyer to redeem himself. The buyer will receive a mail with a redemption link and then gives his Bitcoin address, and Innocoin will transfer back the Bitcoin. This only works once for a specific transaction.
Why do you ask for an email address?
We need the e-mail address to offer our automatic redemption process in case something goes wrong. Also, we send the buyer three emails to keep him up-to-date with the order process, to prevent unnecessary support questions. In those emails, the customer can find links to the relevant blockchain explorers as well as an order number and links to our telegram support groups in Chinese, English and Dutch.
What is the advantage to using Innocoin to using an altcoin exchange?
It is much easier. Not all people are full-time crypto diehards who want to trade to get coins. A service like Innocoin has a very low entrance barrier. This service is for people who like to read about a certain coin or token that appeals to them and then buy the token in the same place. For example, on buy-ether.com you can find elaborate manuals on how to install Mist and detailed instructions on how to use the widget to buy ethereum in Chinese and English. There is actual demand for this information, and some people consider it a service if there is a buying opportunity right there, even at a small premium.
Have you thought about adding the ability to sell altcoins too?
Yes, especially for Ethereum we want to be able to buy and sell. However, with our current system, we would have to run nodes for each coin, which is currently not necessary as we use Blocktrail (Bitmain) confirmation webhooks to send out the order process emails and to finalise the order. This takes additional resources that we haven't been able to prioritise just yet. The ideal system would be Shapeshift-like, where you could transact any coin to any coin.
What projects were you working on before Innocoin?
Peter and I know each other from a freelance job at a large corporation. I worked on several large and small projects as a front-end developer for over 15 years.
The past few years I experimented with mining using Cointerra, KNC Miner, Butterfly Labs, (which was not a good idea in hindsight as it cost more in devaluation then it raised) and investing and trading in altcoin (ico's) and developing alongside.
I like to work on graphical, data-driven, user interfaces. A project that recently caught my attention is Spell of Genesis of Everdreamsoft (EDS). In my opinion, the blockchain cards of that game will be a major success, independent of the success of the game. Those cards are not tied to a specific game and are in fact just rare and valuable tokens. For example, the Satoshicard, which recently changed hands for over 6.5 bitcoin, was initially issued 1000 times, but EDS decided to burn 800 cards, leaving only just 200 cards. The total collection of different SOG blockchain cards currently exists of 75 cards; all card artwork is made by different artists.
As the Satoshicard has a max of 200, there were only ever be max 200 complete collections of SOG blockchain cards. It seems like people are starting to realise just how valuable complete collections – and individual cards – will become, e.g. read tweets of Erik Voorhees and Trezor.
The smart thing about the collection is that they are often depicting exchanges and key players or events in the community, like for example there is a Kraken card, a Bearwhalen card, Bazaar card, Dash card, Ethereum card, Genesis card and so on. This is a great way to engage the community and to attract more (high net worth) collectors (such as exchange owners, who I assume like to own at least their own cards, but I also suspect complete collections).
Innocoin made a nice tool manage collections, as a contribution to the community, specific for people who need a power view at their collection. It has features such as export to CSV, pdf and the possibility to create selections that can be copied into slack or the telegram card trading group. There are also other great tools out there such as sogassets.com which can show the scarcity of each card.
Innocoin plans to add Bitcrystals (BCY) and Counterparty (XCP) to the widget soon to support the Spells of Genesis ecosystem because SOG is paving the way for blockchain based, digital game assets.
Do you have any investors?
We are self-funded and are always open to ideas for collaborations or suggestions.
How can we get in touch with you?
You can contact us through the contact form on innocoin.com. Also when you place an order, you will find a link to a telegram support group in your language. If you contact us there, we will usually respond very fast. Any past and future order issues were and will be resolved.
One major barrier to entry to altcoins is making an account at an exchange. As the barrier is slowly removed we could see increased interest in altcoins. With exchanges being hacked and time wasted dealing with orderbooks people are looking for alternatives ways to buy altcoins. The direction of trading is slowly moving to a more user friendly and decentral direction.
---
Thank you, Dirk-Jan, for taking the time to answer our questions. Bitcoinist will continue to follow the Innocoin project and will report on significant news stories as they become available.
How do you prefer to buy your altcoins? Let us know in the comments below!
---
Images courtesy of Innocoin.