Bitcoin is shrugging off links with the ongoing international WanaCrypt0r 2 cyber attack as the media struggles to work out who to blame.
---
WanaCrypt0r 2: Media Perpetuates Bitcoin Myth
Beginning Friday morning, 99 countries began losing control of huge sections of their IT infrastructure.
The alarm first became public after Spanish telecommunications giant Telefonica saw 85% of its computers infiltrated with Bitcoin ransomware. Screens displayed a demand for around $300 per machine to end the attack, which soon spread to countries around the world including the UK, where its public health service, the NHS, was targeted.
Comunicado de Telefónica sobre incidencia de ciberseguridad https://t.co/4WdjICfz0P

— Telefónica (@Telefonica) May 12, 2017
As more details have come to light, Bitcoin has taken a substantial publicity hit due to a combination of misinformation and sensationalism in the mainstream press.
UK publication the Daily Mirror published a form of explainer for readers about BItcoin as the attack spread, in which it described the virtual currency as "the money ransomware hackers are demanding from NHS."
Attack Fails To Shake Crypto Confidence
Not everyone was fooled by the kneejerk reaction. One response to the Mirror article reading "blaming bitcoin for ransomware is exactly like blaming the duffel bag for of cash for a kidnapping," yet markets clearly felt the pressure.
Having reached a high of almost $1870 earlier in the week, Bitcoin briefly saw a dip to $1655 in light of the attack, subsequently recovering to sit at around $1750 at press time Saturday.
Given the scale of the attack, such resilience is remarkable, perhaps due to an already emerging sense the real weakness lies in outdated IT systems.
In the hunt to find the source of the attack, Microsoft immediately came under fire, as its perpetrators appear to have exploited a Windows vulnerability to spread WanaCrypt0r 2.
This vulnerability first hit the headlines after hacker group the Shadow Brokers leaked a second batch of National Security Agency data in April.
Real Spotlight On Legacy Infrastructure
In the case of the NHS, which has seen doctors switch to pen and paper as a result of computers being outside staff control, running the Windows XP operating system would have made its network a 'sitting duck' for more modern attacks.
Despite Microsoft releasing security updates to minimize the threat from the Shadow Brokers leak, XP has not had official security updates made for several years.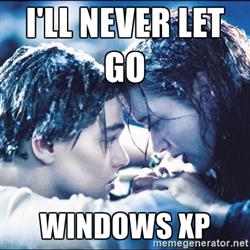 Outdated infrastructure has been easy prey for ransomware attackers in the past. The scale of the problem became evident in studies last year, which suggested the majority of both smaller and larger businesses were ill-prepared for such eventualities.
Data collected by Phishme in Q3 2016 showed that 97% of common phishing emails contained ransomware.
What do you think about the WanaCrypt0r 2 attacks? Let us know in the comments below!
---
Images courtesy of MemeGenerator, CoinMarketCap, AdobeStock