Because we lack knowledge of the future, we look into the past to gain knowledge of what lies ahead. Bitcoin investors are no exception to this rule, often observing historical trends as a way to predict what comes next for cryptocurrency.
Zack Voell, a market analyst at CoinDesk, made this much clear when he published tweet below.
Per the data from TradingView, Voell noted, Bitcoin dominance — the percentage of the cryptocurrency market made up of BTC — "nuked" right after the 2016 block reward halving. The metric fell from 98% to 94% in the five days after the halving, meaning that the aggregate value of altcoins trebled against BTC.
There is no guarantee the same will take place. But the analyst noted that with "ALT/BTC pairs currently making new lows," he's expecting a similar trend to take place in the wake of this upcoming halving.
BTC.D nuked right after the second halving. With a lot of ALT/BTC pairs currently making new lows, I think we might see the same thing this time. pic.twitter.com/vc6uTTVHfl

— Zack Voell (@zackvoell) May 8, 2020
This relative bearishness on BTC was echoed by Chris Burniske, partner at Placeholder Capital, who wrote in late April that he sees Bitcoin's dominance dropping, "which points to standouts of the long tail being the opposite of worthless."
Yet, the trend that was seen after the last halving may not pan out this time.
Bitcoin's The Only Game In Town
Things can change on a dime, but just a few days out from the halving, Bitcoin is the only notable crypto game in town.
As a prominent trader noted, the past week has seen a "marked decoupling between Bitcoin and altcoins." This relative outperformance, he explained, is a sign that fiat "pours into it and participants cycle out" of altcoins for BTC.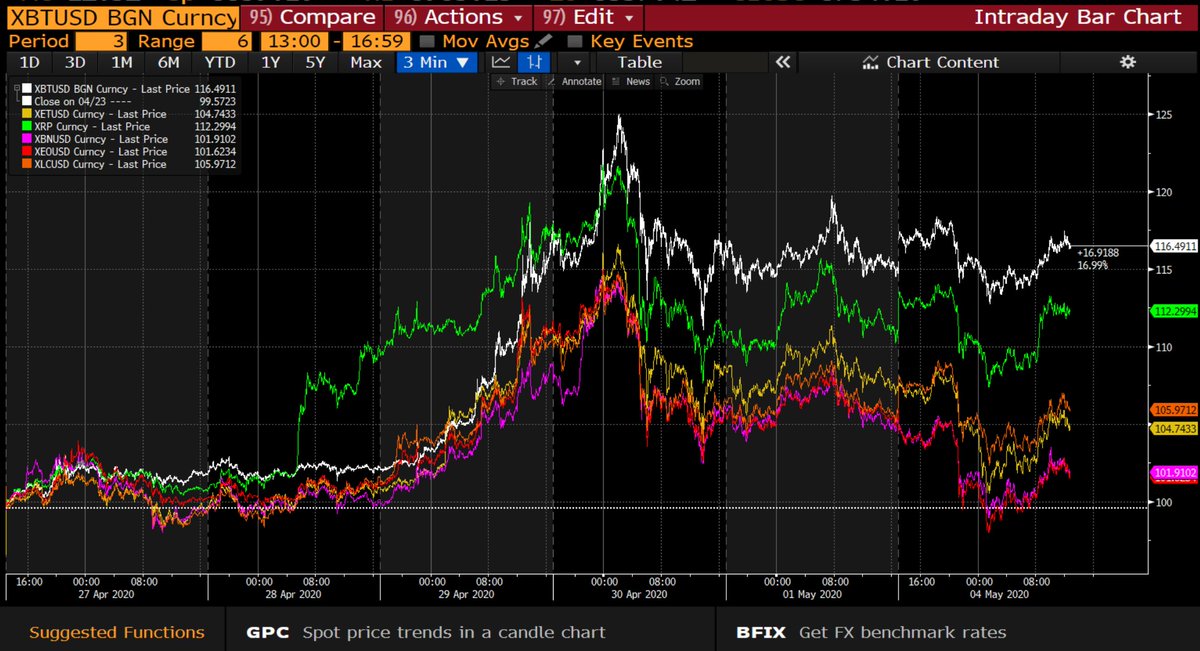 This trend of altcoins underperforming is unlikely to change, especially as prominent investors like Paul Tudor Jones shill Bitcoin, and BTC only,  while the on-chain metrics of other coins flip bearish. 
Investors Are Aware of the Weakness of Altcoins
Back then, back in 2016, it was much more of a wild west in the crypto space: millions were being raised for random ICOs, Bitconnect launched, and more. In short, investors were much less educated about the risks of altcoins than they are now.
Heading into the halving in a few days, investors are aware of Bitcoin's fundamental strength over altcoins, making it more likely that BTC will see the bulk of the gains.
The head of technical analysis at crypto research firm Blockfyre touched on this, explaining that he expects any volatility in Bitcoin to "rekt" altcoins before, during, and after the halving.
He continued that from how he sees it, altcoins are always a "game of musical chairs" because they rally for reasons not based in fundamentals:
"The reason the alt pumps are unconvincing is because they have followed the same patterns. IEO's, Interoperability, privacy coins moving together. It's coordinated as it has been the last 3 years instead of all ships rising together."
Not to mention, BTC dominance is currently printing signs it wants to surge higher from a technical perspective
The aforementioned Blockfyre analyst recently made this argument:
"A potentially very painful situation developing if dominance breaks out towards the next resistance. Each 1% rise in BTC.D roughly equates to a 6-12% drop against the BTC pairings for altcoins. Hard to imagine that no matter what BTC does that alts dont see a lot of pain," he wrote in reference to the chart below.
Featured Image from Unsplash