Bitcoin could undergo a strong correction in the weeks ahead as it forms a bearish short-term to medium-term outlook. This is compounded by a futures market positioning "overhang" noted by JP Morgan analysts.
Historically Accurate Analyst Fears a Strong Bitcoin Drop
Bitcoin could undergo a strong drop towards $10,000 once again, says the trader who in the middle of 2018 predicted the bottom price to a 1.5% accuracy. The analyst noted that the cryptocurrency is forming a similar chart formation to that seen prior to the March capitulation crash:
"btc starting to look it did in feb this year before we had that final capitulation low. something to keep in mind, plus weeekly sp500 close wasnt too crash hot, kind of looks like a double top and a test of 3200 range lows on the cards."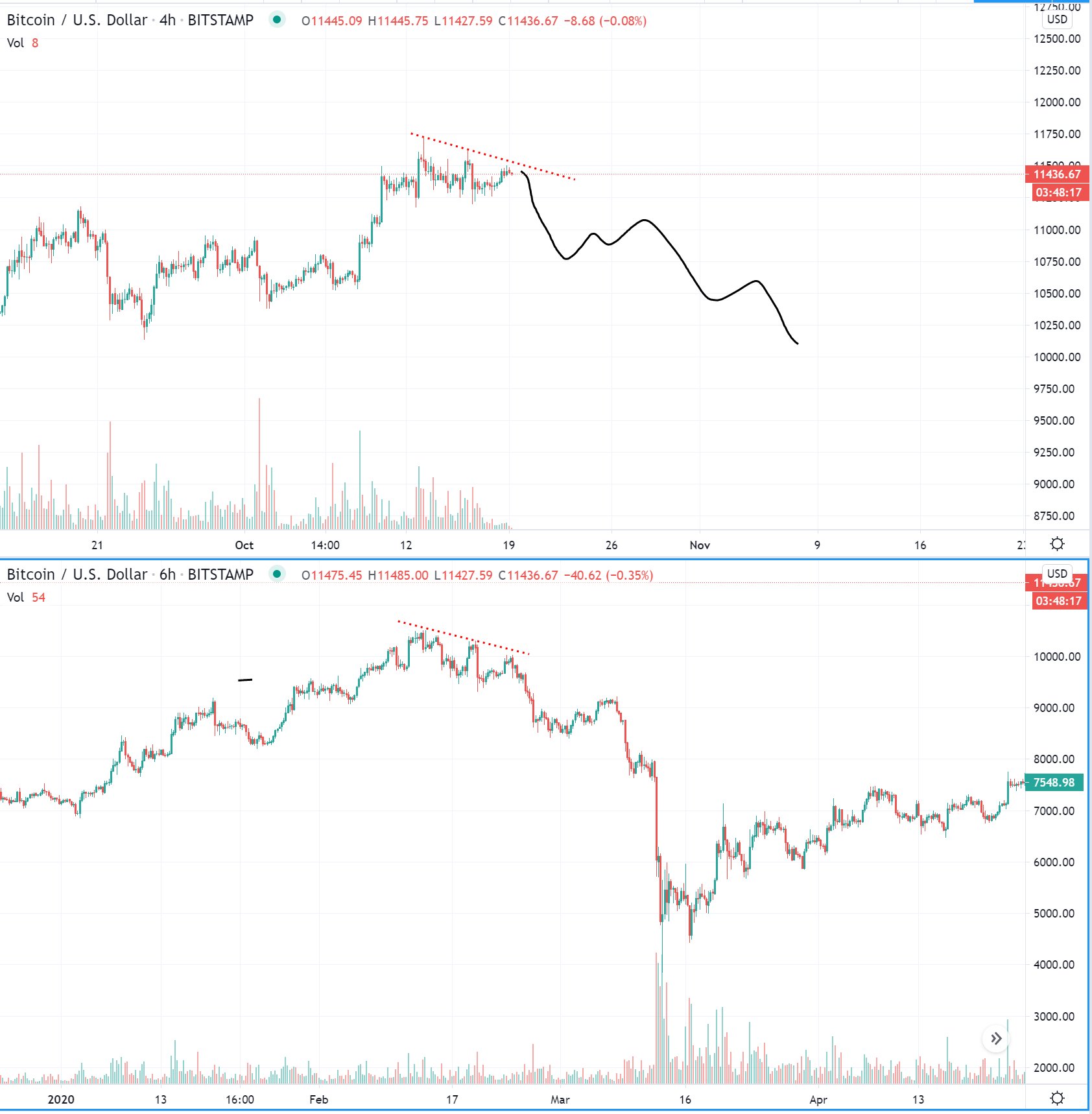 Chart of BTC's price action since the end of September and a chart of BTC's price action since the start of 2020
with analysis from crypto trader SmartContracter. Source: BTCUSD from TradingView.com
He isn't the only one predicting Bitcoin will see a short-term retracement. 
A team of JP Morgan analysts recently stated that the leading cryptocurrency is likely to slide lower as it faces some fundamental pressures. These are Bitcoin's intrinsic value starting to lag behind price action and an "overhang" of long positions on leading Bitcoin derivatives exchanges:
"The JPMorgan strategists said they calculated an intrinsic value by effectively treating Bitcoin as a commodity and looking at the marginal cost of production."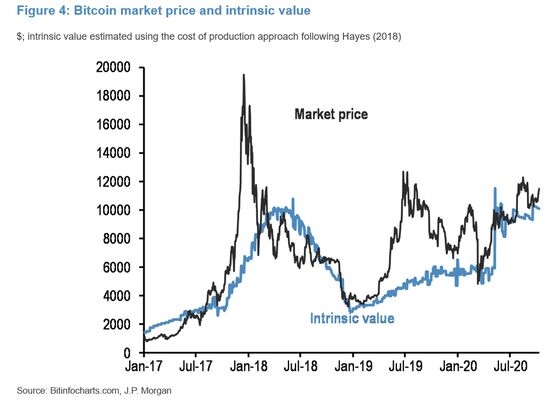 Chart of BTC's price action since the start of 2017 with an instrinsic value analysis by JP Morgan analysts.
Long-Term Trend Still Favors Bulls
The long-term trend still decisively favors bulls, analysts say.
In a speech/letter, the IMF's new managing director Kristalina Georgieva said that the world's monetary and economic system is facing another "Breton Woods Moment."
Raoul Pal, CEO of Real Vision and a former hedge fund manager, says that this is a sign of incoming fiscal stimulus that may boost Bitcoin: 
"Talking of Bretton Woods, this IMF article alludes to a huge change coming but lacks real clarity outside of allowing much more fiscal stimulus via monetary mechanisms… Fiat globally will be worth less versus hard assets. And that means that gold and in particular #Bitcoin will become THE way to circumvent the system of ever lower value. It also create incentives systems for other nations to opt into a hard currency system to attract capital."
Pal thinks that the leading cryptocurrency could hit a new all-time high this market cycle as fiat currencies are debased en-masse
Featured Image from Shutterstock
Price tags: xbtusd, btcusd, btcusdt
Charts from TradingView.com
Analyst Who Called 2018 Bottom Fears Bitcoin Will See Steep Drop