The global Metaverse market size reached $48 billion in 2020 with a projection of reaching $800 billion by 2025. The total Metaverse market size may reach 2.7x that of just gaming software, services, and advertising revenue.
But as we're fast approaching the democratization of the Internet and web3, the capacity of Blockchain 2.0 to offer a pragmatic approach to solving real-world business is being put to the test. Functionality, scalability, and interoperability are key here.
Apexaverse sits at the intersection of the Metaverse, P2E, Web 3.0, and NFTs, creating a diverse and dynamic ecosystem that is always interactive and interacting, allowing players to explore, combat, cooperate and build their skills. While profiting from it.
A community and societal metaverse 3D games
We created Apexaverse in a way that will not only support the game catalog, launchpad, token with staking capabilities, and NFTs, but will entwine every aspect. It was our dream to create a project in which staking that you do personally can affect the game world's history for everyone.
Tim Jones highlighted that the main goal was to realize our vision of united cooperation between the community and developers to make the platform suitable for both old and new game lovers. It will be a platform for everyone where you can have fun while you earn from it. We will be able to get our first game demo ready and then invite our community to test it out, give us feedback, and become part of our journey.
The platform will be powered by $AXV which powers the platform. All token holders will have a voice in deciding how the development goes on the platform.
Apexaverse is simply the first community P2E 3D game platform to be based on ADA, the native token of the Cardano blockchain, and to allow users to be able to play, create, stake, and earn. Members of the community who are only interested in staking and NFTs will hold the same authority as those who raid for loot and glory in our multiplayer RPG games.
In addition, the Apexaverse developers work closely with IOHK, the prestigious company founded by Charles Hoskinson, who is one of the founders of Ethereum and the co-founder of Cardano.
A highly anticipated ICO
You should hear about the $AXV in the coming weeks, and for good reason, it is the utility token of the Apexaverse platform that will be launched very soon via an ICO (seed sale). This ICO will be divided into various parts:
A seed sale
A private sale (round 1)
A private sale (round 2)
The benefits of taking part in the Apexaverse ICO
One of the main advantages of owning $AXVs is having the opportunity to participate in upcoming Launchpad events on Apexaverse.
But that's not all. It will also be possible for those who own $CLAP to participate in Apexaverse in Launchpool (Stake-To-Earn) via our staking platform.
As we all know, one of the best ways to make money in the crypto space is to be present at the launch of promising projects.
Signup on our WAITLIST to be able to get notified when our sale starts.
Tokenomics
Token Distribution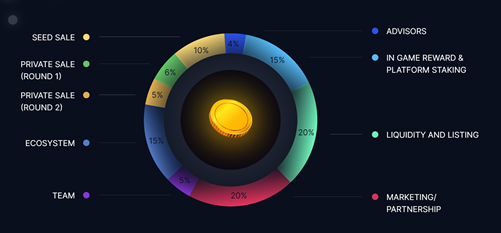 A solid and transparent team
The Apexaverse team is as solid as it is transparent (members are accessible via their LinkedIn accounts). It is currently composed of more than 15 people who work on the project daily.
Here is a part of the team:
If you have not yet found the area of the company you wish to positively impact with your investment, you can learn about the Apexaverse ICO in the meantime via the project's social media platforms, which is where all announcements will be made.
Join our community for updates: