The meme coin landscape has changed very much since Dogecoin (DOGE) emerged. Memecoins have evolved from being tokens that can offer a few utilities on top of being internet memes. Dogecoin (DOGE) set the template for meme coins after its creation, and because of its success, it inspired the creation of several other meme coins. Today there are thousands of doge-inspired meme coins, most of which get buried beneath the legacy of Dogecoin.
Big Eyes (BIG), the new meme token in the market, is selling stage 5 at record speed. Can the cat beat the dog?
Shiba Inu: Is It A Dogecoin killer?
Shiba Inu(SHIB) was launched anonymously by a person with the pseudonym Ryoshi and is a little bit derivative of Bitcoin's creator, Satoshi Nakamoto. When Shiba Inu launched, nobody thought it would be anything serious for several reasons. Firstly, it came out with an outrageous token supply, and on top of that, no one knows the creator, unlike Dogecoin. So crypto enthusiasts were sceptical, jumping in head first. Half of the token supply was airdropped to Ethereum's co-founder, Vitalik Buterin, and as soon as the meme coin began to grow, he donated it to an Indian COVID-19 relief project.
The token also got support from the likes of Elon Musk. SHIB became the best-performing token of 2021 and was praised for making millionaires overnight.
The SHIB team is ever-growing and is constantly building the community, and in addition to the DeFi innovations, it is looking forward to building a metaverse where it can further bring its community together to take charge of the growth.
Big Eyes Coin: Cuteness Is The New Currency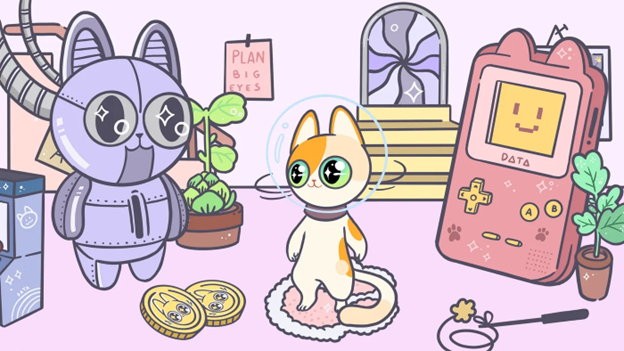 Big Eyes Coin (BIG) is the latest and most hyped project in the cryptocurrency market at the moment. The new meme coin is regarded as a revolutionary token and would set a precedent for several trends to come shortly. It has performed phenomenally well in its presale, raising $7.43M so far.
Big Eyes Coin uses a cute-eyed cat as its mascot, unlike the rest of the market, which has been accustomed to using dog memes. This cat meme is a statement move, and the project hopes that it can inspire several other emerging coins to follow this direction. It has built a solid community on social media platforms.
Meme coins are mostly about the level of fun the community can derive from them, while other forms of wealth creation stay active. In addition to using DeFi as a tool for wealth creation, the project would regularly host community events, contests, campaigns, and more, to continue to build on its evidence-based hype.
Big Eyes is a community-driven project, a model we haven't seen with top meme coins despite claiming to be community-focused. This model will enable the BIG token to grow massively, considering the holders' success is being placed back into their hands, and they can collectively make decisions that better the project.
To Sum Up
Big Eyes Coin's (BIG) NFT club and its ocean preservation projects make it a better option than Shiba Inu. To celebrate its presale success, Big Eyes Coin has come up with an exciting offer.

Use 'EYES9739' to get bonus coins!
Click on the links below to be a part of the community!
Presale: https://buy.bigeyes.space/
Website: https://bigeyes.space/
Telegram: https://t.me/BIGEYESOFFICIAL
Disclaimer: This is a paid release. The statements, views and opinions expressed in this column are solely those of the content provider and do not necessarily represent those of Bitcoinist. Bitcoinist does not guarantee the accuracy or timeliness of information available in such content. Do your research and invest at your own risk.