Big Eyes (BIG) has been expanding at a fantastic rate in the past few weeks, as its presale has racked up about $8.5 million in token sales since September. The platform is moving to compete with top NFT projects Solana (SOL) and Enjin Coin (ENJ), as its users eagerly anticipate its NFT club launch later in the year. Here, we present a short review of the coins as they stand.
Solana (SOL)
Solana (SOL) powers the Solana network, a multifaceted protocol that provides solutions to a broad range of trading constraints in the cryptocurrency market. The platform was launched in 2018 and has since been a favored substitute for Ethereum and other powerhouse crypto platforms.
Solana's (SOL) extensive use of smart contracts contributes significantly to its speedy response timeframes in processing user transactions. Its hybrid protocol, comprising a Proof of Stake and a Proof of History protocol, ensures less energy is spent processing and storing blockchain transactions, leading to fewer network charges. These features make the network a more effective blockchain solution than Ethereum.
Solana (SOL) also hosts several DeFi applications and DEXs, accommodating native tokens and a well-developed NFT platform where users can monetize their digital content and secure them on smart contracts. These promote sustainability and create a one-stop solution for many traders and investors in the crypto space.
The official token on Solana's network is SOL, which serves as fuel for the platform and as a governing token for decision-making. It sells for about $30.64 on CoinGecko.
Enjin Coin (ENJ)
Enjin Coin (ENJ) is primarily a GameFi project, which features several play-to-earn gaming software. On the other hand, its users extensively consume NFTs, as they are the main objects used on most GameFi platforms.
While Enjin Coin (ENJ) is prominent in the GameFi sector, it is also a top player in the NFT trade sector. The NFT platform features tokens created by developers for use in the games and allows users who would like to tokenize their gaming experience and create tokens from their various digital content.
Enjin Coin (ENJ) allows users to move their assets from one gaming platform to another. This way, they can grow their decentralized wallets instead of maintaining several wallets on separate gaming protocols at once. Before their assets can be moved, the users must convert them to ERC-1155 tokens. The ERC-1155 standard allows users to define both NFT and non-NFT assets, thus allowing them to be transferred throughout the gaming platforms.
The Enjin Coin (ENJ) platform is powered by its native token, which provides real-world value to minted NFTs. It sells for $ on CoinMarketCap.
Big Eyes (BIG)
The Big Eyes (BIG) presale will end in a few weeks, as its 200 billion tokens will soon be sold out. The project has generated over $8.5 million in less than six weeks, and there's no saying where the token might get.
As stated above, the developers are working on launching the platform's NFT club, Sushi Crew, which will help add more value to the project and keep it relevant in the cryptocurrency market. The NFT marketplace will feature tokens already minted for users by the developers while allowing the users to create their own NFTs and secure them with smart contracts. The NFT club won't be charging for any transactions carried out on it, as the developers plan to protect users from the high gas fees Ethereum charges.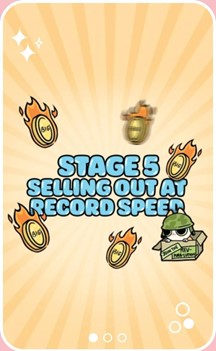 News from the team is that UNISWAP will soon feature Big Eyes (BIG). Another important feature the developers are working on is getting the BIG token listed on a decentralized exchange. This will increase its user base, as more users will be able to access the platform if the coin is listed on decentralized exchanges.
The presale is almost over, though there is still time to get your BIG tokens. Follow these links to buy your tokens and stay up-to-date with news from the Big Eyes (BIG) team:
Presale: https://buy.bigeyes.space/
Website: https://bigeyes.space/
Telegram: https://t.me/BIGEYESOFFICIAL
Disclaimer: This is a paid release. The statements, views and opinions expressed in this column are solely those of the content provider and do not necessarily represent those of Bitcoinist. Bitcoinist does not guarantee the accuracy or timeliness of information available in such content. Do your research and invest at your own risk.