One of the biggest challenges that crypto users are facing today is the fact that they have a hard time finding a reliable app where they can swap crypto assets.
There's no denying the fact that they need massive convenience and the good part about it is that there are a few apps that can provide you with a decent crypto swap experience.
That is exactly what we are going to discuss in this article. We'll be taking a look at a few crypto swap apps that you will hear about in 2022 and discuss their services. In the end, we'll see which one will be the best pick for you. Let's start breaking down the details.
Uniswap
Uniswap is a crypto swap app that is likely to have a massive breakthrough in 2022. This platform was established in 2018. Now, unlike ChangeNOW, Uniswap has a bit more complicated interface, which means that it will take some time for you to get used to it.
It is built on the Ethereum network, meaning that gas fees will be charged. Crypto wallets are supported and Uniswap accepts some of the most popular wallets on the planet, which is a good thing.
Registration
When it comes to registering an account at Uniswap, the app has made sure that it provides you with massive flexibility. That is why it does not require you to register or verify an account. You can instantly dive into the trading journey and buy, sell, or swap crypto. All you have to do in order to start trading is to connect your wallet to the platform.
Privacy
Considering the fact that you don't need to register at Uniswap, you can rest assured knowing that your privacy will be at the highest level. You won't have to worry about private information being misused as this is a highly decentralized app.
Security
Speaking of decentralization, Uniswap is among the largest decentralized apps, which is a good thing as it means that your security will always be at a high level. Not only that, but the app utilizes the latest security systems to ensure that your trading experience is safe. However, that doesn't mean that you shouldn't take some of this responsibility on your side.
Pricing
To estimate the service pricing, it's important to remember that Uniswap runs on the Ethereum network. This means gas fees will be charged for transactions. In many cases, gas fees can cost between $30 and $50, which means that if you do small trades, they are not worth it as gas fees will take a fortune off the deal.
Additionally, you will be charged with Uniswap's own fees, which are divided into the following tiers:
Very stable pairs: 0.01% fee
Stable pairs: 0.05% fee
Most pairs: 0.30% fee
Exotic pairs: 1% fee
Summary
The good thing about Uniswap is that it is the perfect pick for those that trade in high volumes. The fact that it does not require you to register an account is good as the trading process is simplified. Any ERC-20 token can be traded here and many of the largest cryptocurrencies are accepted at this platform, except for Bitcoin as it isn't built on Ethereum.
PancakeSwap
The second crypto swap app on this list is PancakeSwap. Apart from the rather unique and interesting name, PancakeSwap also has a few interesting services which lead us to believe that this is one of the platforms that you will definitely hear about in 2022.
There are around 2.8 million users on this platform, all of which trust its security and are more than happy to buy, sell or swap crypto here. Below, we've shared some extra information on its most important features.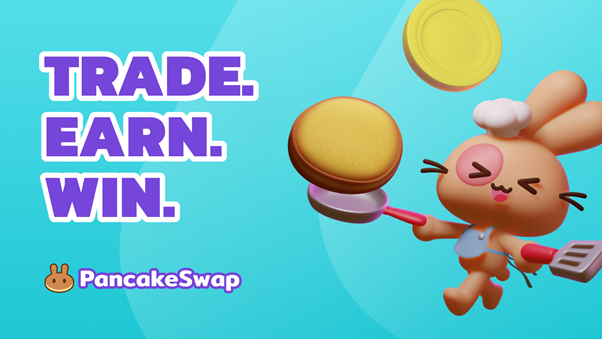 Registration
Registering an account at PancakeSwap is not needed. If you wish to trade here, all you have to do is connect your wallet. The good thing about PancakeSwap is that it supports numerous wallets, including the likes of Binance Chain Wallet, SafePal, MetMask, Trust Wallet, etc.
Since you do not have to register an account here, verification is not needed as well. Once you connect your wallet, you will be ready to start your trading journey here.
Privacy
PancakeSwap values the privacy of its users a lot. As a decentralized network, you can rest assured knowing that your privacy will remain at the highest level when you buy, sell, or swap crypto. Swapping crypto is the best feature of this app and you can complete it within seconds.
Security
In terms of security, PancakeSwap has never been hacked, which makes it a very secure network. The only real threat to the platform is related to impermanent loss in farms, which happens when you provide liquidity to the liquidity pool, but the value of the assets changes after you make the deposit.
Pricing
The fees that this network is charging are reasonable – 0.17% are returned to the liquidity pool as a reward. Then, 0.03% is sent to the Treasury of PancakeSwap and finally, 0.05% is sent towards CAKE buyback and burn.
Summary
An interesting fact about PancakeSwap is that this network was originally designed to be an exact copy of Uniswap. However, over time, it managed to grow and branch out and in doing so, it made a name for itself. The only area in which it needs some type of improvement is maybe security, but thanks to the fact that this network offers other great services, it definitely has the potential to make a massive boom in 2022.
ChangeNOW
Last but not least on our list is ChangeNOW. It's going to be one of the most popular crypto swap apps in 2022. It has been operating since 2017 and over the years, it managed to establish itself as one of the most secure and most trustworthy crypto apps on the market.
As we are about to see, one of the features that make ChangeNOW stand out from the crowd is the fact that it does not have any trading limits and allows users to instantly buy, sell, or exchange their digital assets.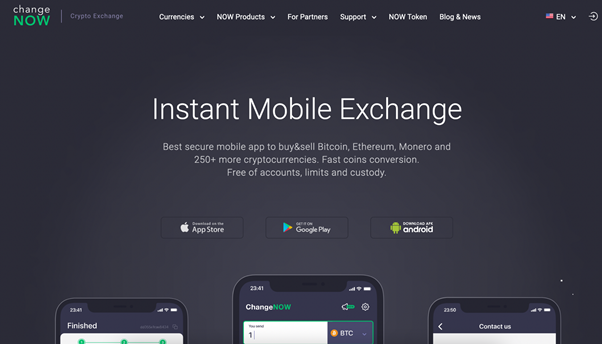 Registration
Many crypto swap apps require you to register and verify your account before you can start using their services. While the process of registration is in fact fast and simple, verifying your identity can take some time as they need to review the documents. That is not the case with ChangeNOW crypto swap app. You can make swaps without breaking a sweat and once you do, the funds will be sent to the wallet that you provided.
Privacy
Considering the fact that ChangeNOW does not require you to provide it with any sensitive details that can endanger your security, it is safe to say that this platform values your privacy a lot. Now, it is worth noting that in its Privacy Policy page, there are some details that give ChangeNOW the authority to collect personal information and use it to provide better services, but since you don't provide a lot of intel like that, you don't need to worry about it.
Security
ChangeNOW utilizes the latest security systems on the market to make sure that you are secure while swapping crypto. However, it is worth noting that some of that responsibility falls upon you as the platform is not responsible for user accounts or funds.
Pricing
Network fees are already included in the exchange rate. The fee depends on the type of exchange rate you choose – a fixed rate or a classic rate. Fixed rates remain the same during the exchange, allowing you to get the exact amount displayed at the beginning of the swap. Classic rates fluctuate as you proceed with the exchange, reflecting the best rate on the current market. All other services at ChangeNOW are free. As for buying crypto, the app supports more than 60 fiat currencies and you can complete a transaction with VISA or MasterCard.
Summary
ChangeNOW is the perfect app for someone who is looking for a simple platform where they can buy, exchange, or sell crypto effortlessly. Not only is the interface very simple, but ChangeNOW does not require you to register an account to enjoy its services.
Bottom Line
As you surely noticed, all three crypto swap apps have pretty decent features and they are exactly the reason why they are likely to make a massive impact on the market in 2022. Out of these three, ChangeNOW, in my opinion, has the highest potential for this year as it checks out in every field that is important to the users – security, privacy, ease of use, low fees, etc. It also accepts numerous fiat currencies, which is a massive benefit as it provides you with great flexibility in your trading.
Registration required
Fees
Fiat supported
Uniswap
No
Ethereum gas fee: $30 to $50

Uniswap fees: 0.01% – 1%

No
PancakeSwap
No
0.17% to the liquidity pool

0.03% to PancakeSwap treasury

0.05% to buyback and burn

No
ChangeNOW
No
From 0.5%
Over 60 fiat currencies