Shiba Inu (SHIB) has been at the forefront of meme coin innovations for a long time, and there is a very low possibility that it will end anytime soon. When Dogecoin launched the meme coin narrative, the asset class was made to exist for fun without any utility additions to its functionality. However, Shiba Inu was the first meme coin to revolutionize that narrative and make meme coin more relevant in terms of functionality. In 2022, the network also announced that it was introducing its metaverse, a worthwhile addition to its existing list of utilities. Shiba is also pushing the boundary for industry innovations, and we see news of the meme coin being accepted as a means of payment in some web2 services.
On the other hand, Dogeliens (DOGET) is a new cryptocurrency looking to join Shiba in this quest to make the metaverse better accessible, profitable, and available to people in the web3 community. The meme coin is currently on presale, and as much as it offers the opportunity for people to make the best of their experiences. It also allows users a huge profit potential through its below-market price offerings.
Shiba Inu (SHIB): The King of Meme Coins
Shiba Inu (SHIB) and Dogecoin are the two major meme coins topping the chart in the crypto market. They are both dog-themed meme coins. However, while Dogecoin was introduced in December 2013, Ryoshi, a pseudonymous person or organization, introduced Shiba Inu in August 2020. The meme coin was introduced as a project with the intent of beating the parody narrative for meme coins. Although Siba Inu offers the usual fun and entertainment that comes with most meme coins, it still offers some exciting features and utilities, like its ShibaSwap and metaverse currently in the works.
SHIB is a cryptocurrency intended to compete with Dogecoin on Ethereum (DOGE) and provide more for users than DOGE offers presently. Similar to DOGE, SHIB has a one quadrillion coin starting supply intended to be abundant. Like many others, the meme coin is sold at a relatively low price, allowing users to join the community much easier. Other initiatives that the Shiba Inu ecosystem provides for its users are a decentralized exchange platform and an incubator for NFT art.
Shiba's price significantly increased in the past weeks following the DOGE pump. And although the market is currently down from the FTX crash, Shiba Inu is a worthwhile long-term investment option for many looking to stay invested in the cryptocurrency market.
Dogeliens (DOGET): Meme Coin has Large Bark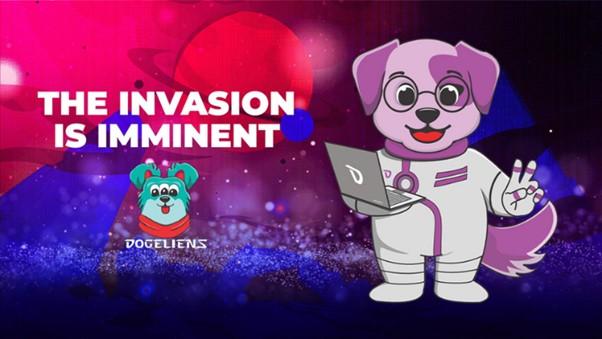 Dogeliens is a new meme coin project looking to launch soon on the Binance smart chain. The meme coin intends to introduce essential meme coin utilities like the metaverse and NFTs while adding additional DeFi utilities for its users. The DOGET native coin for the protocol will power the entire ecosystem. Amongst many other integrations, a crypto education hub named Barkington University will be a part of the Dogeliens community and will be targeted toward educating users on the details of the web3 system.
Barkington University, as its name implies, will concentrate entirely on instructing students in the application of encryption and fostering their digital literacy as well as some fundamental subjects of arithmetic, science, reading, and writing. Another noteworthy integration is the charitable contribution that the system intends to implement. Dogeliens wants to provide 3% of monthly transaction fees to charitable donations and contribute its quota to making the world a much better place.
The DOGET token is selling fast on presale, and joining now would come with the perks of being early. Click here to enter on presale or follow the button below!
For more information on all things Dogeliens:
Presale: https://buy.dogeliens.io/
Website: https://dogeliens.io/
Telegram: https://t.me/DogeliensOfficial
Disclaimer: This is a paid release. The statements, views and opinions expressed in this column are solely those of the content provider and do not necessarily represent those of Bitcoinist. Bitcoinist does not guarantee the accuracy or timeliness of information available in such content. Do your research and invest at your own risk.