There are a lot of cryptocurrencies in the market, but only a handful of them have become household names. Within the crowded market, some cryptocurrencies have attained a level of success that is incomparable to the rest of the market, and users always expect them to do well. Vita Inu (VINU) and VeChain (VET) have achieved this, and even when the crypto market is struggling, they perform well enough to maintain the faith of their users. Dogeliens (DOGET) could be the next name to join this exclusive club.
Dogeliens (DOGET): The Next Big Meme Coin
Dogeliens (DOGET) is new in the meme coin market, but it's arguably the best option for anyone looking to purchase a meme coin right now. Based on man's best friend, Dogeliens (DOGET) wants to provide users with a meme coin that has a lot of utility and provides a lot of fun. Dogeliens (DOGET) is also keeping up the good reputation meme coins have for doing charity work, and users will have the opportunity to vote on the charities that receive weekly donations from the Dogeliens community.
Dogeliens (DOGET) wants to provide free education to users because this should be a basic human right. In addition to the education they will provide about cryptocurrencies and the crypto industry, community members can also take courses on reading, writing, mathematics, and geography. Everyone is welcome at the University of Barkington, and there's a lot to learn. The benefits Dogeliens (DOGE) will bring are almost limitless, and it could soon become the biggest crypto name in the market.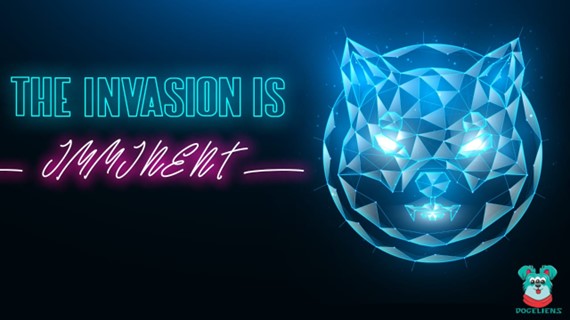 VeChain (VET) Users Cannot Imagine Supply Chain Management Without It
VeChain (VET) was created by Sunny Lu and it joined the crypto industry in 2015. At launch, VeChain (VET) tokens were ERC-20 tokens that were powered by the Ethereum blockchain. However, they moved to the VeChainThor blockchain in 2018. VeChain (VET) was built to solve supply chain problems by utilizing Internet of Things (IoT) technology.
VeChain makes use of smart chips to monitor goods and provide users with more control and a lot more information about their goods going through the supply chain. These chips can collect important data about the goods, and they provide users with an unprecedented amount of data about the goods they want to monitor. VeChain's amazing services have attracted big partners like BMW and have made it one of the most popular cryptocurrencies in the crypto market.
Vita Inu (VINU): Crypto's Number One Entry Point
Vita Inu (VINU) is the cryptocurrency that powers the Vite DAG Chain. It is a community-driven meme coin launched in 2019 and built to bring incompatible blockchains together under one decentralized network. Vita Inu (VINU) is a meme coin, and it also has the goal of bringing new users into the crypto industry and promoting mass crypto adoption.
The strong community that has grown around the Vita Inu (VINU) meme coin plays an important role in creating a welcoming environment for new users and providing them with all the help they need as new crypto users. Vita Inu (VINU) transactions are also very fast, making it a good option for both new and old users, and its network is highly scalable and secure. Vita Inu (VINU) also serves as a governance token, and there are no transaction fees.
To find out more about Dogeliens (DOGET), visit the links below:
Presale:  buy.dogeliens.io
Website: https://dogeliens.io/
Telegram: https://t.me/DogeliensOfficial
Disclaimer: This is a paid release. The statements, views and opinions expressed in this column are solely those of the content provider and do not necessarily represent those of Bitcoinist. Bitcoinist does not guarantee the accuracy or timeliness of information available in such content. Do your research and invest at your own risk.