Ethereum transaction fees have continued to spike as demand for smart contracts and ETH transfers have spiked.
It has reached a point where yesterday, June 6th, Ethereum miners brought in more transaction fees (in aggregate) than Bitcoin miners for the first time in months. Blockchain analytics startup Glassnode made this observation, sharing the chart below on June 7th.
"Daily Ethereum network fees surpassed Bitcoin fees yesterday. $498k vs. $308k. So far, this has only happened on 141 days (8%)," Glassnode wrote in reference to the data that can be seen below.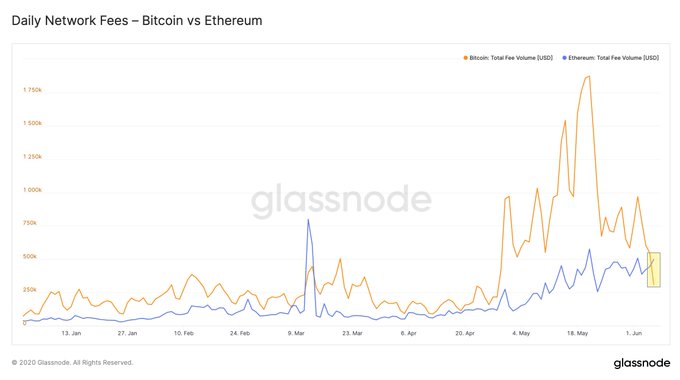 There are a few reasons for the high transaction fees: 1) the demand to send ETH between exchanges has increased as volatility has hit cryptocurrencies, 2) Ethereum-based Ponzi schemes are gaining popularity again, and 3) stablecoins have continued to see mass adoption by crypto traders.
Analysts say that this trend of rapidly increasing transaction fees has a number of implications for Ethereum, of both the positive and negative varieties.
It's a Bullish Trend for Ethereum, Analysts Say
Analysts say that the increasing usage of the Ethereum network is a positive catalyst for the price of ETH.
The founder of Mythos Capital, Ryan Sean Adams, recently noted that his analysis has found that the price of ETH has been closely correlated with the transaction fees Ethereum users pay over the past four years.
If the historical relationship holds, ETH is poised to rally dozens of percent, a chart from Adams shows.
Scaling Solutions Are Coming
While ostensibly bullish for Ethereum prices and the narrative surrounding the blockchain, high fees do have clear drawbacks.
According to Bitcoinist's research, if one wants to interact with certain decentralized finance contracts such as MakerDAO and Uniswap, transactions can cost upwards of $1.00. With some operations, fees can quickly rack up to a handful of dollars, especially if you want the transaction processed quickly.
This means that if you are a user attempting to trade or spend small amounts of ETH on DeFi contracts, you will spend a relatively large chunk of your holdings on fees alone. Hence, there's been a push for scaling solutions.
As reported by Bitcoinist previously, decentralized exchange 1inch.exchange suggested that Ethereum miners should increase the block limit to accommodate more transactions every 14-second block.
Currently, there is a gas limit of 10 million, though this could be increased by dozens of percent to accommodate more transactions.
There are also second-layer scaling solutions coming into the fray, which are attempting to enable extremely cheap, near-instant, and secure payments like how the Lightning Network works with Bitcoin.
Featured Image from Shutterstock
Price tags: ethusd, btcusd
Yesterday, Ethereum Miners Received 60% More Fees Than Bitcoin Miners