If you are looking to invest in more dog coins like Dogecoin (DOGE) and Shiba Inu (SHIB) to make some crazy gains, you might be barking up the wrong tree. If you want to see Dogecoin and Shiba Inu-like gains, you should invest in a new coin like Big Eyes (BIG).
Dogecoin: The top doge
Dogecoin (DOGE) is a meme coin that skyrocketed in popularity through endorsements of influential figures like the 'Dogefather' Elon Musk, and legendary rapper Snoop Dogg. It still is the most popular meme coin at the time of writing. It was the first meme cryptocurrency, initially started as a joke by software engineers Billy Markus and Jackson Palmer. This cute doge has a bite to match its bork. Over its lifetime Dogecoin (DOGE) has seen gains of up to 37,000%.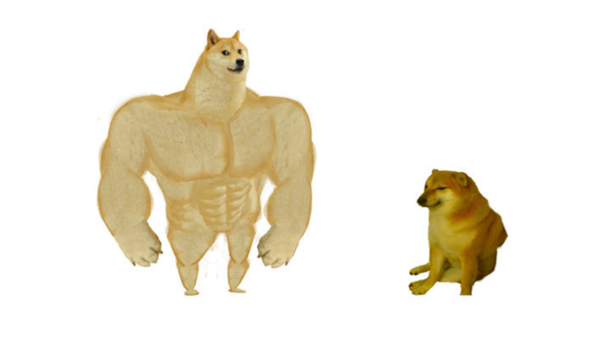 Shiba Inu: could it fetch a big price again?
Shiba Inu (SHIB) is an Ethereum-based meme coin that has been chasing the tail of Dogecoin (DOGE) ever since its launch, toted as the Dogecoin (DOGE) killer. Over its lifespan, Shiba Inu has enjoyed life-altering gains of 14,044,998%. Though these gains are enough for anyone to want to run and put all their money into the coin, unfortunately, it is very unlikely that Shiba Inu will see those kinds of gains again.
Dogecoin and Shiba Inu could make a comeback, as more and more places are accepting these meme coins as forms of payment, such as Twitch, AMC Cinemas, and Gamestop. Or Elon Musk could just tweet about them again. However, even if they do bounce back, these established meme coins will not experience the same drastic increase in price as they had before.
Ambitionz az a Feline: Big Eyez on me
Big Eyes (BIG) is the new cat on the blockchain with big ambitions to reach the top. It is a full-on community token with the potential to be the next big meme coin that blasts off to the moon. As the other doges have already had their days, if you want to see these life-changing gains, then investing in a new cryptocurrency with a lot of potential like Big Eyes is a must.
As a part of its roadmap, Big Eyes aims to be the most talked about meme coin in 2022. There is a clear gap in the market for a cat meme coin, as all of the top meme coins are dogs. Big Eyes plans to make full use of this, through copious memes, as Cats have been and still are an internet meme staple alongside Shiba Inus. Big Eyes is already killing it on social media, having reached 54k Twitter followers, and getting endorsements from Crypto influencers like RafaaCerro and GinoAssereto. Additionally, Big Eyes has the extra attractive feature of being styled in an anime fashion. This will broaden the appeal of Big Eyes to anime fans, in the same way Dogecoin appealed to prolific memers and fans of the doge meme.
Once the meme machine is on full tilt, pumping out cat-related memes that are purr-fect, there will be many more opportunities for Big Eyes to steal the spotlight. With more exposure and endorsements from influencers, Big Eyes' notoriety will snowball, driving up the market price of the coin, and propelling Big Eyes to the stratosphere. This will bring anyone already invested in the coin along for the ride to the moon. Big Eyes is in stage 6 of its pre-sale right now, with $8.5 million already raised, so hop on the rocket ship before it takes off without you!
Big Eyes is not only just a super fun meme coin. It also is dedicated to helping save the environment – 5% of all tokens will be stored in a visible charity wallet for ocean conservation projects and by stage 4 of their roadmap they aim to get $1 million to charities. By investing in Big Eyes, you are not only allowing yourself to make a lot of profit but also helping save the environment at the same time.
Conclusion
If you want to see huge gains in the cryptocurrency space, you need to be some of the first pioneers to take the leap. There is still time to climb aboard the rocket, as Big Eyes have not launched yet, and are rapidly growing during pre-sale. Don't miss your chance to invest in the next Dogecoin!
Big Eyes Coin (BIG)
Presale: https://buy.bigeyes.space/
Website: https://bigeyes.space/
Telegram: https://t.me/BIGEYESOFFICIAL
Disclaimer: This is a paid release. The statements, views and opinions expressed in this column are solely those of the content provider and do not necessarily represent those of Bitcoinist. Bitcoinist does not guarantee the accuracy or timeliness of information available in such content. Do your research and invest at your own risk.