The massive success of meme coin sensation Tamadoge contradicts the tragic collapse of popular meme coins, with investors scrambling to stock up on TAMA.
Meme coins are on a dramatic downtrend. A quick look at the historical performance of early meme coin hits like Dogecoin and Shiba Inu hints that the projects have lost steam. They are down 91% and 87% from their all-time highs, respectively.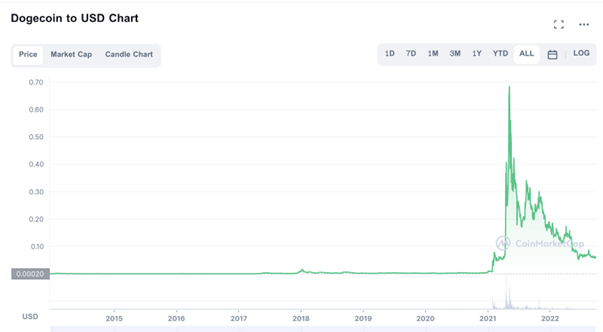 Dogecoin all-time price history, 26 September 2022. Source: CoinMarketCap
However, the success of Tamadoge (TAMA) tells a different story. The project hit its presale hard card of a whopping $19M just a few days back, proving that the meme coin trend is here to stay; even if most meme coins are not.
Industry experts and crypto analysts believe that Tamadoge's utility-driven vision and roadmap set the stage for a new era in the meme coin market.
How Tamadoge Revives the Meme Coin Mania
As you may recall, early meme coin projects like Dogecoin and Shiba Inu skyrocketed to success using community strength. They were primarily driven by speculation, rather than utility. The unsustainable model has killed a myriad of meme coin projects. Investors seem to have learned their lesson after the consecutive failure of these make-shift projects.
Tamadoge leverages the popularity of meme coins to build something bigger using play-to-earn, NFT, and metaverse integrations. The game is centered around Tamadoge Pet NFTs. You can create, breed, and nurture your Tamadoge Pet NFTs using TAMA tokens, the native token of the ecosystem. Once they're full-grown, you can battle them against other pet NFTs in exchange for rewards.
The simple, yet fun gaming mechanics give a robust foundation to the project. It hosts regular leaderboard challenges to ensure consistent engagement on the platform. The game development is currently progressing in full swing under the helm of leading industry experts, including Thomas Seabrook and Carl Dawkins.
A Peek into the Tamaverse
The most exciting element of Tamadoge is the augmented reality application that is scheduled for release in the last quarter of 2023. It will take the meme coin mania to the next level by featuring immersive experiences in Tamaverse, the Tamadoge metaverse. This could manifest many possibilities, including a virtual dog park where you can walk your Tamadoge Pet NFTs while socializing with other Tamadoge holders.
Tamadoge roadmap, Source: Tamadoge.io
Tamadoge's metaverse mission will be put into action much earlier in 2023, however. It will actively explore collaborations with established metaverse projects to integrate Tamadoge pet NFTs into external environments.
Soon after, a collection of Tamadoge P2E Arcade games will go live. During the same time, the project will begin to distribute physical Tamadoge rewards along with token prizes. Investors are currently stocking up on TAMA tokens, anticipating a massive bull run as the project unfolds in the coming quarters.
If Tamadoge successfully delivers its whitepaper promises, it has the potential to bring up to 50X returns for early investors. TAMA is available for purchase on the OKX crypto exchange from 27th September 2022. To learn more about the upcoming exchange listings and project milestones, follow Tamadoge on Twitter and Telegram.
Check out the Tamadoge giveaway on Gleam worth $100K.
https://twitter.com/Tamadogecoin/status/1568207642438385665?r
Website: https://tamadoge.io/
Twitter: https://twitter.com/Tamadogecoin
Telegram: https://t.me/TamadogeOfficial
Discord: https://discord.com/invite/Z2PqFvsXJa
Instagram: https://www.instagram.com/tamadogecoin/