It appears that 2023 is shaping up to be a significant year for the crypto market, with a plethora of intriguing projects set to launch. While 2022 may have seen a few standout projects, overall it was a relatively slow year for crypto. However, early indications suggest that 2023 will not follow the same trend.
One project that is particularly generating buzz in the crypto community is Meta Masters Guild, a mobile-focused Web3 gaming guild. The team behind it is creating a comprehensive ecosystem that prioritizes fun and player engagement over earning tokens. The project's presale has already seen an impressive level of participation within its first two weeks.
Let's take a close look at what Meta Masters Guild is, what its ecosystem is composed of, the games available on the platform, and the details of its presale. Gear up, as this project looks like it could revolutionize the Web3 gaming space.
What is the Meta Masters Guild?
Meta Masters Guild is a mobile gaming platform for the Web3 ecosystem that offers a wide range of features for users to earn rewards while playing the games they love. The project is designed to be the future of player-to-everything (P2E) experiences by integrating various ideas into a cohesive ecosystem.
It will incorporate NFTs tightly into its ecosystem, making it an attractive option for NFT collectors. The main goal of Meta Masters Guild is to provide gamers with entertaining and engaging games that incorporate NFTs for earning rewards, staking, and trading. The project offers many possibilities that are worth exploring further.
At the core of it, however, Meta Masters Guild just wants to provide gamers with fun and addictive games that use NFTs. These games are of course associated with earning rewards, staking, and trading. Speaking of which, we should dive deeper into what exactly Meta Masters Guild has to offer.
Check Out the Meta Masters Guild Presale
The Features of Meta Masters Guild
Meta Masters Guild aims to be a hub for Web3 enthusiasts by creating a decentralized gaming ecosystem through blockchain-integrated mobile games. It describes its mission as building "high quality, blockchain integrated mobile games that will form a decentralized gaming ecosystem, allowing members to sustainably earn rewards in exchange for their contribution to the ecosystem."
Among the features that Meta Masters Guild has to offer are:
The ability to play games to win gems
Exchanging those gems for MEMAG tokens
Winning or buying NFTs from a store
Staking tokens and NFTs to earn yields
Exchanging MEMAG for other tokens like ETH and USDT
The development of the games is based on four principles: prioritizing fun, ensuring players truly own their assets, involving the community in decision-making, and creating sustainable earning opportunities. The team differentiates its platform as a Play and Earn platform, as opposed to a Play-to-Earn platform, to ensure sustainable earning mechanics.
Lastly, the idea of P2E has been talked about, but the team makes an important distinction that Meta Masters Guild is a Play and Earn platform, not a Play-to-Earn platform. They think that this fits in better with the principle that earning mechanics should be sustainable.
The Meta Masters Guild Ecosystem Looks Exciting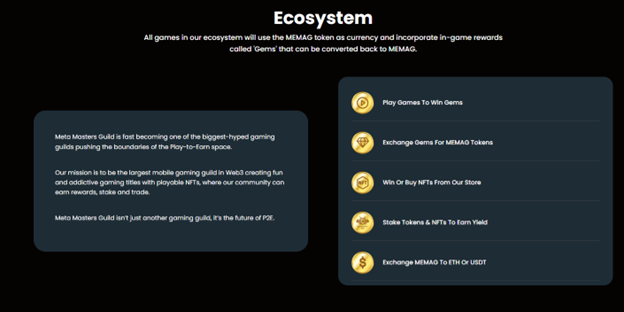 The Meta Masters Guild ecosystem runs on the MEMAG token. Players earn in-game rewards called Gems, which can be converted into MEMAG. These tokens can then be cashed out or used to further invest in the Meta Masters Guild ecosystem. The team's goal is to create an incentive for players to spend more time and resources in the ecosystem by providing fair compensation. They believe that this is an important aspect of the Web3 gaming space.
Meta Masters Guild offers premium, in-game NFTs that can be purchased on their website and used within the games. These NFTs provide players with enhanced abilities and a greater chance of winning, resulting in more in-game rewards.
The team is focused on working with game developers to create high-quality games and is actively seeking partnerships to achieve this goal. They also strive to reward skilled players, with top-level players receiving additional rewards and the team aims to foster a competitive esports scene.
Additionally, the project is dedicated to supporting esports teams and content creators, providing them with access to exclusive in-game items and using them to promote their games and grow their community.
Meta Masters Guild has also had its contracts audited and verified by SolidProof, with the team's KYC credentials checked by Coinsniper.
Check Out the Meta Masters Guild Presale
MeMag Already Has 3 Games Lined Up

The team is also building a number of high-quality games that will allow players to earn rewards – for effectively contributing to the MEMAG ecosystem. So far, the games that have been listed are Meta Kart Racers, Meta Masters World, and Raid NFT. We'll go over these titles one by one.
Meta Kart Racers is a racing game developed by Gamearound which is in the early stages of development. Built for mobile devices, this PvP game sees players compete against each other in the Meta Kart Championship. Players will have to escape from the evil Meta overlords. For their success, they will earn gems that can be traded for MEMAG.
Meta Masters World is a metaverse that has an expansive world for players to explore. This focuses on exploration so expect a strong open-world game with various mechanics. Meta Masters Guild states that players will have full autonomy in this gaming world and they can participate in such activities as exploring, collecting resources, and entering competitions. This is still in the conceptualization stage.
Raid NFT is quite a different game from the other two. It is a turn-based fighting game where players can choose from several different warrior classes. Once selected, they battle other players in a turn-based game in harsh environments. Players earn gems for defeating other players and completing challenges. What's more, players can either play by themselves or against other players – so there's something for single-player enthusiasts as well. It is currently in the design stage.
The Team Behind Meta Masters Guild
The team is composed of 7 individuals with a good degree of experience in gaming, finance, art, and product and strategy. The project's CEO is Gabriel who is also the founder. Matthew Fishtal and Hassan Naveed serve as the project's advisors, and they have experience in advising crypto projects, product marketing, and strategy.
Joel Carpenter is the platform's game concept advisor and he has over 10 years in digital and traditional illustration. He has worked with Headstrong Games, Titan Entertainment, Channel 4, Rocakbox, Bravdo Merchandising, Harley Davidson, and 2000 AD on AAA games development.
Patrick Hegarty serves as the project's brand ambassador and has over 3 years of experience in crypto. He will help with engaging with the community.
Lastly, and perhaps most importantly, Gamearound will serve as the platform's lead game developer. The team has experience working with NFTs, games, music, movies, entertainment, art, sports, and virtual real estate. Games include Broken Civilization, Time Travel Racing, Pure Golf, and Stride N Seek, among others.
Meta Masters Guild has also partnered with RWaltz, Ruskin Felix, and Pushed for various purposes. They will help with various aspects of platform and game development.
Check Out the Meta Masters Guild Presale
The MEMAG Presale is Racing Along
🚨 #MEMAGFAM, get ready for the next stage! 🚨

🚀 Stage 3 of the $MEMAG presale is now live! 🚀

Don't miss out on owning a piece of the future – buy $MEMAG today! 💰

Thanks for the support and belief in our project! 🛡️

➡️ https://t.co/SBqVjX5mWn#mmg #memag #memagpresale pic.twitter.com/7tbhx8wqOm

— Meta Masters Guild (@MEMAGgames) January 24, 2023
Meta Masters Guild is currently conducting the presale for its MEMAG token, which powers a lot of the ecosystem's features. The token is currently in the third stage of its presale, with 1 MEMAG costing 0.013 USDT. It has managed to raise over $1.5 million in its presale.
The current presale stage will end in just over 4 days, after which the MEMAG token will see the price increase to 0.016 USDT. The token has been seeing a tremendous amount of interest from the crypto community, which is why the token has raced into the third stage of its presale.
The token can be purchased through one of three options: ETH, USDT, and a card. This offers a good few options to users and the fiat option is especially helpful for crypto beginners.
Meta Masters Guild is also running a $100,000 giveaway contest at the moment. The contest is a simple one, with participants only having to complete a few minor tasks. Most of these have to do with social media. Examples include following the project on Twitter, joining the Telegram group, tweeting about the project, visiting the subreddit, and so on.
How to Buy MEMAG
Purchasing MEMAG is a straightforward process that even crypto newbies should find easy to get into. We explain all of the steps you have to take to participate in the MEMAG presale below.
Step 1: Get a Wallet
The first step is of course that you'll need a crypto wallet. There are several wallets that are supported. MetaMask and Trust Wallet are good choices as they are widely supported and they are reliable. You can do this either on a desktop or on mobile devices.
Step 2: Connect Your Wallet
After you've created your wallet, you'll need to connect it to the official Meta Masters Guild. It is important to make sure you are on the official Meta Masters Guild website.
Click on the big white button that says "connect wallet" at the top of the page. Remember, you'll want to get in as early as possible to purchase MEMAG at the lowest price possible.
Step 3: Buy MEMAG
Now you can actually get to buying MEMAG. You have a few options when it comes to the asset you can use for the purchase. Your choices are ETH, USDT, or using a card. In order to make the purchase, choose how much MEMAG you want to buy, regardless of whether it's ETH or USDT.
When buying with a card, the platform uses Transak to purchase ETH which you can then use to make the MEMAG purchase. There is a quick KYC process and the purchase happens directly in the widget.
Remember that you will have to account for gas fees to confirm the transaction.
Step 4: Claim Your Tokens After the Presale
You will be able to claim your MEMAG once the presale is over. All you will have to do is visit the Meta Masters Guild claim page and make the claim when it is available. Do watch the project's social channels to learn when this will happen.
Check Out the Meta Masters Guild Presale
The Meta Masters Guild Roadmap Looks Strong
The team behind Meta Masters Guild has a lot in store for the future of the project. They have big plans to continue expanding and growing the platform, with an emphasis on making it fun and engaging for users.
In the first quarter of 2023, the focus will be a soft launch of the platform, the launch of the NFT store, a soft launch of staking, and the ongoing MEMAG presale. The following quarter will see listings on CoinGecko and CoinMarketCap, as well as listings on various centralized and decentralized exchanges. Additionally, the team will be working on animation for the Raid NFT game, expanding NFT characters across games, continuing game development, and building new partnerships with Web3 game developers.
Looking further ahead, plans for the last half of 2023 include the launch of the Meta kart demo, project scaling and expansion, and the development of new games and platform features. The team is still finalizing details, but these are the main priorities for the rest of the year.
Meta Masters Guild Can Bolster Web3
The MEMAG presale is generating a lot of interest and is expected to end soon. Investors are showing strong support for the Meta Masters Guild ecosystem and its potential. The launch of the first game is approaching and the project is expected to gain significant attention.
For those who want to invest, now is the time to do so and learn more about the Meta Masters Guild ecosystem, including upcoming games and development features.
Check Out the Meta Masters Guild Presale