FightOut, a move-to-earn (M2E) crypto project that rewards users for working out, has raised more than $2.8 million within the first week of its much-anticipated presale.
FightOut is designed to help users build their strength, cardio, and endurance fitness as well as combat technique through a multi-pronged approach to training. The Web 3.0 fitness platform includes a mobile app, physical gyms, and metaverse-based fighting competitions.
The project's ultimate goal is to raise $100 million through presale of its native $FGHT cryptocurrency token. This ambitious goal makes it one of the largest crypto presales of the year.
Time is Running Out for 50% Bonus
For a limited time, the project is offering up to a 50% bonus to investors in the form of extra $FGHT tokens.
Investors can receive a 10-25% bonus based on the amount of $FGHT they purchase. Investors can earn bonus $FGHT with as little as a $500 presale purchase. The bonus is paid in $FGHT tokens at the end of the presale.
Another bonus offers investors an extra 10-25% $FGHT when they lock their tokens to the platform. Locking periods range from 6-24 months.
These bonuses are only available during the first stage of the FightOut presale. They will expire when the presale reaches $5 million in $FGHT presales.
So, investors may only have a few days remaining to earn up to 50% bonus $FGHT on their presale purchase.
Disrupting the $96 Billion Fitness Industry
FightOut, which has been ranked as the best move-to-earn crypto, is poised to strike at the heart of the global health and fitness industry, which is estimated to be worth $96 billion annually.
FightOut's model is to not only enable users to work out and build, but to incentivize them to do so. The M2E platform takes a multi-layered approach and incorporates generous rewards for users.
The first layer to FightOut is its mobile app, which offers users access to a constantly growing library of on-demand workouts.
The FightOut app enables users to select workouts targeting strength, cardio, muscular endurance, or fighting technique. Workouts are accompanied by videos from professional coaches to help users get the most out of their training sessions.
The second layer to FightOut is its network of physical gyms. FightOut plans to launch with 20 gyms where members can go to complete workouts with other FightOut users. These gyms will become hubs for the FightOut community.
The final layer to FightOut is its new metaverse. In this virtual space, users can network with other FightOut athletes or join virtual leagues and tournaments. Users also have the option to establish their own combat leagues to further incentivize athletes to stay in top shape.
Incentivizing Fitness with M2E Rewards
When a user completes a workout in the FightOut app or a FightOut gym, they are rewarded with REPS. REPS is FightOut's in-app currency and it can be redeemed in the FightOut marketplace.
REPS can be used to purchase one-on-one coaching sessions, home gym equipment, or even discounts on a member's FightOut subscription.
REPS is unique as a M2E reward in that it doesn't just reward users for completing workouts. It also helps them build holistic fitness and grow as an athlete.
FightOut has designed the REPS rewards system so that users earn REPS for building strength, cardio, endurance, and technique. However, there are soft caps on the amount of REPS that a user can earn for workouts in each of these categories each week.
To earn the most REPS, athletes have to do a mix of strength, card, endurance, and technique workouts. This motivates users to build their overall fitness rather than focus only on strength or only on cardio fitness.
Connecting Real-world and Virtual Fitness
One of the most unique aspects of FightOut is how it bridges real-world fitness – the traditional world of gyms and home workout studios – with the growing demand for virtual fitness.
Every new FightOut user is given an NFT avatar that is soulbound to them. It cannot be traded or sold. As a user completes workouts and builds fitness in the real world, their avatar's strength, cardio, endurance, and technique stats go up. The more fitness a user builds, the more fit their avatar becomes alongside them.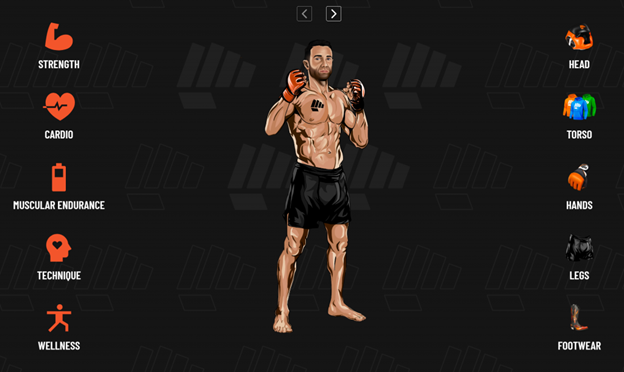 Athletes can deploy their avatars in FightOut's metaverse, enabling them to see how other users are building fitness and showing off their own gains. Avatars are also used in virtual leagues and tournaments. A user's performance in these competitions is determined by their avatar's fitness stats.
In addition, FightOut plans to install digital "mirrors" in its physical gym locations. When a user works out in front of one of these mirrors, they'll see their avatar in the reflection. So, FightOut gyms are a place where real-world and virtual fitness meet.
Lowering Barriers to Entry While Creating Demand for $FGHT
One of the biggest challenges that the fitness industry as a whole and M2E projects in particular have faced is that they have high barriers to entry. It's often difficult or overwhelming for new users to join a platform and stick with it.
For example, existing M2E projects like STEPN require users to invest in expensive NFTs before they can even begin working out and earning rewards. Legacy fitness apps like Peloton and SoulCycle require users to purchase expensive equipment and don't provide incentives to work out.
FightOut is changing that by lowering barriers and incentivizing users to work out. Users earn REPS for completing workouts that are tailored to their current fitness, not for completing the hardest possible workout. There are no NFT purchases required to join FightOut and athletes can complete most workouts without a need for specialized equipment.
Another way FightOut is encouraging adoption is through its $FGHT token. When users pay for their FightOut membership with $FGHT, they receive a 25% discount relative to paying with fiat.
That's a win-win for users and investors. Athletes pay less for access to their favorite fitness platform and investors benefit from consistent, ongoing demand for $FGHT tokens. $FGHT can also be used to purchase REPS and earn bigger in-app rewards, further pushing up demand for this token.
$FGHT Presale Aims to Raise $100 Million
FightOut is raising funds to power the platform's launch through a presale of its $FGHT crypto token. The project aims to raise a $100 million – and demand for $FGHT during the presale's first week suggests that this ambitious goal is likely to be met.
$FGHT is currently priced at 60.06 $FGHT per 1 USDT. The presale will sell up to 60% of the total $FGHT supply, with another 30% reserved for bonuses and rewards.
The remaining 10% of tokens will be used to maintain liquidity during an initial exchange offering (IEO), which FightOut plans to hold in Q1 2023 immediately following the presale.
After the presale, FightOut will be funded entirely through app subscriptions and gym memberships.
The development team behind FightOut has been verified by CoinSniper.
Last Chance to Invest with 50% Bonus
Until FightOut raises $5 million, investors in the $FGHT presale still have a chance to earn up to a 50% bonus on their purchase. There are 2 ways to earn bonus $FGHT.
First, any investor who buys at least $500 worth of $FGHT during the first stage of the presale will automatically receive a volume bonus. Volume bonuses start at 10% and extend up to 25%. Bonuses are paid in $FGHT at the end of the presale.
Second, investors who lock their $FGHT to the platform can earn a 10-25% bonus. The minimum locking period is 6 months and the maximum is 24 months. Bonuses are paid in $FGHT at the end of the chosen locking period.
Investors who want to earn these bonuses need to act quickly. FightOut sold more than $2.8 million in the first week of its presale and is likely to hit the $5 million milestone within days.
Join the FightOut presale today to lock in the lowest price for this disruptive M2E crypto project and earn up to 50% extra $FGHT.
Website: Fightout.com
Social media channels: Instagram | Facebook | Twitter | Telegram | Discord | YouTube | Medium | LinkedIn