With Bitcoin being range-bound for nearly the past two months, it's been easy for investors to revert to a bearish mindset. Nothing shows this as well as the funding rates of BTC futures markets, which are now neutral-negative instead of positive.
Key on-chain metrics, however, suggest that the start of the next bull run is imminent.
Key Bitcoin Indicator Hits Fresh All-Time High
The percentage of BTC in circulation that has not moved in over a year has just reached a new all-time high of 62%. That's according to on-chain analyst Philip Swift,
"Bitcoin 1yr HODL new ATH!! We have reached a new all-time high, with 62% of bitcoin not moving on-chain for at least 1 year. Strong hands from hodl'ers! Such high levels of HODL'ing have been present at the start of previous Bitcoin bull runs," Swift wrote on the matter.
This is important as this metric reaching high levels is what marked the start of previous bull runs.
When BTC was trading at ~$500 at the start of 2016, the one-year HODL metric hit 61% before falling as Bitcoin rallied to $20,000.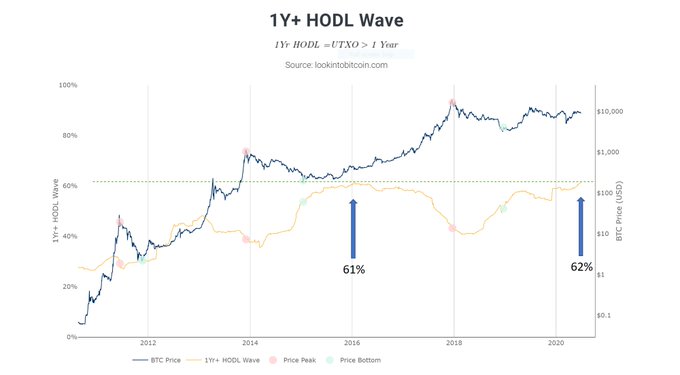 Glassnode's chief technical officer Rafael Schultze-Kraft has corroborated this trend of many Bitcoin investors "HODLing."
As reported by Bitcoinist, the on-chain analyst observed a confluence of other signals indicating Bitcoin investors are "HODLing" rather than selling. Along with the "HODL Wave" indicator, Schultze-Kraft observed the following:
The amount of BTC held by exchange wallets has dropped dramatically over the past few years.
"The average Coin Days Destroyed (= transacted #bitcoin volume times number of days since coins were last moved) per year has been decreasing and is at its lowest level since 2016." This purportedly shows the existence of more long-term holders.
Addresses deemed HODLers are building their positions, not selling their coins. Glassnode data suggests that approximately 90% of all days in 2020 have seen HODLers accumulate.
1/ A thread showing 12 charts that illustrate #Bitcoin investor confidence and increased HODLing behavior.

Spoiler: This is long-term extremely bullish.

(data @glassnode)

Let's dig in ?

— Rafael Schultze-Kraft (@n3ocortex) June 26, 2020
Far From the Only Sign
The strong "HODL" mentality of Bitcoin investors isn't the only bullish sign that Swift has observed.
In May, Swift was one of the first to observed that the Puell Multiple entered a macro buy zone. The Puell Multiple is a metric that is the SD value of BTC issued per day over the one-year moving average of the same figure.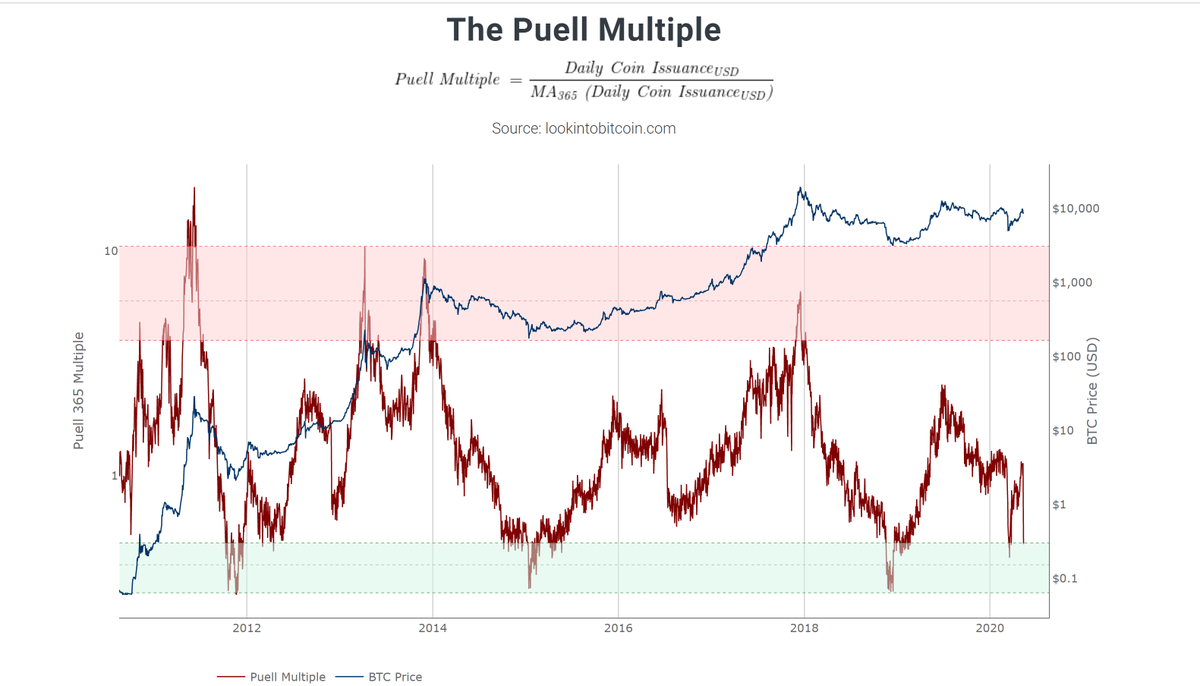 Similar to the HODL Waves, the multiple then reached a region that has marked the start of previous bull runs.
Swift says that the fundamentals agree with his bullish sentiment. He wrote earlier this month:
"With mega money printing and growing unrest about (financial) freedoms around the world, dips below the 2yr MA (green line) are increasingly unlikely IMO," he remarked, referencing how the recent "boring" price action looks exactly as BTC did at the start of previous parabolic bull runs. 
Featured Image from Shutterstock
Price tags: xbtusd, btcusd, btcusdt
Signal That Marked Start of Bitcoin's 2015 Bull Run Just Hit a New High