With over 17,000 cryptocurrencies in the world today, knowing what cryptocurrency to invest in can be a difficult task. With more and more cryptocurrencies emerging, investors are looking to catch the next big thing with the hope of generating huge returns. However, to get a huge return from crypto investment in 2022, you must know the right cryptocurrency to invest in. In this article, we explore some of the best cryptocurrencies to invest in this year: Ethereum, Ripple and Firepin Token.
More Stability With Ethereum (ETH)
Ethereum has more applications already in existence, more users and is more stable. Little wonder it is dubbed the blue-chip coin by crypto analysts and enthusiasts. Furthermore, many other cryptocurrencies are built on the Ethereum blockchain. Ethereum's native currency Ether has proved to be a good investment and has the potential to outpace any other investment in the long run.
Ethereum had from 2016 to early 2022 experienced a massive hike in price going from $10 to $3500, increasing more than 32% in the process. It is also estimated by crypto analysts that the value of Ethereum has plenty of room for improvement now and beyond.
Ethereum is a decentralised, open-source, smart contract blockchain network that functions with a Proof of Work (PoW) model. It is the second cryptocurrency in market capitalization, only behind Bitcoin (BTC). Ethereum aims to be the platform that gives users more control over their data as well as allows applications to be built and run on the blockchain, which has ultimately given rise to the number of cryptocurrencies in the world.
Ethereum is an altcoin and is the most well-known, most stable, and most used altcoin in the world today. Ethereum has many uses and applications across the tech niche, especially for decentralised finance (DeFi), gaming, entertainment and music. That makes it one of the most popular and widely used cryptos of the past year.
Ethereums' Return on Investment (ROI) is annually nearly 300%, meaning that investors have nearly quadrupled their investment since 2014. Although, it is nearly impossible to predict the future price of Ethereum or any other cryptocurrency. However, Ethereum is transitioning from the Proof of Work (PoW) model to Proof of Stake (PoS) and this upgrade should make it more appealing and sustainable for widespread use which should also see Ethereum value increase significantly.
Ripple (XRP) – Renowned For Its Payment Network
XRP is the native currency of Ripple and it is used for payment settlement, asset exchange, and a remittance system that works like SWIFT, a service for international money and security used by many banks and other financial intermediaries. XRP is pre-mined and it uses a less complicated mining method compared to Bitcoin.
While Bitcoin's transaction confirmation may take several minutes, transactions on Ripple are confirmed within seconds. Again, while transaction charges are high when you transact over the Bitcoin blockchain, Ripple has low charges. Furthermore, Ripple (XRP) is a technology that is renowned for its digital payment network and protocol. Hence, many major banks use the payment system to execute transactions.
Win With Firepin Token (FRPN)
Firepin (FRPN) has just entered the market and is in its presale phase. Interestingly, early investors have already seen more than 150% in returns. This is significant considering that its presale started just a couple of weeks back. With over a month remaining in its presale phase, many analysts believe that the coin could rise by at least another 1000%. This leaves investors, potential investors, with enough time to make significant gains before the token is officially launched.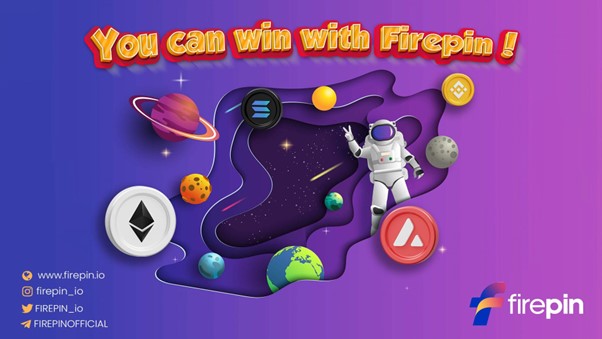 Firepin Token (FRPN)  aims to be a decentralised autonomous organisation (DAO) which implies that the holders of the token will be in charge of governing the ecosystem. Firepin is created to offer a decentralised exchange, gaming integration, NFTs and metaverse as well as other interesting features.
Firepin (FRPN) can be a solid investment option for anyone that is interested in making a profit from crypto and now may just be the best time to get involved.
Presale: http://presale.firepin.io
Website: http://firepin.io
Telegram: http://t.me/FIREPINOFFICIAL
Twitter: http://twitter.com/firepin_io
Instagram: http://instagram.com/firepin_io
Disclaimer: This is a paid release. The statements, views and opinions expressed in this column are solely those of the content provider and do not necessarily represent those of Bitcoinist. Bitcoinist does not guarantee the accuracy or timeliness of information available in such content. Do your research and invest at your own risk.