Since crypto spiked mainstream interest towards the end of 2021, the market has turned highly competitive. Once only known to a small group of crypto enthusiasts, its potential has since become recognised all over the world, eliciting a wave of new investors. 55% of all Bitcoin (BTC) investors started last year, and now in 2022, crypto investors have over 18,000 altcoins they could choose to invest their money into. One token that could provide financial success this year is Explora Chain (EXPL).
An 1859 Theory Foresaw The Crypto Markets?
According to Darwins' theory of natural selection, organisms that are better adapted to their environments have higher chances of surviving and producing more offspring. The crypto market appears to be mirroring this process very similarly, as Bitcoin (BTC) – the world's first ever crypto as well as the biggest – seems to be losing its popularity, having dropped around 20% this year already, reaching a low of $33,000 on January 24th before recovering.
Aside from several other influential factors, Bitcoin (BTC) could be struggling to compete against newer, improved altcoins. According to The New York Times, Bitcoin (BTC) has become inconvenient, slow, and expensive to use. Most transactions take about 10 minutes to validate, and the transaction fee has been around $20 on average this year. Bitcoin's (BTC) volatile value has also rendered it unusable as a medium of exchange.
A new altcoin named Explora Chain (EXPL) has just entered its presale, and has quickly been converting crypto investors into Explora Chain (EXPL) holders. Explora (EXPL) is perhaps the most multifaceted crypto the market has seen to date, and its versatile features include an NFT marketplace, play-to-earn gaming, staking and a BNB launchpad. Experts have conjectured that if Explora Chain (EXPL) can achieve the aspirations set out by its ambitious roadmap, it could swiftly replicate the highs of Terra (LUNA).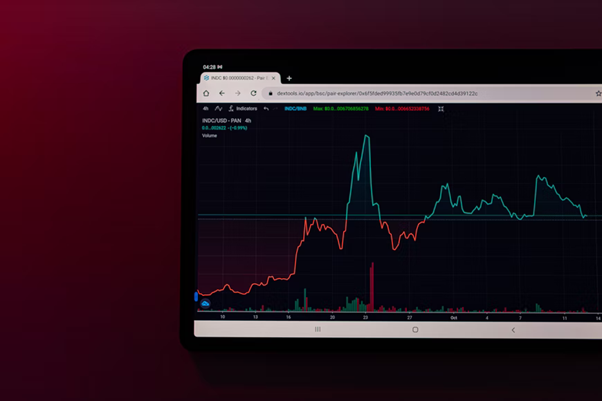 What's The Connection To Terra (LUNA)?
Terra (LUNA) wowed investors with its colossal 14,700% ROI in 2021. Regardless, Terra (LUNA) has no plans to slow down, having reached its new all-time high in March 2022 of $103 which earns its place as #8 on CoinMarketCap's rankings with a market cap of around $33 billion.
Several significant factors have been attributed to the success of Terra (LUNA), which soared about 85% in the week of its new ATH. Firstly, Jay Hao, the CEO of OKX, points to the recent launch of Terra (LUNA) based ETFs in capturing investor attention. Consequently, Terra (LUNA) is expected to retain its position in the global payment system.
Terra (LUNA) aims to combine the price stability and widespread adoption of fiat currencies with Bitcoin's (BTC) censorship-resistance and fast and affordable settlements. Its rise demonstrates how long-term blockchain projects are independent of global conditions, according to Harman Puri, Asgard Dao's Chief Metaverse Officer.
Puri also commented on the utility of Terra (LUNA) in the fintech space, as well as its strong infrastructure that provides an algorithmically stable coin with the highest level of security, which is playing an increasingly important role in the decentralised financial world. So, the key to DeFi success lies in cryptos introducing unique blockchain technology with the ability to transform finance, like Terra (LUNA) did.
A Look At Explora Chain's (EXPL) Plans
In a nutshell, Explora Chain (EXPL) will provide a futuristic and innovative platform to DeFi which encompasses a highly developed NFT marketplace, passive income streams through staking, advancing more crypto projects via a launchpad on the Binance Smart Chain (BNB) as well as a place to play P2E games. While the anticipation for Explora's (EXPL) release is already hitting the crypto market, what can Explora Chain (EXPL) holders actually expect from the platform?
According to the White Paper, Explora Chain (EXPL) holders benefit from its P2E games allowing players to have true ownership of their game assets, which they will be able to freely sell to other players or exchange for EXPL, which can then be converted into fiat or other digital currencies. Furthermore, rather than incrementally valuable objects, the Explora Chain (EXPL) game illustrates the more classic scenario of increasing blockchain technology producing new opportunities.
Explora Chain (EXPL) aims to provide expertise and resources to exceptional initiatives, and then offer IDOs through the native Launchpad. The goal of Explora Chain (EXPL) is to make trading more efficient, open, equitable, and secure, as well as to foster a supportive community that is eager to support new initiatives. Explora Chain (EXPL) promises to conduct a comprehensive review of the projects and their team structures, ensuring that only the most reliable candidates will be accepted.
The NFT marketplace on Explora Chain (EXPL) will enable NFTs to be held, exchanged and minted. Users of the NFT marketplace can easily buy and sell assets at a premium price through the NFT swap. More people will consider using the NFT swap to benefit as new NFT collections enter the market on a daily basis. Explora (EXPL) holders will have the opportunity to obtain an NFT from a newly discovered collection that has the potential to become a craze among NFT collectors and thereby profit from the exchange.
Explora Chain (EXPL) aims to create a large-scale market for NFTs with a high level of cross-chain interoperability. They hope that in the not-too-distant future, Explora (EXPL) NFT Marketplace will serve as a platform for holders to exchange NFT for crypto, NFT for NFT and NFT for both.
Find Out More Here:
https://presale.explorachain.io/
https://explorachain.io/
https://t.me/EXPLORACHAINOFFICIAL
https://twitter.com/ExploraChain