With a vibrant global community of more than 13 million investors and traders from over 140 countries including the United States, eToro is the leading social trading platform where users can engage, connect, and share knowledge with one another. Founded in 2007 to open trading markets to people everywhere, today eToro specializes in offering cryptocurrency trading as well as trading opportunities in a wide range of popular stocks, commodities, CFDs, ETFs, currencies and indices. The company is part of the eToro Group, which, in addition to its innovative social trading platform, offers a crypto wallet and a dedicated crypto exchange for professional traders.

eToro customers can trade 90+ crypto markets including Bitcoin, Bitcoin Cash, Binance Coin, Ethereum, Ethereum Classic, Dash, Ripple, Litecoin, Stellar, NEO, EOS, Cardano, IOTA, Zcash, TRON and Tezos; 150+ ETFs; 40+ currency pairs; 30+ commodities and dozens of stocks and indices on the user-friendly platform, replete with data-driven tools and charts to assist analysis. An integrated, easy-to-use, secure digital wallet lets users conveniently buy, store and trade over 120 cryptoassets. A rich news and analysis section on etoro.com offers timely and useful blogs, videos, podcasts and articles, and other educational resources include a Trading School and the Complete Guide to Fintech. Users can practice trading strategies as well via a virtual portfolio.
Two inventive trading tools at the heart of eToro are CopyTrader and CopyPortfolio. As its name implies, CopyTrader is a tool that lets users simply and easily mimic the trades of other traders. It is ideal for newer traders or those just entering a new market, such as crypto, by letting them develop their own trading style and confidence as they closely monitor the strategies of these top traders.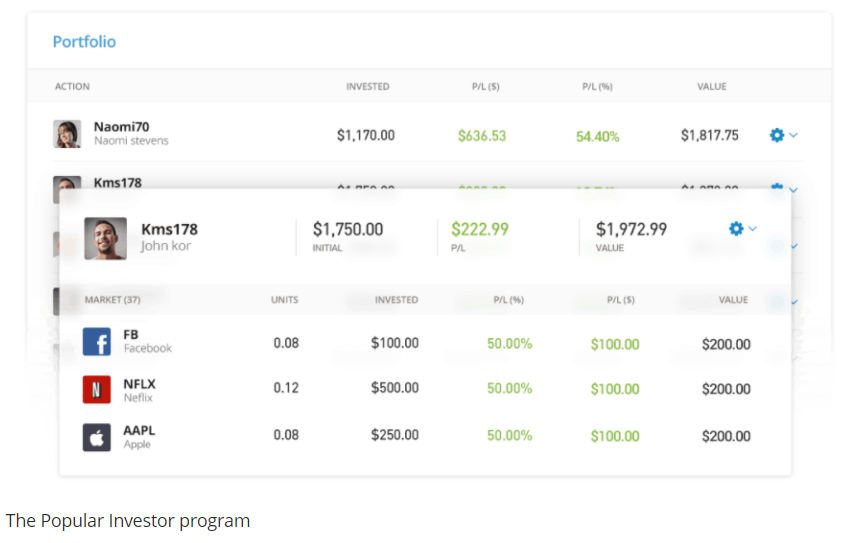 Investors who are followed can turn their skills into cash via the Popular Investor program. CopyPortfolio, a next-generation investment tool powered by artificial intelligence, allows users to diversify and rebalance their portfolio according to market strategy and alignment. eToro is active on social media, engaging with customers via several social platforms.
eToroX, the crypto trading jewel in the eToro crown, is designed around the special needs of professional crypto traders: algo traders, brokers, and those high-net-worth investors trading at institutional levels. Created in 2018, it offers a spectacular product suite with over 30 cryptoassets, including 16 unique eToroX tokenized stablecoins and an array of tokenized asset pairs. With a VIP approach well-suited to its customers, eToro offers extremely competitive fees, deep liquidity, institutional-grade API protocols, professional credit line, strict adherence to cybersecurity and trading regulations, and a host of other features focused on the demands and requirements of corporate traders. Ever growing and expanding its offering, eToroX now offers a staking service where traders can benefit from simply owning crypto.
To learn more visit eToro today.
Pros
User-friendly, secure, transparent, trustworthy and regulated platform
Instant execution of trades,thereby locking in prices
Unique and popular assets
Ability to follow top traders and portfolios to borrow the experience of other investors automatically
Huge cryptocurrency community and innovative tools
Flexibility in withdrawing and depositing cryptocurrency to wallets
Excellent multi-faceted education resources