Ultron is a layer-1 blockchain launched by the Ultron Foundation, a Dubai-based firm, in June 2022. Ultron poised itself as the future of DeFi, offering services such as farming, staking, token swaps, liquidity, and NFTs powered by its native token, ULX. It claims to solve technical and economic problems by bridging the gap between centralized and decentralized solutions. According to the Ultron Foundation, its vision is to leverage blockchain technology and cost-effective and developer-friendly crypto projects to implement a crowdfunding solution called a Staking Hub NFT.
However, all does not seem right with the Ultron project as it partnered with an affiliate marketing platform called Mavie Global to initiate a Ponzi-like business model. Here's a comprehensive review of the Ultron/Mavie project and why it might be a scam.
Ultron/Mavie Compensation Plan
Source: Youtube
The Ultron project is launching a business model called Ultron/Mavie using its NFT Staking Hub. According to a Youtube presentation, the project already kicked off on March 13. However, there is a concern about the model of its compensation plan as it projects rewards that are too good to be true. Not only that, the business model follows an MLM Ponzi scheme that compensates users for staking NFT with ULX.
According to a presentation by Mavie Global's CEO, Ultron introduced seven new NFTs worth 30,000 USDT. Customers who invest in these NFTs via Ultron's staking hub can earn weekly rewards over double the amount they invested. For instance, if you stake $100, you receive $100, but some who stakes $500 can get $1,000 weekly. This model looks like a money-doubling scheme.
Source: Youtube
Aside from that, Mavie/Ultron pays commissions to users based on the amount they invest and their ability to recruit new investors. That is typical of Ponzi schemes since the project has no product to generate income for the touted compensation plan.
Ultron offers its affiliate gain discounts based on the number of funds invested and the duration of the investment. According to the project, users of their staking NFT staking hub will get an extra 20% ULX tokens plus weekly passive income for five years. Affiliates can also receive a 10% commission on token packages purchased while earning bonuses as they recruit newcomers.
Source: https://resources.mavie.global/mavie-compensation-plan.pdf
The residual commission follows a limitless binary model that enables affiliates to earn thousands of USDT weekly, depending on their affiliate rank. The Ultron/Mavie compensation plan has nine packages and affiliate ranks. The Affiliate rank runs from Sapphire to GOATs (Greatest Affiliate of All Time). Sapphires earn 8000 USDT weekly, while GOATs receive up to 500,000 USDT in one week.
Here's a list of Ultron's packages through which affiliates can exchange ULX for USDT.
Basic—100 USDT
Light—300 USDT
Light Plus–500 USDT
Standard—1500
Standard Plus—5000 USDT
Premium—12,500 USDT
Premium Plus—30,000 USDT
Supreme—100,000 USDT
Supreme Plus—300,000 USDT
Why The Ultron/Mavie Project May Likely Flop
The Mavie/Ultron compensation plan follows a pyramid model that relies on newly recruited investors to pay existing ones. The pyramid is bound to crumble once new investors stop coming. Also, even if the pyramid remains, the bonus and commission projections are highly unrealistic, and the project may not be able to sustain it.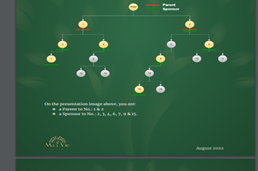 Source: https://resources.mavie.global/mavie-compensation-plan.pdf
There is a high chance that Ultron founders and creators will dump ULX on Investors since their plans seem non-existence and their background shady. The project is Dubai-based. There are also facts suggesting that its contributors, who have links to a 2018 real estate Ponzi scheme, live in Dubai. Dubai lacks an extradition treaty, and MLM and crypto-related oversight are almost non-existent, making the country a haven for scammers.
Risks Of The Mavie/Ultron Project
 Unregulated Securities Offering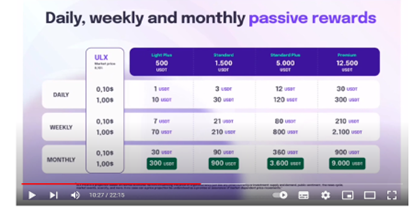 Image Source: YouTube
According to the team, users will receive passive rewards in massive amounts of USDT. It also noted that users could get these rewards daily, weekly, and monthly depending on how fast they recruit others or their staking activities.
This offering is not regulated and could draw the attention of certain regulatory bodies, such as the SEC, just like the case of a metaverse casino.
Bloated Compensations For Users
Ultron's compensation plans are unrealistic, meaning they are not realizable. The layer-1 blockchain promises 300% extra coins for auto-stake and a 20% bonus on its non-fungible token hub. Most of its claims and promises are to lure prospective investors into the system without a guarantee to get returns on their investments.
Image Source: Ultron. foundation