Cloudbet is a bitcoin-only sportsbook and casino that claims to offer industry best odds, a variety of live betting markets, live casino dealers, and over 350 of the most popular casino games.
Also Read: Coinbase: Cali Court Approves IRS Blanket Data Demands
But are their claims true, and does the service function as advertised? How does it stack up against the competition? I placed bets and checked if they were graded correctly, contacted support to test their response time, and deposited and withdrew. Let´s have a look at the results.
Signing Up on CloudBet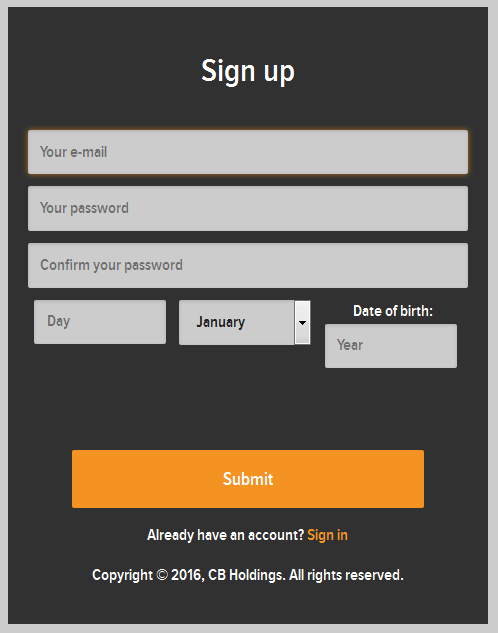 To start, registration is quick and easy. You need to provide a username, email, date of birth and password. After confirming your email address, you are ready to go. Deposits are processed quickly with zero confirmations. To deposit, go to your user dashboard and you will see an address and QR code. There is also some information about a bonus — we will get to that later.
Sportsbook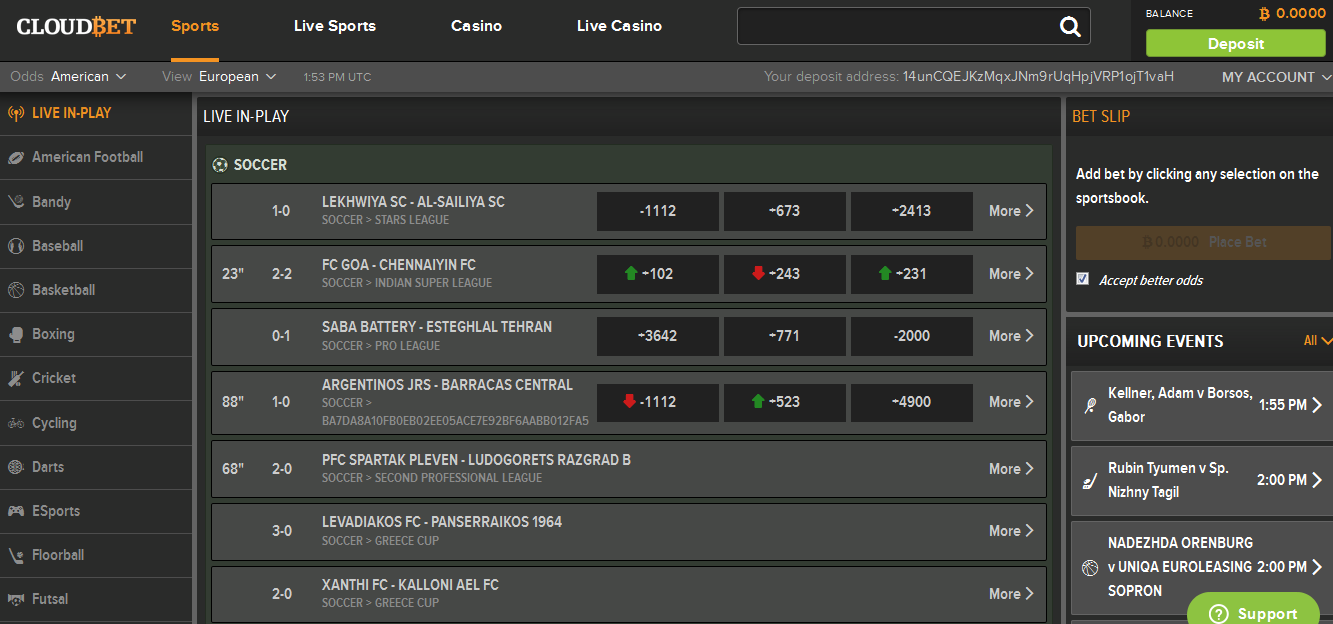 The sportsbook has two layouts: a European view and an Asian view.
The main difference between the European and the Asian view is that the Asian sports page offers an Asian handicap, which is very popular for betting on soccer.
On both versions of the sportsbook, Cloudbet have an easy-to-navigate menu, and a variety of pre-live and live sports markets. From Soccer, American Football, Tennis, to Volleyball and eSports.
Placing a bet
Once you've found a bet you would like to make, simply click on the selection. On the right side, a bet slip will appear with the odds and a blank field for you to enter in how much bitcoin you would like to wager and calculates how much you would win.
If you're happy with your selection, then click bet and your bet is processed. If you have more than one bet on your slip, then you are offered the chance to place a parlay. This is a straightforward setup, similar to those at many other bookies.
Odds
The odds are competitive with even fiat currency sports betting operators. It is worthwhile to have Cloudbet in your list of pure bitcoin sportsbooks places to check for the best odds for the event you're betting on. Check the "accept better odds" box to accept any line movement in your favor, in the few seconds after you click the bet button and the time the bet is processed. You can also switch the way you view odds to decimal, American, fractional, Hong Kong or Malaysian. You can also set what kind of default odds you prefer in the account settings section.
Live Betting
The live sports book has a wide selection of live games. The sports are listed on the left side. After clicking the sport, you will see a list of available live games. There are several different betting lines to bet on, including Asian Handicap lines, Match Odds and Next Goal scored. A newer functionality is bet acceptance, if a line has changed after you have it on your bet slip, then you are notified and can decide to accept the changes by clicking "accept changes" to confirm or reject the bet by closing the slip, so you don't miss out on the changing lines. The live betting section was easy to use, and did not have glitches or take long to load – this is vital for live betting!
Bet History
In the bet history section, you can check your graded or pending bets. It's organized in a clear way and if you want more info on the bet, you can click it and more information will drop down. This allows a lot of bets to be viewed on one page. Sometimes people get confused with Asian Handicap, however, and because of that Cloudbet has a clear way of marking these bets in the history section – for example, bets with over 0.75 or under 1.75 goals for the game.
These are two-part bets and marked as Win, Loss, Half-Win or Half-Loss. Without the marking "Half-Win", the player has to calculate the winnings and figure out that they had half the bet pushed and half the bet win. The bet history section is organized well and easy to use.
Support
Cloudbet has no live support but there is a Zendesk search function that works well for general questions about betting. You can also send them an email message via the support bubble in the lower left-hand corner. The support team is available 24/7 and promise to reply to your request within 24 hours.
Deposit & Withdraw
Your deposit address is found the account dashboard section and at the top of the sportsbook where it says "your deposit address". Once you have deposited you can check the record of your deposit in the section my account – wallet transactions. There's a list of all deposits and withdraws.

Here you can see where I made a depoist and withdrew without a problem. I saw the transaction right away in my wallet. When you want to withdraw a frame opens on the right side. This shows you how much bitcoin you have to withdraw and how many bonus points you have earned. I you are confused about the bonus program then I suggest you contact support. It does work differently than most bonus programs and might be confusing at first glance.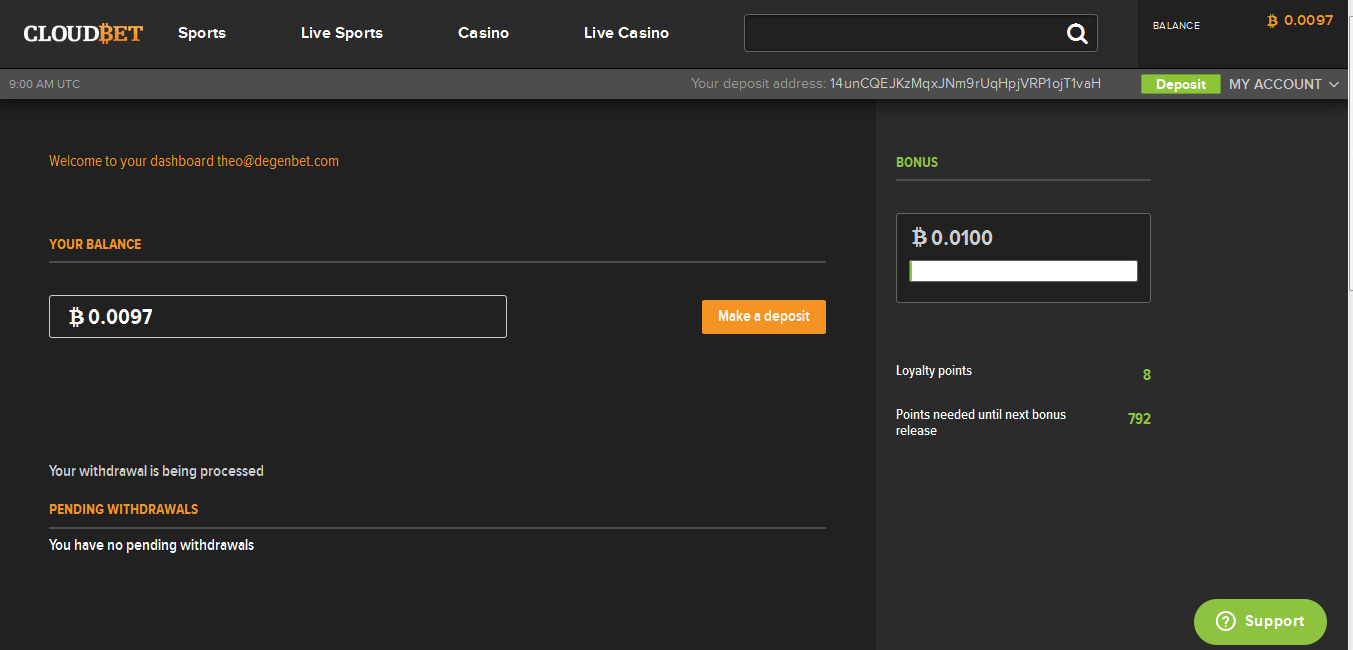 Cold Storage
Cloudbet claims to store user funds in cold storage and has enough to pay daily withdraws in a hot wallet. There is no way for me to verify how they manage the cold storage. It does sound like a good practice to have separate cold and hot wallets.
Bonus
Cloudbet offer possibly the largest first deposit bonus, a 100% deposit bonus up to 5 BTC. The bonus is not an instant deposit bonus, but instead is based on your bets over time. The company says:
Your bonus will be made available to you as you earn loyalty points by placing bets on any sporting event or casino game. For every 800 loyalty points earned, 0.01 BTC will be released.
The advantage to this system is that you do not have to think about roll-over.
Improvements
In my opinion, if you want to be a pure bitcoin sportsbook the whole point should be that you do not need to use email unless you want to. There could also be more bet types, such as Teaser, IF and Action Reverse. The terms of the bonus program could also be made more clear.
The Verdict
If you want to place live bets, high limits up to 60 BTC , or bet on a wide range of sports then Cloudbet has you covered. Cloudbet has some of the best odds and an interesting bonus program, so it's worthwhile to include this on your list when you're looking to place a bitcoin wager. At Cloudbet, Bitcoin and sports betting are here to stay!
What is your experience with Cloubet? Would you recommend this service? Let us know below! 
---
Images courtesy of cloudbet