The gaming industry is always changing, and the latest trend is to incorporate blockchain technology into gaming platforms to produce even more entertaining games and improve overall player experience.
With the arrival of cryptocurrencies in 2021, such platforms will be able to go much farther, including not just blockchain technology but also digital currencies into their particular universes.
This article will go through three intriguing blockchain-based gaming platforms that could be terrific long-term investment prospects, one of which is presently in the presale stage.
Pacman Frog (PAC)
Pacman Frog (PAC) is the most recent animal-themed cryptocurrency, following in the footsteps of Dogecoin (DOGE), Shiba (INU), and other adorable pet coins. The first stage of Pacman Frog's presale is already underway, and the game will begin trading officially in the coming weeks.
Pacman Frog (PAC) is dedicated to delivering ambitious goals based on the project's whitepaper, despite its somewhat amusing moniker.
First and foremost, Pacman Frog's ecosystem will be built on the Solana (SOL) blockchain, which is one of the quickest blockchains currently accessible, which can process up to 65,000 transactions per second (TPS) for a fraction of a cent. As a result, Solana has gotten a lot of attention in recent months, with its native token SOL enjoying a 9-fold increase in price at its peak in November.
As a result, Solana is a formidable competitor to established blockchains such as Ethereum (ETH), making it a very strategic decision for the Pacman Frog (PAC) team and raising hopes for the project's future.
Pacman Frog (PAC) aspires to create a decentralised community focused on NFTs and game creation. The team's goal is to create an incubator for blockchain-based game developers that want to get their work out there. Pacman aspires to be a blockchain-based decentralised venture capital (VC) fund that allows private investors to pool funds and participate in potential gaming ventures.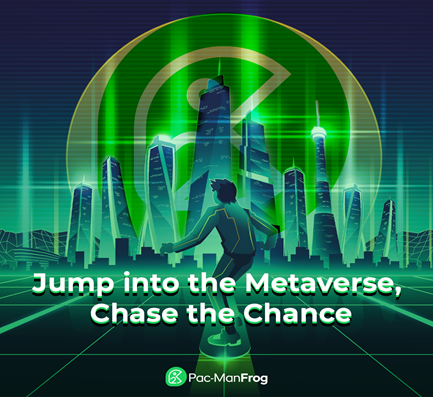 Axie Infinity (AXS)
During the height of Covid-induced lockdowns, people were looking for methods to make extra money, and Axie Infinity (AXS) came to the fore.
Playing on Axie Infinity's platform allows gamers to earn real money, which is known as play-to-earn (P2E). Platforms like Axie Infinity (AXS) allow players to make real money by playing their games.
Players on these platforms are frequently required to purchase an initial item in order to play the game and progress further. If the person improves at the game, this can turn into a profitable investment.
In Axie Infinity, you'll need to purchase Axies, which are in-game small creatures that look a lot like Pokemon. Each Axie is an NFT, which means its ownership is unfalsifiable and publicly documented on the blockchain. This also helps to increase the exclusivity and value of these Axies for players. Axies can then be used by users in online combat, as well as simply collected and bred together to create a unique new Axies.
Since its introduction, Axie Infinity has seen great success, with NFT sales reaching $4 billion, making it one of the most popular P2E platforms alongside Decentraland (MANA) and The Sandbox (SAND).
Axie Infinity's native currency, AXS, appears to be a fantastic investment for investors seeking exposure to emerging and fast-growing industries such as P2E and blockchain-based games, thanks to the expansion of P2E platforms and Axie Infinity's popularity.
Gala Games (GALA)
Gala Games (GALA) is a popular blockchain-based gaming platform that rewards users with GALA, its native token, for utilising the platform and fulfilling activities like confirming transactions and safeguarding the network.
By using the Gala platform, users can win GALA tokens and NFTs, which can then be traded and swapped for real money. The GALA token is a governance token, token holders have a vote in the project's future projects as well as the kind of games generated.
Gala includes, among other things, a role-playing game named Mirandus, a Minecraft-style game called SpiderTanks, an urban planning game called own Star, and so on. Furthermore, the Gala team said that approximately a dozen new games will be released throughout 2022, an exciting year.
Gala Games (GALA) network's 16,000 nodes, which are responsible for the network's security, are totally controlled by its users, which is one of the company's unique features. Users who run Gala Games' master nodes are rewarded with more GALA as a result of their efforts, giving the GALA coin even more utility.
Since its introduction in 2019, the Gala ecosystem has attracted 1.3 million monthly active users and sold over 26,000 NFTs. Gala Games' most valuable NFT was sold for $3,000,000.
Without a doubt, GALA is a major cryptocurrency in the peer-to-peer (P2P) market, with excellent long-term returns due to the space's rapid expansion.
Find out more:
Pacman Frog
https://presale.pacmanfrog.io/register
https://pacmanfrog.io/
https://t.me/PACMANFROGOFFICIAL
https://twitter.com/PacmanfrogToken
https://www.instagram.com/pacmanfrogsocial/