Bitcoin prices have charged past $10,000, delivering a new blow to the US dollar, now worth less than 0.0001 BTC for the first time.
---
$10k Bitcoin Weathers Press Bubble Barrage
Data uploaded Wednesday showed the unprecedented exchange rate come into being as Bitcoin continued towards $11,000.
Within hours of passing the magic $10k, the virtual currency hit a current all-time high of $10,696 before correcting downwards, according to Bitstamp.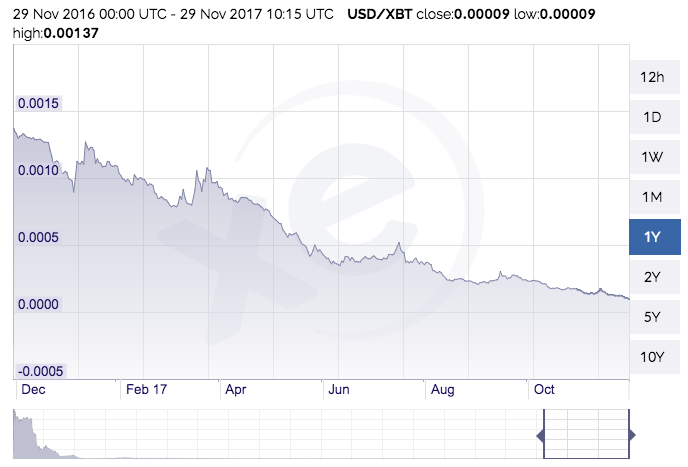 As of press time, prices are on the move again, approaching $10,750 as enthusiasm shows no signs of abating and markets avoid sustained profit-taking.
A five-figure Bitcoin has caused renewed unease among the already sceptical mainstream press, with publications continuing to call time on a bubble. For buoyant Bitcoin community members, this made the USD readings all the more pertinent.
FOMO? Litecoin, Monero React In Kind
"Why does Bitcoin keep growing? Because it's time to separate money and state," ShapeShift CEO Erik Voorhees added on Twitter.
Litecoin creator Charlie Lee meanwhile encouraged long-term bagholders to take profits despite no sign of a price U-turn.
Bitcoin hits $10,000. 🚀🎉🎊

Congratulations to all the hodlers! This is by far the strongest Bitcoin bull run I've seen in 6+ years.

Now take some profit off the table. You deserve it for believing when no one else around you did. 👍 pic.twitter.com/liukpusOZ8

— Charlie Lee [LTC] (@SatoshiLite) November 29, 2017
"They said it was a bubble at $1,000, they said it was a bubble at $5,000 and they said it was a bubble at $10,000," Hong Kong's BitMEX exchange CEO Hayes meanwhile told Bloomberg analyzing the price trend.
…The fear of missing out is becoming stronger and stronger. The traditional asset manager or investor, banker who has probably poo-pooed bitcoin the past few years is now paying upwards of thousands of dollars to hear about how they can get involved in this new industry.
Sounding more overwhelmed meanwhile, veteran trader Peter Brandt said he had "never seen anything like" what Bitcoin had achieved in 2017.
Blowing through resistance on a log graph — in 42 years of trading I have NEVER seen anything like this. $BTC $btcusd #Bitcoin Pay attention folks, you may never see something like this again. pic.twitter.com/gR9lqqKPXk

— Peter Brandt (@PeterLBrandt) November 29, 2017
"[Bitcoin] design protocols beyond comprehension of fiat Wall Street minds," he added.
What do you think about Bitcoin's current price and its future? Let us know in the comments below!
---
Images courtesy of Shutterstock, Twitter, Xe.com