Bitcoin has finally begun to move higher after much consolidation over the past week.
The cryptocurrency trades for $36,000, having moved 3% higher in the past day.
The cryptocurrency is likely preparing for a stronger breakout, analysts say.
Bitcoin Jack shared that Bitcoin is on the verge of breaking past two key resistance levels on a daily time frame, assuming the daily candle closes around current levels.
MicroStrategy is hosting a Bitcoin even that could drive even more capital into this nascent market.
Bitcoin Prints Clear Breakout
Bitcoin has finally begun to move higher after much consolidation over the past week. The cryptocurrency currently trades for $36,000, its highest price in a number of weeks (discounting the Elon wick) after the coin fell from $42,000 to $30,000 earlier this year in January.
Bitcoin is up 2% in the past 24 hours as it begins to trend higher.
Analysts think that this price action may be building to a stronger breakout in the coming days.
A prominent crypto-asset analyst shared the chart seen below just recently. The chart shows that Bitcoin is breaking past two key resistance levels that formed at the highs seen earlier this year. The analyst that shared this chart, Bitcoin Jack, wrote on what is seen:
"Pending daily close this is bulls scoring one point closer to a homerun."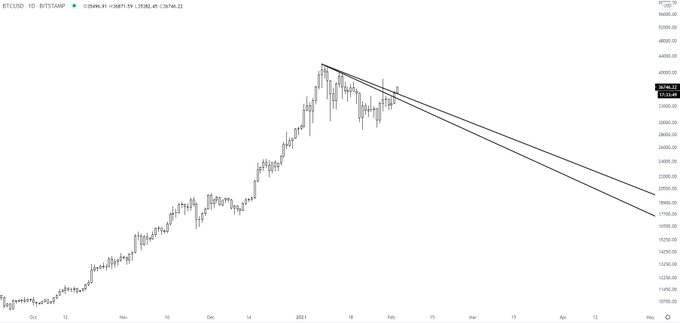 Chart of BTC's price action over the past few weeks with analysis by Bitcoin Jack. Source: BTCUSD from TradingView.com
The analyst has a good track record when it comes to analyzing the space. He correctly predicted in March 2020 that Bitcoin would undergo a V-shaped reversal that would take it back toward the $10,000 range by June. He also accurately predicted further breakouts later in the last year.
MicroStrategy Effect
The MicroStrategy effect is likely to drive BTC higher as well.
The firm is hosting an online event in the coming days to discuss how firms across the globe can integrate Bitcoin into their businesses, whether that's from a financial investment perspective or maybe from a payment perspective. CEO Michael Saylor said on the matter:
"If you are interested in the legal considerations firms face while integrating #Bitcoin into their corporate strategy, you are not alone. We have professionals from more than 1400 firms joining us tomorrow for this discussion. There is still time for your legal team to attend."
He previously stated that there will be thousands of executives attending this event:
"We're going to have thousands of executives, officers…directors, & advisors of corporations coming together in the first week of February. They all want to figure out how to plug #bitcoin into their balance sheet or their P&L…We're going to open source it."
This event could result in billions more being allocated from the traditional finance world to crypto.
Featured Image from Shutterstock
Price tags: xbtusd, btcusd, btcusdt
Charts from TradingView.com
Macro Analysis Predicts Bitcoin Has Begun Rally Toward $100k