On-chain data suggests 2021 was a year of accumulation for Bitcoin as long-term holders added 16% to their treasuries over the period.
Bitcoin Long-Term Holders See Their Holdings Rise By 16% Over The Year 2021
As per the latest weekly report from Glassnode, BTC short-term supply has gone down by 32%, while long-term holdings have risen by 16% in 2021.
The "short-term holder supply" (or STH supply in short) is the part of the circulating Bitcoin supply whose age is less than 155 days.
The BTC "age" here is calculated by looking at each coin on the chain and checking when it was last involved in a transfer.
Coins that haven't seen any movement in at least 155 days may be termed as the "long-term holder supply" (LTH supply).
Now, here is a chart that shows the distribution of the various holdings in the Bitcoin market over the crypto's history: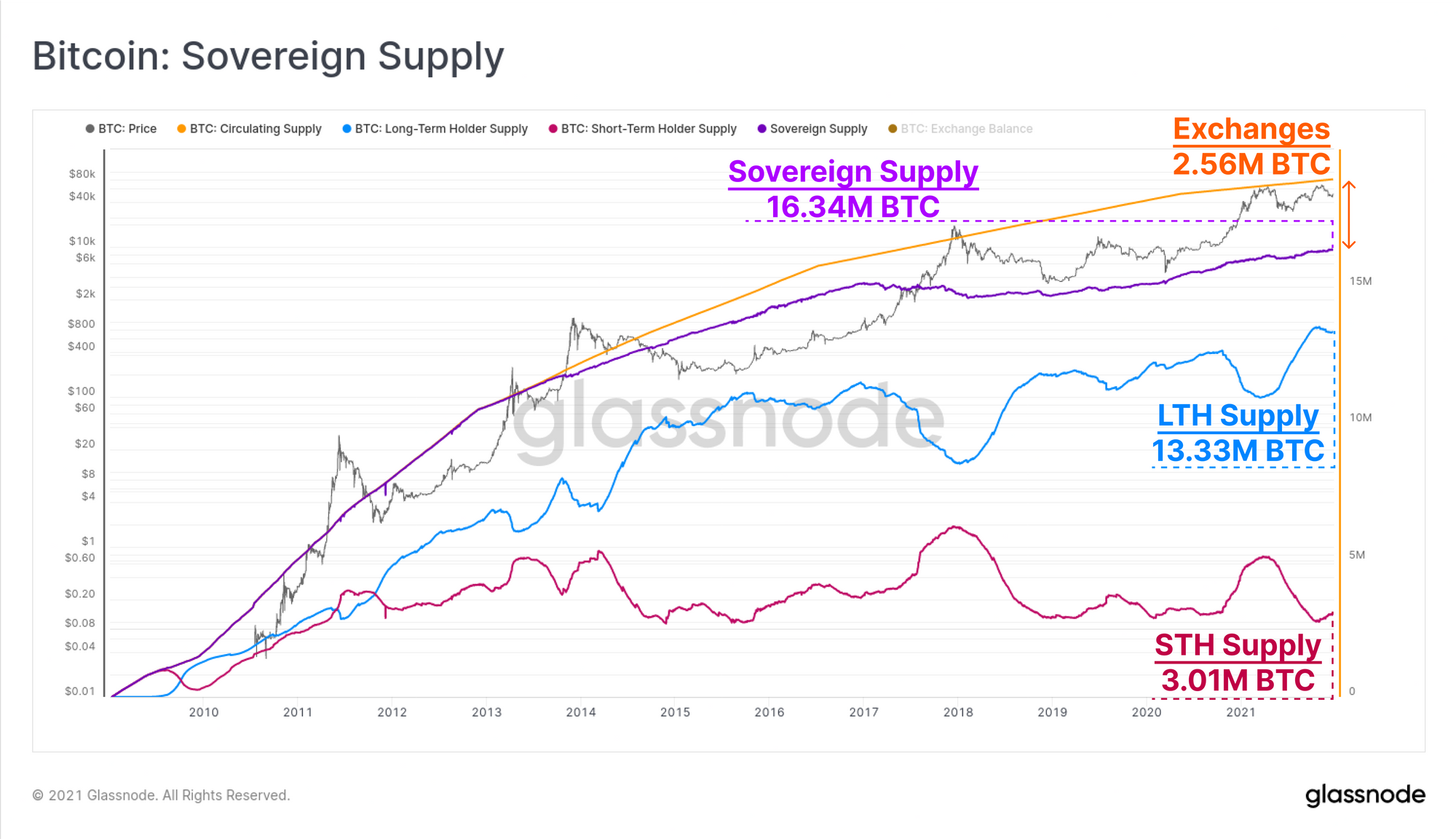 Looks like the LTH supply has seem some sharp growth recently | Source: The Glassnode Week Onchain (Week 52)
As you can see in the above graph, the BTC LTH supply seems to have seen immense rise recently, while the STH supply has declined.
Related Reading | Stablecoins Reserve Moves Up As Bitcoin Short-Term Holders Realize Profits
There are two other types of supply in the chart as well. The first is the "sovereign supply," which measures the total amount of BTC circulating outside exchanges. This metric is currently at an all-time high of 16.34 million BTC.
The other is the "exchange reserve," an indicator that tells us about the total amount of Bitcoin currently stored in wallets of all exchanges.
The LTH supply currently sits at 13.33 million BTC, increasing 1.846 million (or around 16%) over the past year. The STH supply, on the other hand, has plunged down 32% or 1.428 million BTC in the same period as it now holds 3.01 million BTC.
Related Reading | Why Has Bitcoin Suffered Several Blows in 2021 and Still Has a $22k Rise? Is the Real Bull Market Coming?
This data shows that the year 2021 has been that of hodling for BTC as the circulating supply has seen significant redistribution from short-term holders to long-term holders.
The report notes that such trend is usually seen during bear market periods where weak hands sell off to strong hands. However, 2021 has been different as the year saw multiple ATHs, but the Bitcoin accumulation happened nonetheless.
BTC Price
At the time of writing, Bitcoin's price floats around $49k, up 0.7% in the last seven days. Over the past month, the crypto has lost 9% in value.
The below chart shows the trend in the price of BTC over the last five days.
After almost reaching $52k, BTC's price seems to have taken a plunge down in the last 24 hours | Source: BTCUSD on TradingView
Featured image from Unsplash.com, charts from TradingView.com, Glassnode.com