The recent price action has made it easy for investors to flip bearish for Bitcoin for the time being, but a top analyst recently shared that he remains macro bullish on the cryptocurrency.
Backing his optimism, he shared the chart below, along with three macro factors showing that Bitcoin is likely still embroiled in a macro uptrend.
Three Reasons Why Bitcoin Could Soon Burst Higher
The three factors that the analyst identified are as follows:
The Federal Reserve has printed trillions of dollars over the past few months, boosting the value proposition of a scarce asset like BTC.
The world is fairly chaotic with protests, a poor global economy, monetary collapses, and geopolitical tensions growing. Bitcoin stands to benefit as a safe haven.
The odds are "bad" to short Bitcoin's fifth attempt at breaking $10,500 over the past year.
Corroborating the analyst's point about the how $10,500 unlikely to hold is Bitfinex's order book.
The exchange's order book for its BTC/USD market shows that users of the exchange are not generating sell orders in the $10,000-$10,500 range after accurately predicting each local high over the past four months.
Instead of selling in the $10,000-$10,500 range, order book data shows they're heavily bidding Bitcoin. Such heavy bids were last seen when the cryptocurrency was trading in the $7,000s, as an analyst identified in the chart below.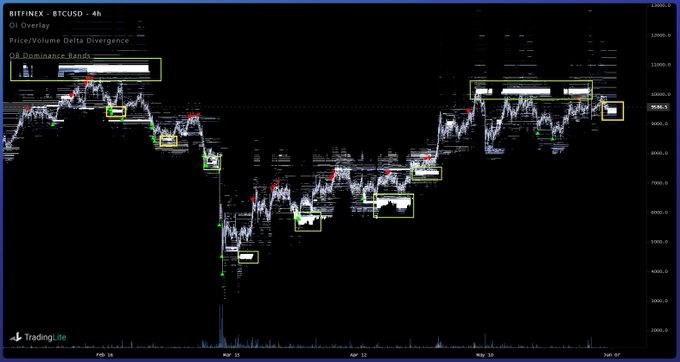 An Extremely Weak Global Economy Could Change That
Bitcoin may have an evident bull case, but trends in the global economy could change that.
While there has been a vast amount of stimulus to the tune of trillions, boosting the Bitcoin bull case, dozens of millions remain unemployed in the U.S. along with consumption has sunk as debts increase and saving habits grow in popularity. Put shortly: the economy is far from good.
Bloomberg reported that the World Bank believes the "global economy will contract the most since World War II," citing a projected 5.2% drop in GDP.
The World Bank's analysis is similar to those from other prominent bodies in the world of economics and finance. The Federal Reserve is expecting the worse modern recession, while the Bank of England has said that the U.K. economy may contract the most it has in 400 years.
Bitcoin could fall on this if the economy starts dragging down the stock market, especially since the cryptocurrency traded so closely with the S&P 500 in March and April of this year amid economic carnage.
Featured Image from Shutterstock
Price tags: xbtusd, btcusd, btcusdt
These 3 Macro Factors Show Why Bitcoin Is Poised to Erupt Past $10,500