Bitcoin's strength didn't last for long.
After attempting to run past the resistance around $10,000 on Monday, the cryptocurrency strongly reversed. On Wednesday, BTC fell as low as $8,950 — almost 9% below the week's highs.
While the rapid reversal has been anything but bullish, data shows that there's on-chain support should Bitcoin's price dip further.
Bitcoin Is About to Enter a Confluence of On-Chain Support
Despite Bitcoin seeming to be on a slippery slope back into a bull market, it is about to enter a region of on-chain support.
Rafael Schultze-Kraft, the CTO of blockchain analytics firm Glassnode, recently shared that Bitcoin will find support at three levels: $8,910, $8,710, and $7,320.
These levels were derived from the UTXO Realized Price Distribution (URPD) indicator.
The indicator determines at what prices all Bitcoin in circulation was last moved on the blockchain. The data then can provide its users with support and resistance levels. As Schultze-Kraft explained further:
"URPD shows the prices at which the Bitcoin supply was last moved on–chain, i.e. BTC's realized price. Large amounts of bitcoin realized at certain prices therefore serves as an indication for support/resistance levels based on network data."
Current #Bitcoin UTXO Realized Price Distribution (URPD) support levels at:

– $9,300
– $8,910
– $8,710
– $7,320

(data @glassnode) pic.twitter.com/4HyFCPgzwl

— Rafael Schultze-Kraft (@n3ocortex) June 25, 2020
History shows that if Bitcoin can find support at these on-chain levels, a rally may rapidly follow.
BTC doubled from the $7,000s to $14,000 in 2019 after Bitcoin reclaimed a URPD support level. Similarly, the indicator also predicted medium-term market tops in September and October of last year.
There Are Also Important Technical Levels
The abovementioned levels were derived from on-chain data, but there are also crucial technical levels that bulls similarly must hold.
As reported by Bitcoinist, the most notable of these levels is $8,500.
$8,500 has been a crucial level for Bitcoin over the past two months, acting as a bullish reversal point for drawdowns. BTC, for instance, bounced exactly at that level in May to recover to $10,400.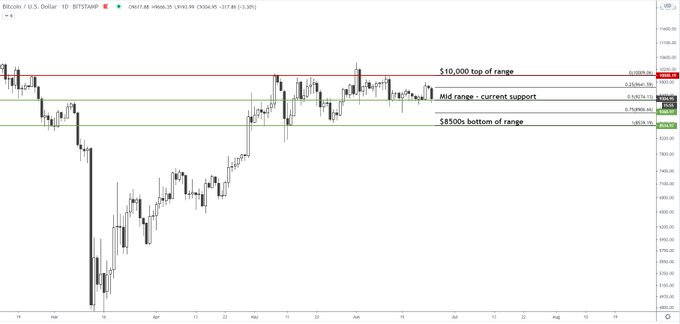 Considering the importance of the level, Blockroots founder Josh Rager wrote:
"BTC's range is clear. Current support that has been holding the past three weeks is the mid-range Break down here and price likely to see $8900 followed by $8500 range bottom," Rager wrote, referencing the chart seen below.
The importance of $8,500 has been echoed by the trader who predicted Bitcoin would revisit the $3,000s in 2020. In reference to the chart below, he recently quipped that "bulls better pray below $8,500."
Depicted is the similarities between Bitcoin's decline from $10,500 to $3,700 in February and March and the recent consolidation. The insinuation is that once BTC slides below $8,500, a redux of March's capitulation could be seen.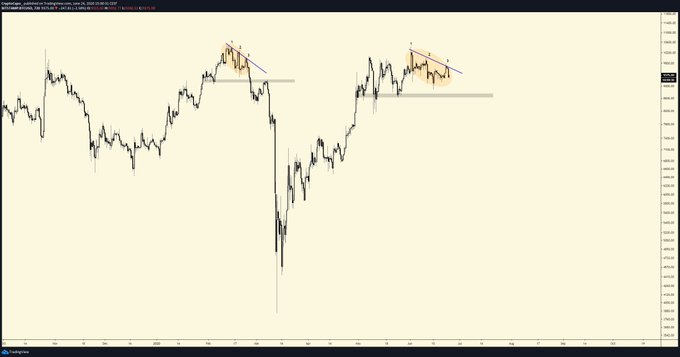 Featured Image from Shutterstock
Price tags: xbtusd, btcusd, btcusdt
These 3 On-Chain Levels Will Provide Bitcoin With Support as Price Crashes