Two newly trending coins are interesting investors but while Okinami appears riddled with red flags, Dash 2 Trade has secured $2 million in investment in just three days since launching.
The two projects appear to be diametrically opposed and while Dash 2 Trade is offering peace of mind to investors with a long roadmap and a doxxed and credible team, the interest in Okinami is shrouded in mystery.
What is Okinami?
Okinami may turn out to be a legitimate project but it has numerous red flags that should worry potential investors.
There is growing interest in the coin because of various conspiracy theories circulating on social media.
The project's token address lay dormant for more than four years before suddenly going live in the summer.
Various individuals are claiming the token address is linked to the Ethereum Foundation and the developers of Shiba Inu – with some even claiming that ETH founder Vitalik Buterin is behind the new coin.
The cryptic messages via their official Twitter page have also sent holders into overdrive, with claims of hidden messages and meanings.
Okinami Red Flags
Despite the interest, potential investors should be concerned about the lack of transparent information.
Again, although the project could be legitimate, it is far too early to say with any level of certainty.
No Roadmap or Whitepaper
On Twitter, the main Okinami account only has 12 Tweets in four months and has not posted since September 23.
The project's website has very little information. There is a cryptic quote social media links – although Discord is invalid – while the Telegram group is closed and can only be accessed by request.
The only other links are to buy, a Dextools chart, and a Medium homepage – which has zero posts.
Elsewhere on the website, there is no whitepaper, roadmap, or other information.
Unknown Developers
There is also no clue given or sound information about who the developers really are.
While speculation is rife and anonymity has famously worked for various crypto projects, including Bitcoin, the best new crypto projects tend to have doxxed and public teams with track records in the space.
Blind faith in projects can sometimes lead to huge rewards, but many investors lost out in 2022 on projects that turned out to be scams.
Okinami could still turn out to be a good project but without more information, investors may be wise to avoid it for now.
What is Dash 2 Trade?
At the other end of the spectrum is Dash 2 Trade, a fully legitimate project that has taken numerous steps to ensure investor confidence before entering a position.
The project is a new crypto trading signals and analytics platform that is racing through its presale.
Dash 2 Trade Roadmap and Whitepaper
Dash 2 Trade boasts a detailed whitepaper and a roadmap that sets out exactly what the project hopes to achieve in the next 18 months.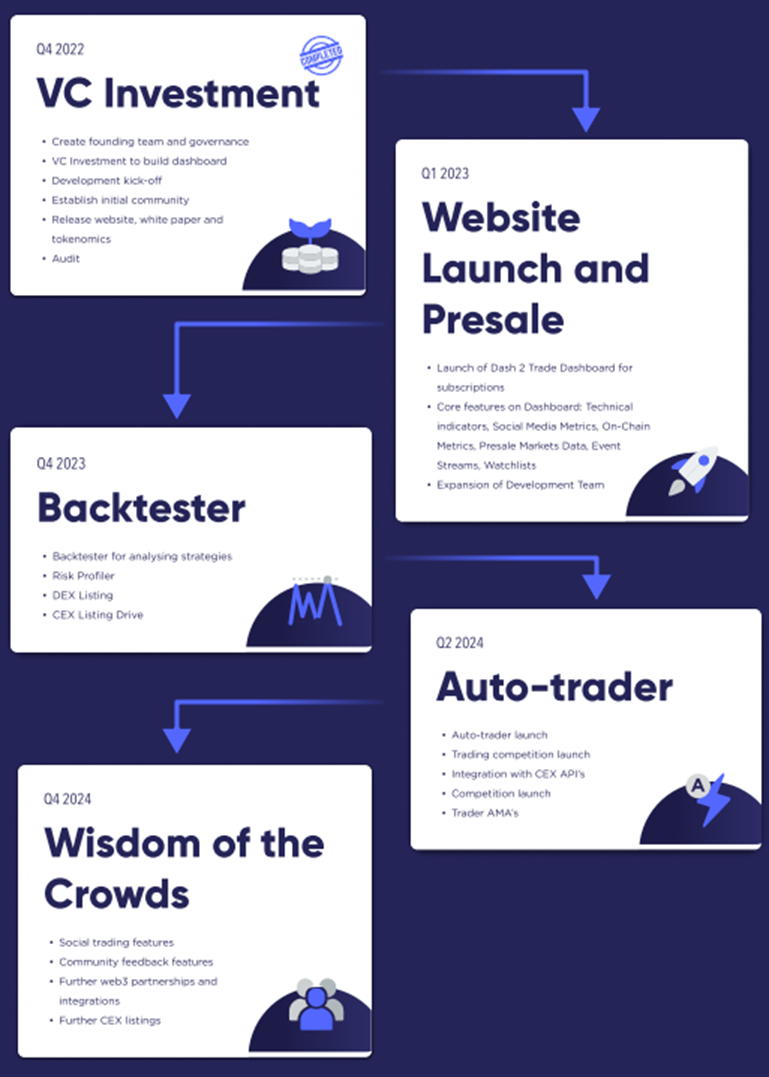 The platform aims to help its users maximize their potential earnings by utilizing a range of insights to help them make better-informed decisions.
It will do that by sending out trading signals that highlight opportunities, as well as analyzing on-chain data and social sentiment to spot trends.
There is also a range of tools that traders can access to optimize their strategies, as well as a back tester to test theories without risking capital.
A bespoke scoring system is being developed to help investors spot the best crypto presale projects, while alerts will be sent out on new coin listings.
Dash 2 Trade from Doxxed Team
Dash 2 Trade is a low-risk project because the founders and developing team have been fully doxxed, are public and have been KYC-verified by third-party group CoinSniper.
The D2T token is also rug and scam-proof as the smart address has been audited by SolidProof.
In fact, the Dash 2 Trade team already have long and credible experience in the crypto world having developed Learn2Trade, a beginners' trading platform with 70,000 global users.
More information about the project and the team can be found in the whitepaper or the Dash 2 Trade Telegram group.