Bitcoin has surged higher since bottoming last week under $10,000.
The coin now trades for $10,850, slightly shy of the local highs at $11,150.
BTC seemingly remains in a bull trend as it holds above the pivotal $10,500 support.
$10,500 has long been an important level for Bitcoin, acting as a point at which three separate rallies have topped over the past year.
Despite the price action, three technical signs show that a near-term reversal is likely.
The reversal will likely drive the cryptocurrency towards the low-$10,000s once again.
Most assert that Bitcoin remains in a long-term bull trend, though, citing technical and fundamental trends.
Bitcoin Could Soon Reverse to the Downside for These 3 Reasons
Bitcoin is primed to reverse to the downside despite managing to push from last week's lows at $9,800 to $10,850 now. The cryptocurrency is printing a series of technical signals that suggest it will soon fall, rather than rally as some have expected.
One trader recently identified these signals and shared them. They are as follows: 
Bitcoin's one-day Tom Demark Sequential has formed a "sell 9" candle. These candles are often seen when an asset is poised to reverse to the downside as "9" candles mark the end of a trend or an inflection point in a trend.
BTC has flipped the pivotal supports in the $11,000 range into resistances with a confirmed rejection.
Hidden bearish divergences have formed between BTC's price action and the Fisher Transform and Stoch RSI.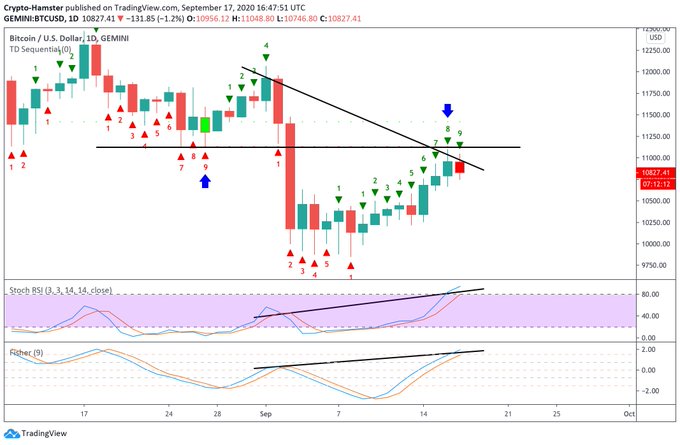 Chart of BTC's price action over the past few weeks with analysis by crypto trader Crypto Hamster (@Cryptohamsterio on Twitter). Chart from TradingView.com
BTC also has a higher chance of dropping due to ongoing trends in the legacy market.
The U.S. dollar rallied on Thursday after sinking for a number of days. This rally in the price of the world's reserve currency has suppressed markets, from stock and commodities to cryptocurrencies like Bitcoin.
Fundamental Trends Remain Positive
The fundamentals of Bitcoin remain decisively positive.
The Federal Reserve recently released the following statement, committing to easy monetary policy for the months ahead:
"The Committee decided to keep the target range for the federal funds rate at 0 to 1/4 percent and expects it will be appropriate to maintain this target range until labor market conditions have reached levels consistent with the Committee's assessments of maximum employment and inflation has risen to 2 percent and is on track to moderately exceed 2 percent for some time. In addition, over coming months the Federal Reserve will increase its holdings of Treasury securities and agency mortgage-backed securities at least at the current pace to sustain smooth market functioning and help foster accommodative financial conditions."
Investors in the space from Arthur Hayes of BitMEX and Dan Morehead of Pantera Capital to Raoul Pal of Real Vision and retail investors think that this trend of stimulus will only drive BTC higher.
Featured Image from Shutterstock
Price tags: xbtusd, btcusd, btcusdt
Charts from TradingView.com
These 3 Technical Signs Show Bitcoin Could Soon Reverse Lower