Blockchain technology was developed as a way to store, share and secure data through an open ledger that various parties can have access to at any given time. Blockchain has many uses such as providing secure transactions and speeding up data transfer processing.
With cryptocurrencies, Blockchain technology has grown to greater heights and now businesses are adopting it. Cryptocurrencies such as Big Eyes Coin (BIG), Flow (FLOW), and Cardano (ADA) are helping Blockchain to reach these heights and even push its current limits.
Big Eyes Coin (BIG) is Developing Great Value For Its Users and The Blockchain Community At Large
The Big Eyes Coin (BIG) is a unique meme coin that is quickly gaining popularity in the crypto space. With millions of BIG tokens sold and over 8 million dollars raised in its presale stage, Big Eyes Coin (BIG) is quickly rising to top-level status.
The Big Eyes ecosystem is a diversified, self-sustaining ecosystem that will be launched on Ethereum (ETH) and offers investment potential to its community of users as well as provides functionality to the crypto industry. The ecosystem plans to involve itself in major NFT projects that will generate a lot of value for the token and the users as well.
Users of the Big Eyes Coin (BIG) will not just find themselves in an entertaining ecosystem but one that is also committed to its community and the general growth of decentralized finance (DeFi). Big Eyes Coin (BIG) users will be part of a decentralized project where they will have a say in the development of the network as long as they hold BIG tokens.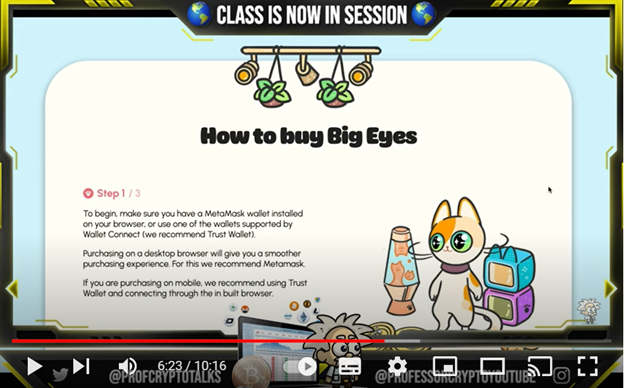 Flow (FLOW): The Blockchain Network For Blockchain Progress
Flow (FLOW) is a decentralized Blockchain-based platform built specifically for NFT gaming applications and digital assets in general. With Flow (FLOW), developers can build on top of shared resources such as data, code, and security.
Flow (FLOW) is highly scalable due to its multi-node architecture that allows developers to maximize their resources and provides flexible options. Cadence is a resource-oriented programming language introduced by the Flow (FLOW) network and was designed for digital assets and smart contracts. This system helps to enforce rules concerning resource management and improves app responsiveness as well as games and digital asset transfers.
The Flow (FLOW) network retains the validity of its network by making use of three node types: collection, execution, and verification nodes.
Consensus nodes ensure that the network remains decentralized. Users who wish to take part in the validation process to get rewarded have to stake a certain amount of FLOW tokens. The FLOW token also doubles as a cryptocurrency and a reserve asset that can be used to transfer value in a borderless manner.
Cardano (ADA) is a Profitable and Distinguished Cryptocurrency
Cardano (ADA) is a third-generation cryptocurrency platform built using methods grounded in academic theory and philosophy. The developers behind the Cardano (ADA) network created it to stabilize the decentralized applications (dApps) sector and have directed its efforts toward security and sustainability applicable to decentralized systems and societies.
Initially, the Cardano (ADA) network could only handle about 10 transactions per second. Today, the network can process over half a million transactions per second and this is possible through a Layer 2 scaling solution known as
Hydra. Cardano (ADA) has helped to improve interoperability by introducing systems such as Blockchain governance models and system upgrade protocols into the market.
Ouroboros is the new consensus mechanism introduced by Cardano (ADA) that relies on users to approve blocks. Users are randomly chosen based on their stake and a random seed. Developers have termed this system as the first provably secure Proof-of-Stake (PoS) protocol.
The Cardano (ADA) Team comprises developers that work across three different independent entities that provide support to ensure functionality and interoperability within the network.
These three projects; Ethereum (ETH), Chiliz (CHZ), and Big Eyes Coin (BIG) have brought about a uniqueness that would do a lot to encourage adoption and improve chances for profit making.
Big Eyes Coin (BIG);
Presale: https://buy.bigeyes.space/
Website: https://bigeyes.space/
Telegram: https://t.me/BIGEYESOFFICIAL
Disclaimer: This is a paid release. The statements, views and opinions expressed in this column are solely those of the content provider and do not necessarily represent those of Bitcoinist. Bitcoinist does not guarantee the accuracy or timeliness of information available in such content. Do your research and invest at your own risk.