Getting in on the next big thing is best before it hits the market. An initial coin offering (ICO) may be a good time to scoop up some coins, but even better is the presale. Numerous cryptocurrencies have ICOs, but it's important to determine the best crypto presales.
Our list consists of the 5 best crypto presales and crypto ICOs for 2022.
The Top 5 Best Crypto Presales and Crypto ICOs for 2022
We searched the market for the best crypto presales and compared them to determine the top five choices. Our comparison revealed that the best crypto presale is Battle Infinity.
TamaDoge – The only memecoin with real utility.
Battle Infinity – Overall Best Presale of an NFT-Based Fantasy Sports Game
Lucky Block – Best Competition Platform
Dorum – Popular Ecosystem for Artists, Actors and Musicians
EstateX – Real Estate Platform
A Closer Look at the 5 Best Crypto Presales and Crypto ICOs in 2022
Let's get into the details of each crypto presale and find out what makes them so special.
1. TamaDoge – The only memecoin with real utility.
TamaDoge tops the list of the best crypto presales for 2022 due to its unique approach to providing utility in the memecoin sector. In addition, TamaDoge is a fun and enjoyable play-to-earn game that allows players to breed, train, feed, and battle little TamaDoge NFT Pets.
Players must take care of their NFT pets along the journey by feeding and playing with them. Once they become adults, the NFTs can be battled against other pets to earn points and climb a leaderboard. The player with the most points at the end of each month wins the entire prize purse.
TamaDoge is currently hosting a beta sale for its $TAMA token. You can purchase the tokens through the dashboard. Once the first $2 million $TAMA is purchased, the presale will commence at a 25% higher price and run until Q4 2022.
The $TAMA tokens are required to purchase an NFT pet and participate in the P2E game. It is also necessary to buy food, toys, and cosmetic items from the TamaDoge Store. From the revenue generated through store sales;
5% is used to burn $TAMA.
30% is used for platform marketing and development.
The remaining 65% is sent to the prize pool.
TamaDoge has an innovative use for its NFTs as they contain 3D animated models of their TamaDoge pets. These models can be used as avatars in pre-existing metaverses, making them interoperable.
Overall, TamaDoge presents the perfect opportunity for investors as the P2E game is a fun experience that everybody can enjoy, regardless of their interest in cryptocurrency.
| | |
| --- | --- |
| Chain | Ethereum |
| Beta Sale Dates | 25 July – 2 September |
| Beta Sale Hard Cap | $2 million |
| Presale Start Date | 2 September – Q4 2022 |
| Presale Hard Cap | $10 million (total) |
| Audit | Solid Proof |
| Team KYC | CoinSniper |
2. Battle Infinity – Overall Best Presale of an NFT-Based Fantasy Sports Game
Battle Infinity makes this list because it offers players several benefits such as access to six platforms. It's an NFT-based fantasy sports game enabling players to earn while they play and explore the Metaverse with VR headsets. This ecosystem is designed to enable players to interact in real-time with other players using their unique avatars, which they can personalize by adding clothing and fashion items obtained from the Battle Marketplace.
Assets and characters are tokenized so that players can use NFT passes to enter leagues and matches in the IBAT Premier League. To begin playing, players can buy the native token, IBAT, on Battle Swap, which players can also use to sell their rewards for other currencies.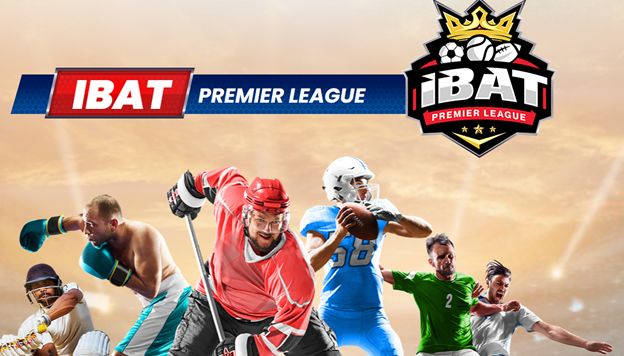 Besides building teams and establishing budgets, players can also earn rewards by participating in Battle Stake. Half of IBAT transaction fees are transferred to the global staking pool, which issues rewards to the most active players.
The developers designed this Metaverse game as a tamper-proof ecosystem KYC'd by CoinSniper, and Solid Proof audited the smart contract so that investors don't fear a rug pull.
Battle Infinity is one of India's biggest fantasy game projects, competing with giants such as Dream11 and Mobile Premier League.
Join the Telegram group with over 3,000 members and receive information about the IBAT airdrop giveaway during the presale.
3. Lucky Block – Best Competition Platform
We found Lucky Block to be another great option as its native token, LBLOCK, has proven to provide investors with significant returns. Investors who bought LBLOCK in February 2022 watched it pump more than 1,100% in two weeks.
Lucky Block is a global NFT competition platform that enables investors to access the Platinum Rollers Club NFT – players participate in prize draws to earn rewards. The platform runs a weekly main draw and an NFT draw every Friday. The winner of the main prize draw receives $50,000 in LBLOCK. Participants can buy tickets for the main draw for $1, and a required minimum of 5 tickets is needed to participate.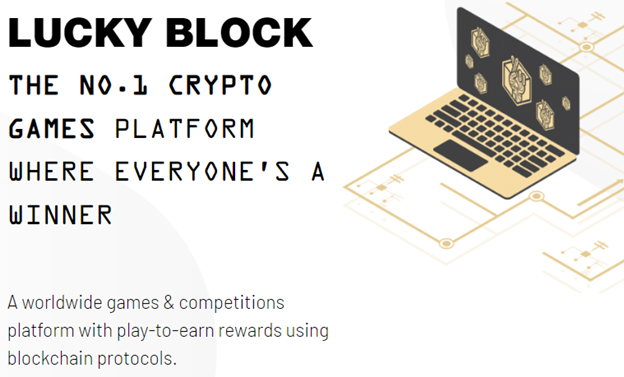 The coin's second version is CEX compatible, introduced in July 2022. No tax is applicable for transactions but also no rewards from the pool. The CEX version is listed on LBank. Day traders can speculate on the coin's price action since they won't incur tax, and its listing has significantly increased the coin's liquidity.
Lucky Block's platform is constantly developing. Soon users will be able to buy NFTs with fiat currency, and NFT owners can send their NFTs to any marketplace for trading on secondary markets. Lucky Block is one of the best crypto games to play and earn.
4. Dorum – Popular Ecosystem for Artists, Actors and Musicians
Dorum is a BEP-20 token running on the Binance Smart Chain network using its native token, DorumCoin for the exchange of exclusive author content offers in the NFT Marketplace. Investors explore the platform via the Metaverse roadmap to observe art exhibitions and virtual museums. Some of the tokenized items in the museum are sculptural, musical and pictorial works.
The key attraction is having exclusive access to works of art and experiencing a combination of meeting rooms and concerts in this crypto game. The total supply of DorumCoin is limited to 121 million of which 9% is burnt and divided into burns of 24 months.
Apart from having access to the NFT Marketplace and NFT Virtual Museum, players can also access the Dorum Professional Social Meta Network. That's the part of the Dorum Metaverse where professionals can publish and share exclusive content from authors. The Social Network focuses on professionals such as designers, architects, models and artists.
5. EstateX – Real Estate Platform
Real estate is part of many wealthy people's portfolios. Investors desiring access to their real estate at any time will appreciate EstateX. The platform aims to simplify real estate investing by making it available to investors of all budgets and location.
EstateX enables real estate investments from $100 by using blockchain technology to provide investors with fractional ownership of real-world property. The platform aims to lower the barriers of entry to real estate investing, which once used to be available only to institutional investors and high-net-worth individuals.
To earn passive income, investors need to buy the $ESX token to participate in the EstateX Economy. The EstateX Economy provides hassle-free investing because investors don't need to worry about property maintenance and repairs.
How to Buy TAMA
The sections below show users how to buy $TAMA. Since $TAMA is currently in presale, it must be purchased using the TamaDoge interface.
Step 1: Set up an Ethereum wallet
Users can download an Ethereum-compatible wallet such as MetaMask to buy $TAMA.
Click on "Download" to get started with MetaMask.
Step 2: Buy ETH or USDT
Users can buy $TAMA tokens with ETH or USDT coins. Therefore, investors will need to purchase ETH or USDT through one of the exchange services. Additionally, users can purchase $TAMA using the fiat on-ramp on the beta sale dashboard.
Step 3: Link MetaMask to Beta Sale Dashboard
Head over to the TamaDoge beta sale website, and click on "Connect Wallet" to link MetaMask with TamaDoge;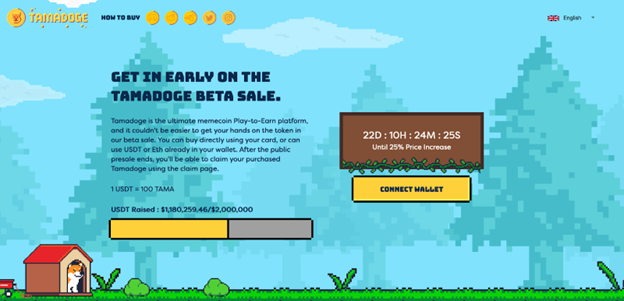 Users can then choose the MetaMask option and follow the instructions to link the wallet with the presale.
Step 4: Buy $TAMA
Once connected, users can choose to buy TamaDoge through the following options;
For example, to buy $TAMA with ETH, simply enter the amount of $TAMA you wish to purchase.
Once the presale has finished, you will be allowed to claim your purchased $TAMA.
Conclusion
TamaDoge provides the perfect blend between being a memecoin and providing a strong roadmap for future development. Considering the project is in the beta sale, this provides an excellent opportunity to get in at what could likely be the lowest price possible.
Time is running out to get in on this coin, so it's best to do it now.