This year has been nothing short of a rollercoaster for the crypto market. This has led many to look ahead to 2023, to try and find the right tokens to invest in to see their portfolio explode in value in the New Year.
Below are just a few of the cryptocurrencies we predict to see explode in value, making them great options to consider for investment in 2023. Highlights include Litecoin (LTC), Runfy (RNF), and Big Eyes Coin (BIG).
Be sure to check them out!
Runfy Runs Leagues Ahead
Runfy (RNF) is a token created as a response to the health crisis faced by many after the COVID-19 pandemic. It is a project designed to incentivise fitness through crypto rewards, giving users a way to get fit and make a profit.
Runfy (RNF) is a project in the 'Move-to-Earn' sector, which became very popular in 2022 following the success of projects like STEPN (GMT). However, Runfy (RNF) excels by giving its users multiple ways to move as a method of earning, allowing the app to appeal to a wider variety of exercise routines and lifestyles.
For this reason, there is a chance that Runfy (RNF) will become a far more popular cryptocurrency project as we head towards 2023.
Dogeliens Takes Memes To The Metaverse
Dogeliens (DOGET) is an ambitious Metaverse project with the goal of taking the meme token community to the next frontier.
The Metaverse of Dogeliens (DOGET), dubbed 'The Spaceship', will give users access to Dogelien Army NFTs, an education hub called The University of Barkington, and a wide Metaverse space full of lands to explore. Each space has been given a clever, dog-themed name and theme, making for exciting exploration and community opportunities.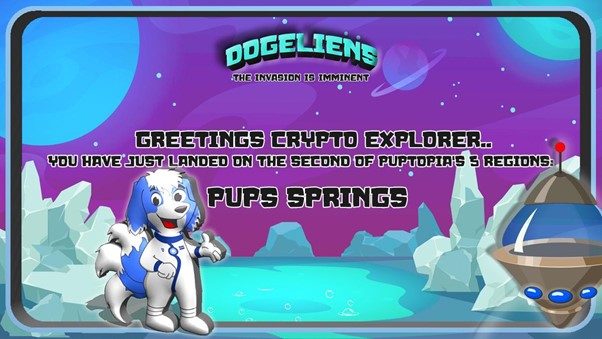 The project has big goals to climb 2023's meme token ladder, presenting meme token users with something new and creative. The question is, will you get involved?
Litecoin Lights The Path For Crypto In 2023
Despite being one of the market's oldest altcoins, Litecoin (LTC) has displayed an incredible ability to bounce back on the market, being one of the few tokens to rise in value during the bear market in mid-November.
Litecoin (LTC) offers a cheaper, faster, and potentially more energy efficient method of mining crypto using the Proof-of-Work system than Bitcoin (BTC). As crypto users become more aware of the environmental impact of the industry, it is likely that habits will change to reflect this environment. Litecoin (LTC) may just have a head start in this race.
Rocketize Aims For The Moon
Rocketize (JATO) is a community-focused meme token project built on the Binance Smart Chain with a cosmological theme. It is an open-source community project with the goal of propelling its community to the stars, with the native JATO being used to guide the community via its DAO.
NFT minting events and a collection of multimedia creations are set to bind and build the Rocketize (JATO) community, which will likely only grow and expand into 2023.
Will you get involved?
Big Eyes Coin- 2023s Big Meme Token?
One of the most anticipated meme token projects of this year has been Big Eyes Coin (BIG).
This token, which has raised over $10 Million in its presale and gained a significant online presence, has already made its place in the meme token market known. The token's unique mascot design, dynamic taxation system, and dedication to charity work have already garnered Big Eyes Coin (BIG) a following, with this following only expected to grow as it continues into 2023.
Big Eyes Coin (BIG) is a token with the potential to rewrite the meme token rulebook- to show that tokens that break the rigid formula established by Dogecoin (DOGE) and Shiba Inu (SHIB). It is a token worth researching as we head towards 2023, and a significant opportunity to make big returns next year.
Big Eyes Coin (BIG) is also currently offering buyers an exciting BIG token bonus when using code BIGPRIZE50 at checkout- be sure not to miss it!
For more information on Big Eyes Coin (BIG), check out the links below:
Presale: https://buy.bigeyes.space/
Website: https://bigeyes.space/
Telegram: https://t.me/BIGEYESOFFICIAL
Disclaimer: This is a paid release. The statements, views and opinions expressed in this column are solely those of the content provider and do not necessarily represent those of Bitcoinist. Bitcoinist does not guarantee the accuracy or timeliness of information available in such content. Do your research and invest at your own risk.