Decentralized Finance, or DeFi, represents a revolutionary stride in the financial sector, redefining traditional financial services by harnessing blockchain capabilities. Offering unparalleled security, transparency, and trustless interactions, the DeFi market has taken the world by storm. Within just a year, an astounding $13 billion value has been locked in Ethereum's smart contracts, marking a significant milestone in DeFi's rapid expansion.
In the evolving landscape of DeFi, specific projects stand out, demonstrating innovative approaches, robust technology, and promising potential. This article highlights six remarkable DeFi crypto projects in May/June 2023: DigiToads, MakerDAO, Aave, Uniswap, PancakeSwap, and SushiSwap.
Let's delve deeper to understand their unique propositions and how they have earned their top spots on the market.
1. DigiToads
DigiToads is an Ethereum-based meme coin, has skillfully merged three diverse crypto models, setting itself apart as a unique proposition in the crypto sphere.
It fuses the novelty of a meme token, the earning potential of a stake-to-earn platform, and the immersive experience of a Web 3.0 game into a singular cohesive entity. Its dynamic nature makes DigiToads an enticing choice, particularly for those dipping their toes into cryptocurrencies.
The heart of the DigiToads ecosystem is its play-to-earn game, where players compete in a virtual swamp to secure the highest scores and win crypto tokens. Players are assisted by a species of digital creatures, the DigiToads, known for their strength and unique traits. The gaming experience is further enriched by in-game assets such as potions, food, and training equipment for DigiToads, purchasable with TOADS tokens.
This DeFi project offers a range of other activities that enhance user engagement and value creation. TOADS, the network's native token, serves multiple functions, including staking, trading, executing payments, and granting voting rights. Currently, TOADS can be purchased during its presale.
The presale of this exciting ERC20 token operates in ten stages, half of which have already been concluded with impressive user participation. The total supply of TOADS tokens is capped at 585 million, a significant portion of which is allocated to the current ICO. The remaining tokens are earmarked for various developmental activities, including liquidity pool maintenance, team tokens, competition organization, community rewards distribution, and other operational tasks.
With its multifaceted model and engaging ecosystem, this exciting new ICO offers an innovative blend of meme tokens, staking platforms, and gaming, making it a top contender in the DeFi space.
2. MakerDAO
MakerDAO is a flagship project in the DeFi ecosystem, best known for its innovation of DAI, a stablecoin pegged to the US dollar. Unlike traditional stablecoins backed by fiat currency in a centralized bank, DAI is backed by collateralized crypto assets managed on the Ethereum blockchain. This unique approach ensures its value remains stable, offering a safe haven in the often volatile crypto market.
MakerDAO operates on a dual token model involving MKR, the governance token, and DAI. MKR holders have voting rights in the system, playing a vital role in managing the collateralized debt position (CDP), setting interest rates, and making other crucial system decisions. This decentralized approach ensures a high degree of transparency and fair governance.
What sets MakerDAO apart is its innovative blend of decentralized control with a stable medium of exchange. Its ability to create a stablecoin in a decentralized manner while ensuring the system's stability and solvency is a significant achievement.
The potential of MakerDAO is recognized in its rising adoption as a stable store of value within the DeFi ecosystem, making it a leading light in the world of decentralized finance. Its groundbreaking solutions embody the disruptive potential of DeFi, and its continued evolution and resilience underpin its ranking among the top DeFi projects of 2023.
3. Aave
The next on our DeFi crypto list is Aave, a trailblazer in the DeFi ecosystem that has established itself as a top-tier player due to its innovative approach to decentralized lending and borrowing.
Operating on the Ethereum blockchain, Aave enables users to lend and borrow a broad array of cryptocurrencies, all while maintaining control of their assets.
Among its notable features is the capacity for users to earn interest on deposits, thus transforming idle assets into productive ones. On the borrowing side, Aave offers both stable and variable interest rates, providing flexibility to meet individual borrowing needs.
The project also stands out for introducing unique concepts like 'Flash Loans' – uncollateralized loan options that are issued and settled within a single transaction block. This has paved the way for many novel financial operations within the DeFi space.
Moreover, Aave has effectively tackled a major concern in the DeFi arena – liquidity. Through an algorithmic approach, it ensures high liquidity levels, making it easier for users to swap tokens directly from the protocol's reserves.
The combination of its robust feature set, progressive innovation, and commitment to solving DeFi's inherent challenges contributes to Aave's recognition as one of the best DeFi projects. Its ongoing evolution holds exciting potential for the broader DeFi landscape and investors seeking to leverage the benefits of decentralized finance.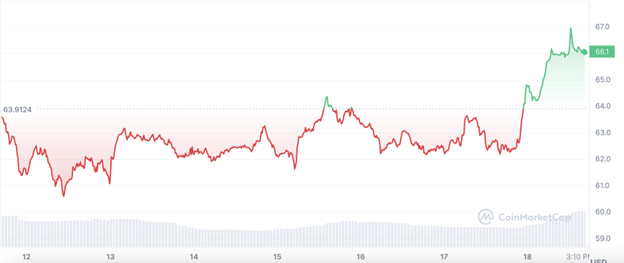 4. Uniswap
Uniswap is a pioneering DeFi ecosystem project renowned for its unique approach to decentralized trading. It operates as an automated liquidity protocol built on Ethereum, enabling users to trade directly from their wallets without intermediaries.
A defining feature of Uniswap is its use of liquidity pools instead of order books, revolutionizing the way decentralized trading is executed. This protocol facilitates seamless swapping of ERC20 coins, while liquidity providers earn fees in return for supplying the pools with tokens.
One of Uniswap's major strengths lies in its permissionless nature, allowing any user to list a token on the platform without formal procedures or fees. This open and democratized process has significantly boosted Uniswap's popularity and usability within the crypto community.
Moreover, the introduction of Uniswap V3 further enhances capital efficiency by allowing liquidity providers to set custom price ranges for their positions, thereby maximizing their potential returns.
Uniswap's innovative design and commitment to maintaining a truly decentralized and open platform cements its status among the top crypto coins. It has reshaped the DeFi landscape, pushing what a decentralized exchange can achieve and serving as a benchmark for others in the space.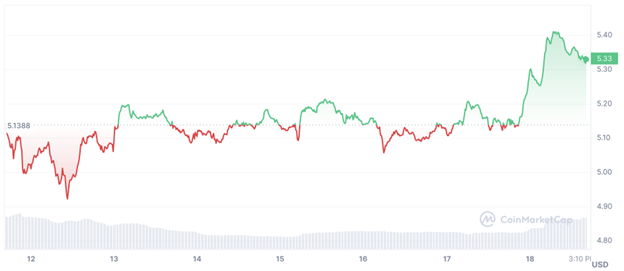 5. PancakeSwap
PancakeSwap, a leading decentralized exchange (DEX) running on Binance Smart Chain (BSC), has also made a name for itself in the DeFi arena. As an automated market maker (AMM), PancakeSwap allows users to trade directly from their wallets in a permissionless and decentralized manner, eliminating the need for order books.
One of PancakeSwap's standout features is its farming and staking options. Users can earn CAKE, PancakeSwap's native token, by providing liquidity on the platform and 'farming' in the liquidity pools. Additionally, staking CAKE in 'Syrup pools' allows users to earn other tokens as rewards.
PancakeSwap also offers lottery and NFT trading services, further diversifying its appeal. Importantly, PancakeSwap's use of the BSC brings the advantage of faster transactions and lower fees compared to Ethereum-based DEXs, which is a significant attraction for many users.
Moreover, PancakeSwap's rapid growth, a broad range of features, and user-friendly interface have established it as a top player in the DeFi ecosystem. It provides an accessible entry point for newcomers to DeFi, offering sophisticated trading, staking, and farming mechanisms for experienced users, thereby securing its place as a leading DeFi project.
6. SushiSwap
SushiSwap is a decentralized cryptocurrency exchange built on the Ethereum blockchain. It follows an automated market maker (AMM) model, which allows anyone to provide liquidity and earn trading fees in return. SushiSwap differentiates itself from its counterparts through its unique features and an ethos focused on community participation and sustainable growth.
One of the platform's defining characteristics is its governance token, SUSHI. This token empowers users to participate in the platform's decision-making processes, effectively democratizing control over the platform's future development. SushiSwap also offers yield farming opportunities, enabling users to stake their SUSHI tokens to earn additional rewards.
Another innovative feature of SushiSwap is its Onsen Menu, a curated list of high APR liquidity pools, allowing users to earn impressive asset yields. Moreover, SushiSwap is committed to continuous improvement and expansion, implementing multi-chain support and venturing into lending and borrowing with its Kashi release.
Final Verdict
The realm of DeFi is buzzing with many top altcoins, each vying for supremacy. Yet, not all possess the requisite credentials to stand the test of time. Among the new entrants, DigiToads shines bright, making it an enticing candidate for the best crypto investment in the present scenario. Its hybrid model, which seamlessly fuses meme coin, a staking platform, and a Web 3.0 game, sets it apart from other alternatives.
Looking at the prospects, market analysts are optimistic about DigiToads. They anticipate that it has a significant growth runway and could offer substantial returns, with the possibility of achieving 100x in the foreseeable future. As such, DigiToads has cemented its position as a noteworthy player in the DeFi landscape, brimming with promising potential.
For more information on DigiToads visit the website, join the presale or join the community for regular updates.
Disclaimer: This is a paid release. The statements, views and opinions expressed in this column are solely those of the content provider and do not necessarily represent those of Bitcoinist. Bitcoinist does not guarantee the accuracy or timeliness of information available in such content. Do your research and invest at your own risk.