From the collapse of Terra to the implosion of FTX, the crypto market has witnessed some shocking events in 2022. However, many crypto analysts speculate that the current crypto winter will soon thaw.
With this in mind, we have picked the best crypto coins to buy during the bear market – based on their long-term prospect, community base, and upside potential.
7 Best Crypto Tokens To Monitor In During Crypto Winter Bear Market
We have combed through dozens of projects to pick the best crypto winter tokens to invest in 2023:
FightOut – Move-to-Earn Crypto Project With Metaverse Integration
Dash 2 Trade – Advanced Crypto Analytics Platform That's Rasied Over $11m
C+ Charge – EV Charging App Offering Carbon Credits as Rewards
RobotEra – Metaverse Gaming Platform With NFT Robot Avatars
Calvaria – Crypto Card Game With Play-to-Earn Mechanics
IMPT –  Green Token That Raised Nearly $13 Million in Funding During Crypto Winter
Lucky Block – Crypto Ecosystem With an Online Casino and NFT Competitions Platform
These projects are new to the market and stand a solid chance of surviving through the current crypto winter. As such, in order to stand the best chance possible of making long-term gains – investors have the opportunity to enter the market at a favorable price.
Review of the Best Crypto to Buy During the Bear Market
There will always be a number of cryptocurrencies that outperform the wider bear market. However, finding them can be labor-intensive, especially when considering that there are virtually thousands of digital tokens out there.
Therefore, we have looked for cryptocurrencies with a low entry price and a high growth potential. Below, we review the best crypto winter tokens to buy, highlighting the key features that make them stand out in the market.
1. FightOut – Move-to-Earn Crypto Project With Metaverse Integration
Over the past year, the move-to-earn space has exploded in popularity. FightOut is one of the latest crypto projects that capitalize on the 'move-to-earn' mechanism, but with a few unique features of its own. The main concept behind FightOut is to reward users for moving by granting cryptocurrencies as rewards.
But, that's not all. FightOut users will also be able to create their own NFTs that represent their physical qualities. Users can venture into the metaverse using these avatars and even participate in physical fitness challenges.
In addition to this, FightOut will also build a network of gyms in the real world. The gyms will also include other spaces, such as cafes and co-working facilities, and can be accessed by FightOut app users. This way, FightOut aims to bridge the gap between web2 and web3.
Moreover, users who sign up with the FightOut app will receive tailored workout routines based on their fitness goals. The app also allows users to access personal training lessons provided by expert trainers at FightOut gyms. And above all, FightOut truly excels in gamifying the workout experience – as it keeps users motivated by offering crypto rewards.
FightOut has devised two cryptocurrencies in order to power its ecosystem. The rewards are offered in the form of REPS tokens. These tokens can also be used to pay for the FightOut gym memberships and to purchase the brand's merchandise.
However, the main digital currency is FGHT. Users will be motivated to pay for the app subscription using FGHT tokens in order to obtain a 25% discount. In fact, investors will need to stake FGHT tokens in order to gain access to the app. Additionally, FHGT tokens can also be used to purchase REPS tokens on the FightOut app.
The FGHT presale has already started and has been selling out pretty quickly. As of writing, FightOut has managed to raise nearly $2.5 million within the first stage of the presale. FightOut will also incentivize early investors who wish to contribute more to the project.
For instance, those who invest more than $500 will receive a 10% bonus on their tokens, whereas those who buy more than $50,000 worth of FGHT will gain an additional 25%. On top of this, once the presale ends, FightOut will also offer $250k worth of FGHT tokens in a free giveaway.
As per the FightOut roadmap, the platform will launch the app, NFTs, and the first range of workouts by Q2 2023. Clearly, FightOut has some exciting plans for the future, and the project is expected to perform well in the next year, especially if the bull market resumes.
As such, crypto investors consider FightOut as one of the best crypto to buy during the bear market. And the presale presents a great opportunity for investors to acquire FGHT tokens at a discounted price.
Those who wish to buy FGHT tokens can head over to the FightOut website to participate in the presale.
2. Dash 2 Trade – Monitor Crypto Market With Advanced Analytical Tools
Dash 2 Trade has developed one of the most advanced analytics platforms available in the crypto space. It offers users access to a wide range of crypto trading tools that allow traders to maximize their opportunities. This includes crypto signals, on-chain metrics, and even exclusive tools such as social sentiment analysis and bespoke presale scoring system.
Moreover, with Dash 2 Trade, investors can also build and execute trading strategies in an auto-pilot mode. Users will be able to connect their exchange accounts to Dash 2 Trade using API and run their automated strategies around the clock. In addition to this, Dash 2 trade users will also have the option to copy the strategies of the most profitable traders on the platform.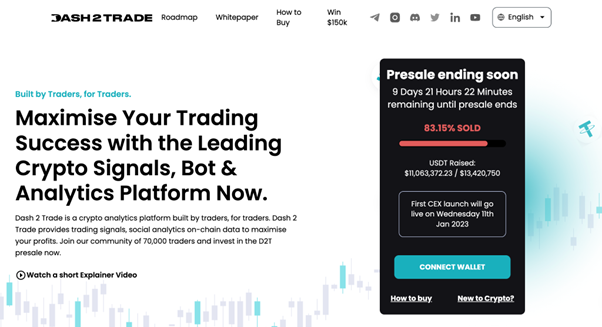 Dash 2 Trade is also designed to be user-friendly for complete beginners. It develops crypto signals using AI and technical indicators and alerts users of potential crypto trading opportunities. These signals will include suggestions on which crypto pair to trade, the entry/exit price, as well as risk-management tools such as take-profit and stop-loss levels.
Beginners can also enroll for free with the Dash 2 Trade academy and earn D2T tokens in exchange for developing their trading skills. To elaborate, D2T is the native token of the Dash 2 Trade ecosystem. Those who wish to use Dash 2 Trade's services will have to pay for a subscription with D2T tokens.
Dash 2 trade comes with two paid plans – priced at 400 D2T and 1,000 D2T. Users can choose a plan that offers the tools that are most useful for them. There is also a free plan which offers access to the main Dash 2 Trade dashboard; however, with this option, the features are quite limited.
The D2T token presale started in October 2022 and will end in January 2023. Out of the target of $13.4 million, the presale has successfully generated more than $11 million in funding – with only 17% left.
Dash 2 Trade has already confirmed that D2T tokens will be listed on popular crypto exchanges such as Uniswap, LBANK, Bitmart, and Changelly. However, the listing price will be higher than that of the presale. And hence, investors might want to take action if they wish to benefit from the low presale price on offer.
3. C+Charge – Blockchain-Powered EV Charging App
C+Charge is one of the new crypto projects with a particularly interesting utility in the real world. It aims to democratize the EV charging space by developing a blockchain-based app. This app will ensure transparency, fair payments, and real-time data updates to EV owners.
The app is powered by the platform's native token, CCHG. Whenever a user pays for EV charging using CCHG tokens, they earn carbon credits as rewards. For those unaware, carbon credits are permits that allow companies or individuals to compensate for their greenhouse gas emissions.
These carbon credits can be traded like any other commodity on marketplaces. C+Charge offers carbon credits in the form of NFTs, which makes them easier to trade. Although carbon credits are great incentives, the main purpose of C+Charge is to make EV charging more accessible.
As such, the C+Charge app aims at addressing some of the challenges of the EV charging space, such as a lack of uniformity in the payment gateways, as well as non-transparent pricing. In other words, C+Charge has created an innovative and sustainable solution for some real-world problems.
For this reason, C+Charge has succeeded in garnering a lot of attention from crypto investors, regardless of a tight economy. This makes C+Charge one of the best crypto to buy during this dip, especially for those who are taking on an ESG investment strategy in 2023.
The C+Charge app is still underway, but as of writing, its presale allows investors to purchase CCHG tokens at a discounted price. The presale is still in stage one, and the platform has raised more than $30,000 in just two weeks. The presale takes place in multiple stages, with the price of CCHG tokens increasing after each phase is complete.
4. RobotEra – Metaverse Land Project in Presale Phase
For gamers wondering what crypto to buy during the bear market – we present RobotEra, a metaverse project with exciting features. This project is building a huge metaverse, complete with seven continents and a central city. Each of these continents will have its own distinct landscape and unique resources.
Investors can buy virtual lands in any one of the seven RobotEra continents of their choosing. As with all assets in the RobotEra metaverse, these virtual lands are also structured as NFTs.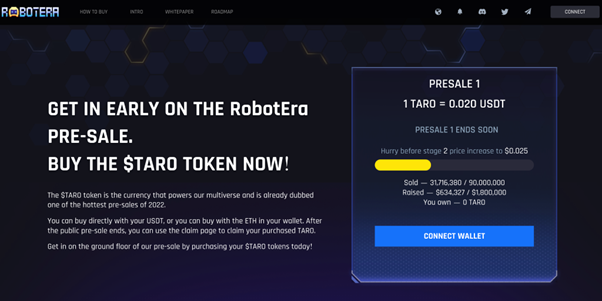 Investors have complete freedom to decide how they want to develop their virtual lands and what to build on them. It is then up to the investors to monetize their lands by selling their products, hosting events, or building community spaces such as parks or museums.
As we mentioned, RobotEra integrates NFT assets into its gameplay. Each player in RobotEra will have their own digital robot character in the form of NFTs. They can explore the RobotEra lands and space using this robot avatar. On top of this, players can also craft robot companions using workbenches on RobotEra. These companions can be valuable tools in the players' quest to thrive in the RoboEra world.
Needless to say, players will also be at liberty to trade their robot, land, and other NFTs in open marketplaces. RobotEra has also constructed a new utility token, TARO, that will be used as the basis of transactions within this ecosystem. This ERC-20 token can be used to exchange assets and is also offered as rewards on RobotEra.
To raise funding for the progress of this metaverse, RobotEra is offering TARO tokens via presale. At the time of writing, the presale is in stage 1 and has already collected more than $6.3 million dollars from early investors. To buy TARO tokens, investors can head over to the RobotEra website, connect their digital wallet, and pay using ETH or USDT tokens.
Once the presale is complete, RobotEra will also add support for TARO staking. This will offer another way for TARO investors to gain rewards. With these interesting utilities, RobotEra might appear to many investors as one of the best crypto to buy during the crypto winter.
Crypto investors can check out the RobotEra whitepaper to know more about the scope of the project.
5. Calvaria – Play-to-Earn Card Game With Immersive Graphics
Like RobotEra, Calvaria is another crypto winter token that might appeal to NFT gamers. One of the best crypto presales to invest in, Calvaria comes with a play-to-earn ecosystem based on NFT cards. In the game, players have to create a deck of NFT cards and craft unique strategies in order to win.
To make this possible, Calvaria has designed unique cards, each with its own strengths and weaknesses. Players can also use collectible NFT tokens within the game to increase the overall strength of their deck.
Calvaria rewards players when they win battles by beating their opponents. Moreover, since the game uses blockchain technology, all in-game assets, such as cards, decks, and even upgrades, will belong to the players. This gives them the right to trade them on secondary markets.
That being said, Calvaria also comes in a free-to-play version. However, according to the Calvaria whitepaper, the free version highlights the benefits of the blockchain-integrated alternative, which is to get rewarded for the time and effort that players spent on the game.
Calvaria uses RIA tokens to reward its players. Investors can collect RIA tokens and use them to upgrade their Calvaria cards to boost their chances of winning. The game also features multiple modes in order to accommodate the goals and preferences of different players.
For instance, there are both single and multiplayer modes in which players can gain rewards by accruing assets or by winning tournaments. All these unique features suggest that Calvaria has plenty to offer web3 investors.
This is also one of the reasons why the Calvaria presale has performed well even in a cryptocurrency bear market. As of writing, the project is in the final stages of the presale and has generated nearly $2.6 million.
6. IMPT –  Sustainable Crypto Project With a Massively Successful Presale
IMPT is another newly founded cryptocurrency platform. Like C+ Charge, IMPT has also taken an eco-friendly approach and has developed a blockchain-based platform for carbon credits trading.
Typically, carbon credit permits are offered to companies and businesses by the government. Although voluntary markets exist, these are not easily accessible to everyone. IMPT makes it possible for both companies and individuals to invest in eco-friendly projects and receive carbon credit NFTs in return.
After buying the NFTs, investors can burn them to compensate for their carbon footprint. In doing so, IMPT incentivizes investors with a unique art collectible NFT.
Another option for investors is to hold on to their carbon credit NFTs and sell them in the secondary markets. Whichever approach is chosen, investors will first need to purchase IMPT tokens. This is because the carbon credit NFTs can be purchased only using IMPT tokens.
As with the other crypto projects in this list, IMPT is also in its early stages of development. As of writing, the platform has successfully completed its presale and has raised around $13 million in two months. Moreover, despite being a new project, IMPT has also built a community of more than 11k members on Telegram.
When considering the growing demand for carbon credits and the strong community support, it is no surprise that many eco-conscious investors look at IMPT as the best crypto to invest in during the bear market.
After the successful presale, IMPT tokens are now listed on the leading crypto exchange, LBANK. By 2023, IMPT will also be available to buy via other crypto providers in the market.
7. Lucky Block – NFT Competitions Platform With Attractive Rewards
As we have already established, the best coins to invest in during the crypto winter are those that offer unique use cases. In that regard, Lucky Block is a cryptocurrency well worth considering in 2023. LBLOCK, the native token of the Lucky Block ecosystem, has multiple utilities in the crypto space.
For one, this token can be used to purchase tickets for the Lucky Block NFT-based competitions. These competitions are designed as prize draws, and Lucky Block NFT holders will receive rewards even if they are not picked as the winner.
In addition to this, Lucky Block has also launched a new crypto casino and plans to add support for gambling with LBLOCK. This crypto casino supports thousands of games from leading providers and even has exciting bonuses and cashbacks awaiting players.
Furthermore, LBLOCK tokens can also be traded on exchanges, like any other cryptocurrency. All in all, Lucky Block has designed a digital token that has the potential to be a recession-proof crypto. Investors can buy this token from crypto exchanges such as CEX, Uniswap, Gate.io, MEXC, and more.
Conclusion
When looking for the best crypto to buy during this crypto winter, investors should focus on aspects such as long-term growth potential and user adoption. All of the seven crypto projects we discussed in our guide have unique value propositions that can drive their growth in 2023.
However, we particularly like crypto projects such as FightOut and Dash 2 Trade. Both of these are innovative projects, and they also target a wide market.
Furthermore, these cryptocurrencies are also in the presale stage. Meaning, investors have the opportunity to buy FGHT and D2T tokens at a low price before they are listed on crypto exchanges.