The most lucrative investment strategy is often simply buying low and selling high. The challenge many investors face is finding the best new crypto projects to safely invest in during their early stages. It usually means taking a risk on buying coins on presale or tokens that are part of upcoming initial coin offerings (ICOs).
Our review team researched several options for the best ICO crypto and the best crypto presale to invest in 2023 wise, and ranked them in the list below.
Brief Review of Best Crypto ICOs and Token Presales in 2023
Below is an overview of what each project offers:
FightOut (FGHT) – Overall Best Crypto Presale Raising $2m Within Days
Dash 2 Trade (D2T) – Innovative Signal and On-chain Crypto with Upcoming ICO
C+Charge (CCHG) – Eco-Friendly Crypto in Newly Launched Presale
RobotEra (TARO) – Multi-Reward Coin in Presale Rivaling The Sandbox
Calvaria (RIA) – Play to Earn Crypto with Low Fees Headed for Exchanges
IMPT – Recently ICO Crypto Rewarding Carbon Footprint Reduction
Toon Finance (TFT) – Utility Token in ICO Solving P2E Gaming Problems
Metacade (MCADE) – Popular Community Hub Coin on Presale
Detailed Review of 8 Best Crypto ICOs and Token Presales
Each of the new altcoin projects above offers unique utility and has already begun to gain traction by raising a large amount of initial capital.
Investors stand to benefit in several ways by participating in these projects as an early investor, which we explore in detail below.
1. FightOut (FGHT) – Overall Best Crypto Presale Raising $2m Within Days
FightOut launched its presale in mid-December 2022 and raised more than $2 million in a matter of days. The good news for investors is that they can still be part of the early-round fundraising to lock in an asset while it's priced low.
Currently in stage 1 of its presale, FightOut offers the native token $FGHT at $0.016. This token's price will increase as it enters the different stages of the presale, enabling early investors to own an appreciating asset.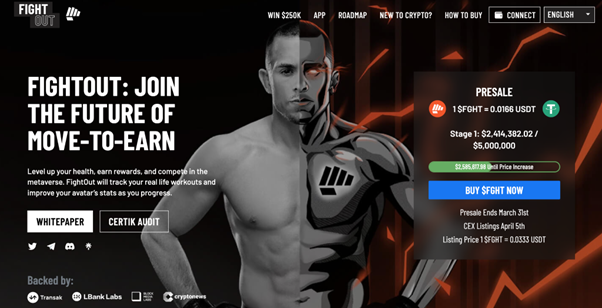 Participating in the presale enables investors to claim bonus tokens. The bonuses are determined by the initial investment and vesting period. Investing $500 provides a bonus of 10%, and selecting 6-month vesting offers an additional 10% bonus.
To receive the optimal bonus of 50%, investors need to buy $50,000 of $FGHT tokens and lock them up for 24 months. Investors wanting to take advantage of the bonus need to act soon because FightOut will remove the bonus after raising $5 million for stage 1.
FightOut is a move to earn platform that rewards users with tokens for pursuing a healthy and active lifestyle. It distinguishes itself from most ecosystems by distributing rewards for movements and steps during weight exercises, workout class participation and bodyweight exercises.
This ecosystem combines its app and real-world gyms allowing users to customize their workouts and focus on the desired muscle group via video tutorials or in-app class participation. FightOut is working on opening gyms in key metropolitan cities around the world.
The in-app currency REPS is rewarded for completing workouts and challenges, earning badges and growing the community. Users can redeem their rewards for subscriptions, merchandise and remote sessions with personal trainers.
Accumulating more REPS is possible by purchasing them with $FGHT tokens.
Another way FightOut separates itself is by offering a soulbound avatar, which receives all the efforts and increased strength that the user achieves through workouts. Once the avatar is strong enough, it can enter the metaverse and fight in tournaments to be rewarded with tokens for victory.
REPS can be exchanged for cosmetics to stylize the avatar to be unique with hairstyles, fashion accessories and tattoos.
Users can also test their strengths against AI-powered professional fighters or legends of combat sports. FightOut is looking into signing professional fighters and top-tier coaches as ambassadors to represent the band.
This will provide the project with more exposure, but users will also benefit from the masterclass-style training content and live classes offered by these professionals.
Apart from the bonuses offered, the presale is the best time for investors to participate because most of the total coin supply is allocated to the public sale. Of the 10 billion total supply, FightOut's presale will distribute 90% of the tokens.
FightOut has allocated only 10% of the capped supply to exchange liquidity. The price of $FGHT tokens is likely to be higher when it ICOs, but supply will also be limited. Demand is likely to increase for this token on exchanges, which could result in higher prices.
In terms of security, FightOut also ranks among the safest crypto presales to invest in as it recently completed a CertiK audit and was issued a KYC (know your customer) certificate by independent verification platform CoinSniper.
Its founding team are also fully doxxed for transparency – find their LinkedIn profiles on the homepage at the link below, as well as links to the whitepaper and official social channels.
2. Dash 2 Trade (D2T) – Innovative Signal and On-chain Crypto with Upcoming ICO
Dash 2 Trade is headed to exchanges on 11 January 2023 after hosting a successful presale. Exchanges LBank, BitMart, and Changelly have confirmed D2T listings. Investors who don't want to wait for ICO prices still have an opportunity to be part of the presale.
The presale ends in 15 days and offers the remaining 20% of the tokens at $0.0533. Dash 2 Trade has raised more than $10 million in two months, and its ICO is also likely to soar if the current buying momentum continues.
Early investors who participated in the project will be up by 12% when the presale ends. Dash 2 Trade has a total supply of 1 billion tokens. It has allocated 66.5% of the token to the presale and only 5% to liquidity.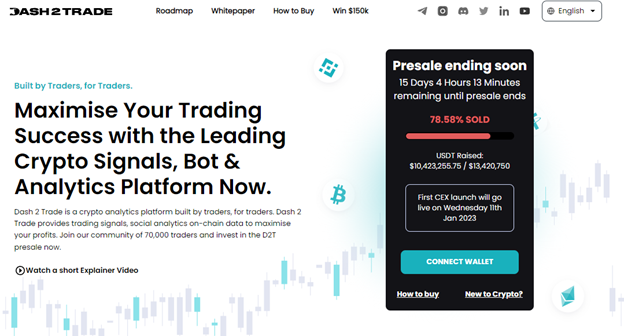 The likley scenario is investors rushing to bag the remaining coins during the ICO if they haven't bought during the presale. D2T's price could increase on exchanges due to the low number of tokens available and the increased demand as investors scramble to buy the few remaining coins.
To celebrate its successful presale, Dash 2 Trade is giving back to investors with a $150,000 D2T token draw. Investors who own at least 150 D2T tokens on the day of the draw are eligible to win. Investors receive multiple entries by completing social media tasks such as joining the Dash 2 Trade Telegram group and tweeting about the brand.
D2T is the access token to this platform's crypto signals and on-chain analytics dashboard. Investors subscribe with D2T tokens and benefit from buy and sell alerts if they wish to avoid spending hours analyzing charts.
Dash 2 Trade offers fundamental and technical data. Investors can monitor what institutional investors are doing so they can position themselves accordingly.
Another useful feature of this platform is the social indicator. Investors receive metrics about coins discussed on social media by the crypto community. This information helps investors gauge sentiment, which has been responsible for coin price volatility.
Basic market insight is provided to starter subscribers, who pay 400 D2T tokens monthly for the service. Investors who seek full access to all the features such as trading competitions, whale wallet movement and advanced market insight need a premium subscription, costing 1000 D2T tokens monthly.
The technical indicators that Dash 2 Trade provides include moving averages, bands and orderbook statistics from exchanges.
Investors can use the strategy builder tool to plan trading strategies and then test them in simulated environments mimicking live market conditions without risking their own money.
Dash 2 Trade has made trading social by enabling traders to swap ideas and learn from each other. The platform tracks the best-performing strategies and shares them with the community. It also hosts weekly price prediction challenges and rewards the correct predictions.
Although unconfirmed, Dash 2 Trade's ICO on 11 January 2023 is likely to be on LBank. Investors who prefer to use decentralized exchanges will have an opportunity to buy D2T tokens on Uniswap.
3. C+Charge – Eco-Friendly Crypto in Newly Launched Presale
C+Charge is a newly launched presale on a mission to democratize the carbon credits industry. This environmentally-friendly ecosystem is building a platform that makes electric vehicle (EV) charging more convenient and rewards drivers with tokens every time they recharge their cars.
Investors have a chance to get in early as C+Charge's presale is still in its first stage. The native token $CCHG is priced at $0.013, which increases to $0.0165 in stage two.
The third stage will price the coin at $0.02, and the final stage will eventually increase the price to $0.0235 — an 80% increase in value since the launch of the presale.
C+Charge's roadmap includes the launch of a peer-to-peer payment system for EV charging stations. The platform will make use of blockchain technology to accurately reward EV owners with carbon credits for charging their vehicles at preselected stations.
Carbon credits revenue is estimated to be $851 billion for 2022. Large corporations are the beneficiaries of almost all of that revenue, and C+Charge is adamant about changing that. This ecosystem wants to divert some of that revenue to EV owners for charging their vehicles.
Part of this ecosystem is an app, which offers a geolocation feature enabling drivers to locate the closest functional charging station. The app will guide drivers to a charging station that enables payment with $CCHG tokens.
A crypto wallet is one of the features of the app, which will track the driver's token balance and carbon credits — received as rewards after drivers charge their vehicles.
C+Charge's efforts to democratize carbon credits is likely to result in the expansion of EV adoption, as drivers will be rewarded for charging their vehicles and enjoy efficient charging.
Once EV drivers have used $CCHG for payment, those tokens will be sent to a wallet address that will remove them from circulation.
C+Charge has allocated 40% of the 1 billion capped supply to the presale. The hard cap is $6.6 million. After the presale ends, investors will have access only to 8% of the total supply on exchanges.
Investors who want to be a part of a pioneering ecosystem offering crypto-fueled charging stations that fight climate change should invest in this project while it's in presale.
Invest in C+Charge Presale Now
4. RobotEra (TARO) – Multi-Reward Coin in Presale Rivaling The Sandbox
RobotEra is a play to earn game currently in presale, offering its native token $TARO at $0.02 during the first stage. Already raised almost $600,000, RobotEra has a hard cap of $1.8 million for early fundraising.
The second stage of the presale increases $TARO's value to $0.025. Investors who buy the coin during stage 1 will enjoy returns of 60% as the third stage prices the coin at $0.032.
The presale is the best time for investors to buy $TARO tokens because RobotEra allocated 15% of the total supply to early-round fundraising. Only 3% of total supply will be available on exchanges.
Investors are more drawn to P2E coins than even some of the best altcoins because of their intrinsic reward feature. RobotEra enables players to earn $TARO coins in multiple ways, even during a crypto winter.
The game requires players to use $TARO tokens to buy land on the destroyed Taro planet and rebuild it. Players can use the in-game tools to build their own robot companions, which can be sold on the NFT marketplace or added to the land.
The robot companions help players to earn rewards by cultivating sacred trees, mining for minerals and collecting raw materials.
This game has a multiverse ecosystem, providing players with access to different worlds where they have more opportunities to earn $TARO tokens. Some of the activities rewarded are hosting events, participating in concerts and operating independent continents.
Players can also earn a passive income by staking their $TARO coins, which is crucial to rebuilding the planet.
Another way players can earn tokens is by monetizing their land through billboard rental to advertisers. Increasing the value of their land with additional infrastructure and embellishments enables players to sell the parcels at a profit.
But to reap the rewards in various ways, players need to own the $TARO token. RobotEra is one of the best crypto presales of 2023, offering its token for only $0.02.
5. Calvaria (RIA) – Play to Earn Crypto with Low Fees Headed for Exchanges
Calvaria is a battle card game, offering its native token $RIA on presale. Investors are pressed for time to buy the remaining tokens, as Calvaria's presale is more than 80% sold out. This P2E game may be one of the best upcoming crypto ICOs in 2023 if its presale buying momentum spills over onto exchange listings.
Already raised $2.5 million, Calvaria's presale concludes when the hard cap of $3,075,000 is hit. The presale is scheduled to end on 31 January 2023, but high demand for the token may sell it out in advance.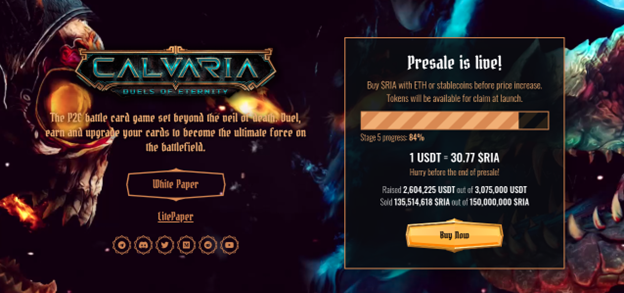 Calvaria will have its initial exchange offering (IEO) on BKEX. What's interesting to note is that Calvaria has also formed partnerships with exchanges Kucoin and Gate.io.
So far, no announcements about $RIA token listings on those exchanges have been made. But $RIA listings on those exchanges will give the coin even more exposure. Calvaria has allocated only 4% of the 1 billion capped supply to liquidity.
Players receive $RIA tokens as rewards for winning tournaments by using strategic play and cards with unique characters to outwit their opponents. Calvaria also rewards players with resources and power-ups to strengthen their decks.
This game enables players to buy higher-level cards with $RIA tokens by combining cards of the same strength. The native currency can also be used in-store to buy energy pack replenishments, decks and other resources.
Calvaria has managed to circumvent the scalability issue that many P2E games face by developing its ecosystem on Polygon. This enables the game to provide players with high bandwidth and low transaction fees.
Investors wanting to buy the remaining 18% of the tokens need to act fast. $RIA tokens are still available at $0.032 and may never be at this price again.
6. IMPT – Recently ICO Crypto Rewarding Carbon Footprint Reduction
Touted as one of the best cryptocurrencies under $1 to buy, IMPT is a new crypto ICO that was listed on LBank after having an extremely successful presale.
This eco-friendly crypto managed to raise more than $20 million during its presale. Investors flocked to the platform during the early fundraising after seeing the potential this project had to fight climate change.
IMPT's ICO was on 14 December 2023. Since this ICO is recent, investors still have time to buy IMPT tokens at similar prices that the presale offered.
Part of IMPT's roadmap is the ongoing partnerships it forms with major organizations. Some of IMPT's affiliate partners include Amazon, Microsoft, Bloomingdales and Dominos. By shopping at these stores and numerous others IMPT partnered with, investors receive IMPT tokens.
In exchange for investors' contributions, IMPT's partners will donate a portion of the sale to environmentally-conscious causes. This initiative connects investors and businesses that want to make a positive contribution to our planet.
This platform also enables users to make a direct contribution with its social feature. This feature tracks every user's impact on the environment and rewards points to those who reduce their carbon footprint.
Higher rewards are given to users who retire their carbon credit to offset their carbon footprint. When credits are retired, they are sent to a wallet address that takes them out of circulation. Businesses that integrate IMPT into their operations are also rewarded with higher points.
Investors who choose not to retire their carbon credits can convert them into NFTs, which can be held as assets and sold.
IMPT will also be listed on Changelly Pro. Investors preferring decentralized exchanges can buy IMPT on Uniswap.
7. Toon Finance (TNT) – Utility Token in ICO Solving P2E Gaming Problems
In October 2022, Toon Finance launched its ICO, which is still ongoing until January 2023. The project's goal is to raise $9.5 million.
Toon Finance is offering its native token TNT for purchase on its website at $0.014. This project has allocated 500 million tokens to the ICO and a soft cap of $2.5 million.
The native token is used for play to earn gaming in Space Grounds, buying NFTs that serve as functional gameplay items and governance to vote on issues that determine the ecosystem's trajectory.
This project aims to fix the eternality surrounding the P2E gaming demand by ensuring metaverse-backed SHA256 encryption. Players can use Toon Finance to enter Space Battle Grounds and challenge other players to climb the leaderboard.
8. Metacade (MCADE) – Popular Community Hub Coin on Presale
Metacade is offering its native token $MCADE on presale. The coin is available in a beta round for $0.01, and then the next stage increases the coin's value to $0.012.
This project has already raised $1.2 million and has a hard cap of $2,695,000 for the beta round.
One of the main appeals of this ecosystem is that it provides a platform where gamers and crypto fanatics can discuss projects and exchange ideas.
This community hub provides a virtual hangout for people wanting to discuss GameFi while earning rewards by contributing to the platform.
This metaverse ecosystem will feature arcade tournaments with high prizepools and allow players to test out games.
There's a fixed supply of 2 billion $MCADE tokens. Metacade has allocated 70% of the coins to the presale and only 5% is for liquidity.
Conclusion
Our team compared all the projects and found that FightOut offers the best crypto presale for 2023, set to potentially rival STEPN (GMT) and being fully CertiK audited and KYC verified by CoinSniper.
Investors looking for the best ICO cryptos will also want to check out $RIA tokens offered by Calvaria, a strong contender in the blockchain gaming niche and a future rival to Gods Unchained and Splinterland.
New crypto ICOs such as IMPT reward investors for reducing their carbon footprint, while another presale cryptocurrency such as D2T is on the way to exchanges on 11 January after also having a successful presale.
FightOut's cryptocurrency presale has already raised $2 million in just a few days and is still going strong. Investors have an opportunity to buy $FGHT tokens in the first stage at $0.016 per token.
Image by Arek Socha from Pixabay