Looking for some insight into which cryptocurrencies have the most potential for big returns? In this regard, many investors turn to trading signals for inside tips.
This guide will reveal the 8 best crypto signals Telegram groups in the market today.
For any investors that aren't versed in the art of signal trading, we also divulge how this space works and where to find the best providers.
The 8 Best Cryptocurrency Signals Telegram Groups for Top Tips
Below, we list the best crypto signals groups of 2022 for investors to consider:
Dash 2 Trade – Overall Best Crypto Signals Platform for Top Tips
Cryptosignals.org – Beginner-Friendly & Well Established Crypto Signals
DeFi Million – Signals Group Focussed on Decentralized Finance Tokens
RocketWalletSignal – Transparent Channel With Spot and Futures Signals
BTC Champ – Expert Trading Group With Over 80k Members
WolfxSignal – Pick From Automated and Manual Crypto Signals
MyCryptoParadise – Binance Focussed Trading Signals
Whale Alert – Monitors Whale and Wallet Transactions
1. Dash 2 Trade – Overall Best Crypto Signals for Inside Tips
Starting off this crypto signals review we have Dash 2 Trade, an up-and-coming crypto signals provider that is already making waves. D2T, the project's native currency, is in the second stage of its presale phase, which has already garnered over $3.4 million in sales.
First, let's talk about why Dash 2 Trade ranked number one on this list of the best crypto signals. We found the project is shaping up to be the go-to hub for traders wanting to maximize their profits for various reasons.
The overarching concept behind the Dash 2 Trade terminal is to increase the chance of traders and investors making gains from the crypto markets, which are notoriously volatile. One of the ways Dash 2 Trade will do this is by providing crypto buy and sell signals, along with risk management values.
That is to say, signal subscribers will also have access to insider tips on where to place stop-loss and take-profit orders in a bid to mitigate losses. Moreover, the Learn 2 Trade team founded Dash 2 Trade.
This is a wildly popular and well-established crypto signal and education platform with a strong reputation in this market. Its existing Telegram signal groups have over 70,000 members, not to mention a long-term success rate of 82% for investors.
The Dash 2 Trade platform is set to be the Bloomberg terminal for crypto traders. There will also be multiple other data points offered to facilitate traders and investors in elevating their trading strategies.
Investors can try to identify trends early using analysis of social sentiment. Dash 2 Trade also offers on-chain analysis. Signal subscriptions are paid for using D2T tokens.
When the second presale of D2T tokens hits $5.1 million, it will move on to phase three. At this time, tokens are still discounted but will go up to $0.0513. As such, there's no better time to buy D2T and join the growing community.
For further information, check out the Dash 2 Trade whitepaper to learn more about this new top crypto signals platform. Investors can join the Telegram group here.
2. Cryptosignals.org – Beginner-Friendly Crypto Signals on the Go
CryptoSignals.org has over 50k members in its crypto signals telegram group, which speaks volumes. The platform is always looking for trading opportunities for its members.
As with many of the best crypto signals, a combination of in-depth technical analysis, AI algorithms, and fundamental research are used to provide trading tips. There is no charge to join the Telegram Group, and there are three free crypto signals per week.
The platform states that the success rate is 82%. In the CryptoSignals.org Telegram group, every trading tip is accompanied by a thorough technical analysis. This allows investors to use crypto buy and sell signals to shorten the learning curve and pick up new skills as they trade.
Investors can expect to receive cryptocurrency signals on LINK, BTC, ADA, ETH, DOT, and XRP. This provider also offers some of the best paid crypto signals on a daily basis. Investors can choose between a monthly fee of £42, £78 on a quarterly basis, £114 bi-annually, or £210 yearly.
All of the packages include 2-3 daily signals, alongside an entry, stop-loss, and take profit. There will also be a tip on the amount to risk on each trade. Investors can get started by choosing an online brokerage with a range of crypto assets and subscribing to a plan at CryptoSignals.org.
Next, join the Telegram group, wait for a signal, and place an order at the aforementioned broker. CryptoSignals.org also offers a moneyback guarantee for new members.
3. DeFi Million – Signals Group Focussed on Decentralized Finance Tokens
DeFi Million is the best crypto signals provider for investors who favor decentralized finance tokens. At the time of writing, the DeFi Million Telegram channel has over 100k subscribers.
The Telegram group is active throughout the day and signals are posted super-frequently.
Trading low-cap tokens, especially ones that are volatile, is a profitable strategy used by DeFi Million. However, the group is known for its high-risk approach, so diversification is crucial.
4. RocketWalletSignal – Transparent Channel With Spot and Futures Signals
Since its inception in September 2020, RocketWalletSignals has offered spot and futures signals with complete transparency and unrestricted communication and has become a leading crypto signals Telegram group. Rocket Wallet Signals says it is completely unbiased when it comes to the market.
There are six community channels on Rocket Wallet Signals. Four of them are VIP channels, which offer the best paid crypto signals. These channels include VIP signals, updates, insights, and discussions.
The community also has access to the best free crypto signals as well as learning resources and insights through a public channel. This crypto signals Telegram group has a community of around 30k subscribers as of the writing of this review.
As with many of the best signals providers, the channels offered by RocketWalletSignal include trading tips for use on several exchanges. They also include live trades and market updates that assist users in making better selections.
5. BTC Champ – Expert Trading Group With Over 80k Members
BTC Champ is the best crypto signals app for those that prefer to trade Bitcoin over altcoins. The BTC Champ Telegram group, whether on a cell phone or desktop, hosts a wide range of knowledgeable signal providers.
They give tips on trading best practices and general knowledge about different crypto assets at random.
Investors can expect to receive tips on BTC/USDT, and a few other pairs. However, as the name implies, the community is most well-known for its Bitcoin trading signals.
Additionally, BTC Champ offers a venue for members to conduct transactions with one another. That said, investors should tread with caution owing to a lack of secure trading infrastructure within the social forum.
BTC Champ admin sometimes posts giveaways on their crypto signals Telegram groups, so any investors considering this channel should keep an eye out for those.
6. WolfxSignal – Pick From Automated and Manual Crypto Signals
WolfxSignals is one of the simplest and most established crypto signals telegram groups in the space. The channel posts three to four free crypto signals each week
This provider has been on the scene since 2017. It focuses on short-term signals for cryptocurrencies and also forex. Both manual and automated cryptocurrency trade signals are provided by WolfxSignal.
A free telegram channel has around 76k members at the time of writing. WolfXSignal claims to have generated over 80K 'satisfied traders' with 90% accuracy since inception.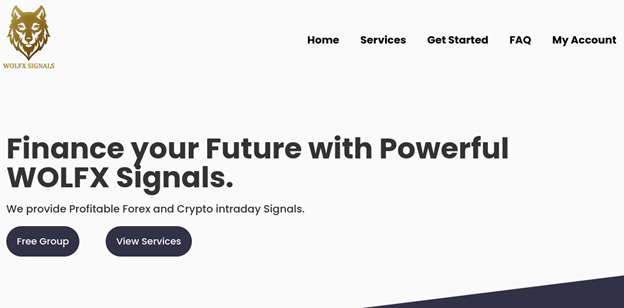 The majority of WolfxSignals' trading technique advice for cryptocurrencies is hidden behind a paywall. WolfxSignal also has a separate website where they offer a variety of commercial services, including automated trading.
The paid plans on Telegram are charged between $89 and $189 every 30 days.
7. MyCryptoParadise – Binance Focussed trading Signals
MyCryptoParadise offers both free and premium crypto signals Telegram groups. Investors who want to go above and beyond and take advantage of crypto signals with extra features will prefer the exclusive premium membership plan.
This includes Premium Binance, Bitmex, and ByBit VIP signals. The varied selection of plans currently includes account management with up to 80 signals per month.
Notably, the VIP signal fees range from $999 per month to $5,369 annually. Each VIP membership plan offers nine Telegram signals a day, market analysis, personal coaching, and other benefits
That said, there are also free crypto signals for Binance, Bitmex, and ByBit.
8. Whale Alert – Monitors Whale and Wallet Transactions
Aside from Dash 2 Trade, the best crypto signals group which offers advanced whale notifications as part of its Premium package, Whale Alert is one of the best signal providers of its kind. Every time there is activity between a whale wallet and an exchange, this provider notifies its 327k Telegram members.
Since it alerts users to potential changes in the market, whether brought on by large sales, transfers, or other factors, Whale Alert has established itself as an ideal monitoring tool for investors.
For example, the tip could be '10 million MATIC tokens have been transferred to a wallet from Binance US'. For those unaware, the type of investor with a substantial holding of a specific cryptocurrency asset is referred to as a whale.
Additionally, Whale Alarm has a separate website whose only goal is to provide alert and tracking services that aid in enhancing the accessibility and transparency of blockchain data.
What are Crypto Signals?
Simply put, trading analyses, notions, or tips based on an evaluation of the history and/or present conditions of the digital currencies market are known as 'crypto signals'.
These signals are often examined and produced using technical indicators, the best crypto bots, preset rules, and other advanced trading tools.
There are several reasons why traders hunt for cryptocurrency signals, depending on their level of competence
The frequency of an asset's trades and advice on how to buy or sell a particular cryptocurrency wisely may be of interest to seasoned investors
On the other side, a novice or developing trader might searching for the best crypto signals to shorten the learning curve
Typically, the trading software that is supervised by qualified professionals and programmers produces automated crypto trading signals
These programs make use of both human experts and computer algorithms
Typically, the trading signal provider will post tips on Telegram channels or Twitter.
How do Crypto Trading Signals Work?
As noted, crypto Signals are essentially a series of instructions from an expert or team of professionals to a group of investors.
The goal is to give them tips on which cryptocurrency to trade
Signals include an entry point
They will also include the direction, for instance, crypto buy signals, or sell if the tip is to go short
The best crypto trading signals will also incorporate risk management by advising on where to place a take profit and stop loss point
All the investor needs to do is head over to an exchange and place the order as per the signal received.
Importantly, due to the fast-paced and volatile nature of the cryptocurrency markets, the trading signals received will need to be acted on right away.
Crypto Signals Telegram Groups
Telegram distinguishes itself from other platforms and apps thanks to its privacy, control, and customizability features.
When joining a Telegram group, the investor will never miss a potential trade opportunity because it will be delivered in real-time via a cell phone app.
Each signal sent out by signal providers such as Dash 2 Trade will include a number of crucial details.
The number of features or signals an investor will see often depends on whether they opt for a free or paid service. Some Telegram signal providers also offer news, technical analysis, and more.
How to Find the Best Free Crypto Signals
Below, we've listed a few tips on how to find the best crypto signals group providers.
Success
Many crypto signals Telegram groups will share a success rate with their members and potential subscribers.
For instance, Learn 2 Trade, the signals provider behind Dash 2 Trade, has an 82% success rate.
Although this doesn't guarantee success for every investor, it's worth checking the claims and also looking at the data surrounding historical performance.
Fees
Always check out the fees involved prior to deciding on the best crypto signals Telegram group. Some platforms boast about having the best free crypto signals but then charge high fees to those that want to upgrade.
A good example in this regard is MyCryptoParadise. Although the service is popular, investors can pay up to $5,369 annually for less than 10 daily trading signals. Dash 2 Trade, on the other hand, has three subscription levels – Free, Starter, and Premium.
400 D2T tokens will be paid as a subscription each month for the Starter tier. It provides in-depth information as well as simple insights regarding notable presale releases. Additionally, this option provides access to backtesting strategies as well as automated trading tools.
Premium costs just 1,000 DT2 tokens per month. This package offers access to all services, including trading competitions whereby 5% of subscription prices go toward the prize fund. Notably, at Dash 2 Trade, investors who pay for an annual subscription save 20%.
Premium accounts also include on-chain statistics, whale wallet alerts, and high-quality market indicators. Additionally, Dash 2 Trade excels in market-leading social and on-chain analysis.
Reliability
Consider the team behind the crypto signals prior to choosing a provider. There are many illegitimate trading signal providers out there.
As we touched on in our review, Dash 2 Trade was created by the team behind Learn 2 Trade, which is a hugely successful education site and signals provider. The team at Learn 2 Trade has been offering solid signals for many years in the public domain.
The company's established track record, as well as its attracting more than 70,000 Telegram members, gives investors an indication of Dash 2 Trade's reliability and legitimacy and is why we rank it as the best crypto signals Telegram group.
Analytics tools
Analytics tools come in many forms. The experienced team behind the Dash 2 Trade terminal will provide access to news and analysis, and a range of trading strategies and tools aimed at both novice and experienced traders.
For instance, D2T holders will be able to determine whether their chosen strategy is lucrative or not in a risk-free setting. This includes strategy building and backtesting tools that mimic real-life market conditions.
Investors can also make changes as needed and then backtest their revised approach. A risk profiler is also included to help traders regularly place profitable trades. Additionally, investors can set up automatic trading strategies based on metrics associated with their broker APIs.
Risk Management
As we've touched on, the best crypto signal providers sometimes incorporate risk management.
For instance, Dash 2 Trade ensures that each and every trading signal comes with an entry, stop-loss, and take-profit price suggestion. Here's an example:
Asset: ETH/USD
Direction: Buy (Long)
Entry Price: $1,550
Stop Loss – $1,503.5
Take-Profit – $1,705
This is merely a hypothetical signal to show what metrics are included in Dash 2 Trade trading tips.
The order above would halt an investor's losses at about 3%, or lock in gains at around 10% – whichever price point is reached first.
Conclusion
This guide has examined the best crypto signals Telegram groups for inside tips. Crypto traders could drastically shorten the learning curve and boost profits by utilizing the signals offered by top-rated channels. We concluded that Dash 2 Trade is the overall best signals provider.
By examining a variety of data points, the new project, which is in the midst of a successful presale, will assist traders and investors in making better judgments on when to buy, sell, or hold. Moreover, those that wish to invest in the Dash 2 Trade terminal can buy D2T tokens right now at presale prices.