Binance is a leading exchange that investors often consult when searching for new and exciting cryptocurrencies. That being said, Binance also has a rigorous vetting process when selecting the tokens that are to be listed on its exchange. This means that cryptocurrencies available on Binance often tend to be credible.
In this guide, we take a look at the best upcoming Binance listings that investors can consider for their crypto portfolio in 2023.
Top 8 Upcoming Binance  Listings 2023
Below are the top 8 potential new Binance listings for investors to monitor in 2023:
1.      FightOut – Metaverse Crypto Project with Move-to-Earn Rewards
2.      Dash 2 Trade – Crypto Signals & Analytics Platform That's Rasied $11m
3.      C+Charge – Innovative Blockchain-based App for EV Charging and Payments
4.      RobotEra –  Decentralized Metaverse Project with P2E Games
5.      Calvaria – Play-to-Earn Gaming Platform with Collectible NFTs
6.      IMPT – Green Crypto Project with Carbon Credits Marketplace
7.      Lucky Block – Fast-growing Crypto Ecosystem with Online Casino
8.      Tamadoge – Play-to-Earn Game with its own Metaverse
The list above offers a quick glimpse of the best crypto projects in the current market.
Nevertheless, we have also included detailed reviews of these projects to help investors assess why they might make it to the upcoming Binance listings of 2023.
A Closer Look at the Top 8 Upcoming Binance Listings
As the world's leading cryptocurrency trading exchange, Binance has a high reputation among investors. Typically, new listings on Binance tend to be in the early stages, which means that they often have high growth potential.
Keeping track of upcoming Binance listings offers investors an opportunity to get in early on a new crypto project and reap potential rewards – especially if they happen to gain mainstream acceptance.
To help traders make better-informed decisions, we have put together detailed reviews of the top 8 crypto projects that are expected to be among the upcoming Binance listings of 2023.
1. FightOut – Metaverse Crypto Project with Move-to-Earn Rewards
FightOut is an exciting new move-to-earn platform that aims to revolutionize the way we look at fitness. It impeccably combines blockchain technology with physical fitness training, attracting users with a lucrative reward system. The platform also gives users the ability to create a unique NFT avatar that duplicates their real-life appearances and physical attributes in the metaverse.
The FightOut app will be available for users in Q2 2023. It boasts great features such as social accountability and a wide range of personalized workout plans. It will also monitor users' fitness progress by keeping track of their movements and nutrition intake.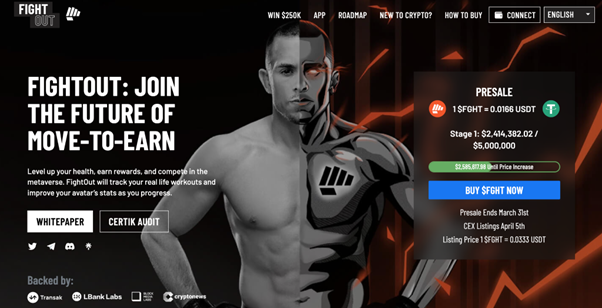 The platform's native crypto coin, FGHT, is built to comply with the ERC-20 standard. Investors will need this digital token in order to access the FightOut app once it is launched.
As of writing, FGHT is in stage 1 of its presale, with each token priced at $0.0166. FightOut is already enjoying significant success in the first stage of its presale, where it has raised more than $2 million to date. After the presale, FGHT is anticipated to be listed on all leading crypto exchanges, including Binance.
FightOut really stands out among other fitness games as it has real-life heroes of fitness, such as Amanda Ribas, Tremayne Dortch, and Taila Santos, as its ambassadors. Having these professionals will serve as a huge pull factor for attracting new users to the app. Moreover, FightOut also has plans to build a network of gyms across the world that will complement the app.
Access to expert training experts and integration with a fun and engaging metaverse are some of the factors that make FightOut a must-have for all fitness enthusiasts. In addition to this, FightOut also has a crypto reward system in place.
Within the FightOut app, players will be incentivized with REPS tokens for completing different challenges and workouts. Players will also be able to use their REPS to buy FightOut merch and gym membership.
Interestingly, FightOut uses a stake-for-membership model. A user's membership tier is determined by the number of FGHT tokens staked as well as the duration. In simple terms, the higher the tier, the more the incentives.
FightOut also plans to carry out a prize draw that will grant one lucky investor $250,000 worth of FGHT tokens. Investors can join the  FightOut Telegram channel for more information on this.
Overall, FightOut looks to be an exciting new way to stay fit and healthy while earning crypto rewards. It's an innovative approach to fitness that could help many people stay active and motivated. With such features, many experts believe that FGHT has the potential to be one of the best Binance new crypto listings for 2023.
2. Dash 2 Trade – Comprehensive Analytics Platform for Crypto Traders
Dash 2 Trade is an upcoming crypto analytics platform that provides investors with an array of highly advanced tools to develop profitable trading strategies. It comes with multiple charting options that assist traders in quick and effective analysis of crypto markets. Traders can also make their investment decisions with the help of 10+ technical indicators available on Dash 2 Trade.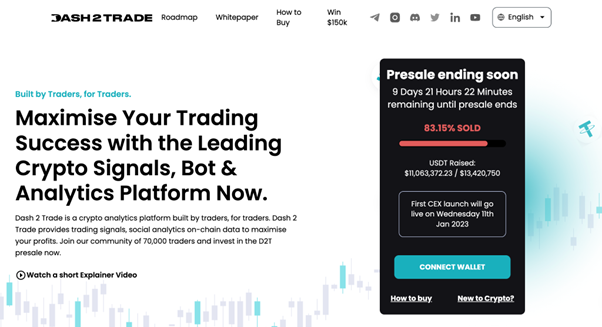 Furthermore, the platform also allows traders to backtest their strategies and make adjustments before implementing them. Investors can also run their strategies 24/7 on crypto trading platforms using the auto-trader feature of Dash 2 Trade. This is done by connecting crypto exchanges with Dash 2 Trade via API keys.
In addition to this, Dash 2 Trade also caters to beginner traders who are still learning the ropes of the crypto market. The platform helps new investors get started by providing them with reliable trading signals.
The Dash 2 Trade signals provide users with info such as the crypto to trade, suggested entry prices, stop-loss/take-profit levels, as well as the type of order to place. By relying on these signals, traders can make informed decisions that meet their goals and risk tolerance.
Dash 2 Trade's native token, D2T, will be used to purchase subscriptions on this platform. At the time of writing, D2T is in its final presale stage and has raised a total contribution of over $11 million from investors.
By the beginning of 2023, traders will be able to buy D2T tokens from leading crypto exchanges inlcuding LBank and Changelley Pro, with a potential Binance listing on the horizon.
Overall, Dash 2 Trade provides traders with a powerful set of tools that can potentially help them maximize profits from cryptocurrency markets. For this reason, D2T has the prospect of becoming a coveted digital token among investors and might find itself among one of the best new cryptos on Binance in 2023.
3. C+Charge – Innovative Blockchain-based App for EV Charging and Payments
C+Charge is another much-anticipated upcoming Binance listing with its eyes on the future. Its aim is to transform the way EV owners charge their vehicles.
According to C+Charge, the infrastructure for EV charging is quite inadequate at the moment. Additionally, the payment fees associated with EV charging are also arbitrary. In other words, there is an overall lack of transparency in the current system.

C+Charge uses the innovation of blockchain technology to improve the existing EV charging infrastructure. The C+Charge app will offer a standardized and decentralized peer-to-peer payment system for EV charging stations.
The app will also pack a few useful features. For instance, with the C+Charge app, EV owners will be able to locate charging stations in real time. The app will also come with a tracker for carbon credits and can even do a technical diagnosis of charging stations. Moreover, the platform will allow EV owners and drivers to earn carbon credits.
This carbon credits reward system is accomplished by the project's partnership with Flowcarbon. Every time an EV driver uses one of the partner's charging stations and pays using the C+Charge app, they will get GNT tokens as rewards.
However, the payment for EV charging has to be done using CCHG, the utility token of C+Charge.
As of writing, C+Charge is running its presale stage 1  – where CCHG tokens are available to purchase at a hugely discounted price of $0.013 per coin. As per the C+Charge Whitepaper, the price of CCHG tokens will increase in the upcoming stages of the presale.
Overall, C+Charge is a groundbreaking platform that has the ability to reshape the way EV owners charge their vehicles. As such, C+Charge might make it to the upcoming Binance listings of 2023 and will be able to promote its mission of democratizing the carbon credit industry.
4. RobotEra –  Decentralized Metaverse Project with P2E Games
RobotEra is a cutting-edge metaverse platform that provides an immersive and interactive experience to its users. It allows players to create their own unique NFT robots in order to explore the virtual world of RobotEra.
RobotEra users can also mint their own lands as well as robot companions. Moreover, the platform comes with in-built editing tools that allow users to mint resources on the lands or customize the appearance of the robot avatars.
Additionally, users can also develop their lands to host various events or build communal spaces.  As per the RobotEra whitepaper, the technologies such as AR and VR will also be added to the platform in the foreseeable future.
On RobotEra, players get ample opportunities to secure different rewards. For example,  players get to submit original works of art for display in museums within RobotEra and earn crypto rewards. Similarly, players can participate in different quest games in the central city to win prizes. In other words, the possibilities seem to be endless here – as each user can make their own robots, build lands, interact with others, and monetize their experiences.
RobotEra is also decentralized in its nature, meaning that the investors themselves make the key decisions about this gaming metaverse. RobotEra also has the capability to connect with other metaverse worlds. Investors can use this as an opportunity to trade, explore and share their NFTs with other metaverse communities.
What's more, investors can also rent out their robot NFTs to other users of the platform to earn rewards. RobotEra has a limited supply of robot NFTs, which indicates that the scarcity might push the prices to go higher in the future.
TARO is the native currency of the RobotEra platform. Investors can use TARO to perform different activities in the RobotEra ecosystem. For example, users will need TARO tokens in order to buy robot NFTs or other in-game assets on the platform.
As of writing, RobotEra is in its presale stage 1, and TARO tokens can be bought for $0.02 per coin. The price of TARO will go up to $0.025 and to $0.032 per token by the time the presale reaches stages 2 and 3, respectively. Once the ICO is complete, investors might find TARO tokens among Binance new listings – especially when considering the popularity of the presale.
RobotEra is a great way to explore virtual worlds in an innovative and interactive manner. With its immersive environment and unique concept, it provides players with endless opportunities to explore and monetize the metaverse.
5. Calvaria – Play-to-Earn Gaming Platform with Collectible NFTs
Investors looking for new Binance listings should also consider Calvaria. It is a play-to-earn card game where players compete with each other. Calvaria has also created an engaging storyline for its card game based on the afterlife – which can be particularly captivating for players.
On Calvaria, the cards are designed as NFTs. The game rewards its players every time they win challenges or defeat their opponents. The good thing about Calvaria's collectible NFTs is that players will have full ownership of these assets. This opens up gates for players to sell their Calvaria NFT cards on secondary marketplaces, such as Rarible and OpenSea.
The Calvaria game is powered by RIA, an ERC-20 token. Players will need RIA to purchase the card NFTs within the Calvaria ecosystem. As of writing, RIA is in its presale stage 5, where it costs investors $0.032 per token.
As with the majority of the crypto presales, the price will increase as the sale proceeds to its next stages. RIA token will have a total of 10 presale stages before it launches on crypto exchanges such as Binance.
Apart from being an in-game currency, RIA tokens also have other utilities. For instance, investors can stake RIA tokens on Calvaria to gain additional income. With multiple utilities, Calvaria has the potential to become one of the best new coins on Binance by 2023.
6. IMPT – Green Crypto Project with Carbon Credits Marketplace
One of the best penny cryptos to invest in, IMPT is a green crypto project that aims to play a pivotal role in reducing the carbon footprint of humans. The platform plans to execute this mission with the aid of tokenized carbon credits. The project has developed a token named IMPT that investors can use to buy carbon credit NFTs on the platform.
The admirable thing about the IMPT project is that it not only creates awareness about the importance of climate change but also brings together environmentally responsible brands and eco-conscious investors. Over 10,000 brands have already joined hands with IMPT to help accomplish this carbon-offsetting mission.
With the use of blockchain technology, IMPT eliminates the threat of double counting and fraud in carbon credits trading. As per the IMPT whitepaper, once a carbon credits token is burnt, it is totally removed from the data ledger.
An added advantage of this platform is that it's extremely easy to use. To get started, investors can easily buy IMPT tokens using either cryptocurrencies or fiat money. After that, they can convert them to carbon credits, which are minted as NFTs.
At this stage, investors can list their NFTs on the IMPT marketplace and trade them. Alternatively, investors can also burn their carbon credits. If burning the carbon credits, IMPT will reward the investor with a unique collectible NFT.
As of writing, IMPT is available for purchase via the LBank. IMPT is also considering partnerships with other crypto exchanges, and it is rumored that the token might be one of the new Binance listings. Given that IMPT had one of the best crypto presales of 2022 (with $13 raised), a Binance listing might be well in order.
7. Lucky Block – Fast-growing Crypto Ecosystem With Online Casino
Lucky Block is an innovative online competition platform that allows investors to win amazing prizes, such as expensive cars, houses, and even $1 million worth of Bitcoin. The platform has its own native token – LBLOCK, which complies with both BEP20 and ERC20 standards.
LBLOCK quickly became one of the fastest-growing cryptocurrencies, reaching a market cap of $1 billion in the early days of its launch. As of writing, investors can buy LBLOCK through multiple exchanges, including MEXC, LBANK, Pancakeswap, and Uniswap.
Lucky Block was unfortunately not among the new cryptocurrency released on Binance in 2022. However, many analysts predict that LBLOCK will be one of the best new crypto on Binance by 2023 – which will drive the popularity of this token even higher.
Additionally, Lucky Block has also recently launched a crypto casino for gamblers. The casino is designed to be easily accessible and allows players to get started with a minimum deposit as low as $1. In the upcoming months, the Lucky Block casino will also start accepting LBLOCK as one of its payment methods.
Lucky Block is an ever-expanding ecosystem with multiple utilities for LBLOCK tokens. As such, LBLOCK is widely deemed as one of the best emerging cryptos of 2023.
8. Tamadoge – Play-to-Earn Game with its own Metaverse
Launched in July 2022, Tamadoge is a meme-based crypto gaming platform. Tamadoge has a metaverse of its own that goes by the name of 'Tamaverse'. In Tamaverse, players can create and groom their Tamdoge pets. They can also pit their Tamadoge pets against other players in order to win combats.
TAMA is the native coin of the Tamadoge platform. Players will be able to use TAMA tokens for different games as well as to buy NFT assets from the Tamadoge pet store.
Investors can make an earning from Tamadoge in various ways. The easiest and, perhaps, most entertaining way is to participate in the TAMA game and win battles. Every month, Tamadoge rewards its top players with TAMA tokens.
Players can then use the TAMA tokens to upgrade their NFTs or trade them for a profit. In addition to this, the Tamadoge pets can also be traded on NFT marketplaces.  Each Tamadoge pet is unique with its own strengths and weaknesses – which will determine its value in a secondary marketplace.
Moreover, every time TAMA tokens change addresses on the blockchain, 5% of the transaction is burnt. This deflationary system leads to a continuous reduction in the supply of TAMA tokens.
According to the Tamadoge whitepaper, investors can see TAMA on major crypto exchanges by the second quarter of 2023. This means that Tamadoge might be one of the upcoming Binance listings of this year.
The Talmadge team is also pushing its limits to create a dedicated mobile companion app. This will enhance the Tamadoge user experience by incorporating AR. Furthermore, the app will come with social features, which will allow Tamadoge players to interact with other users more effortlessly.
Conclusion
Binance is known for its thorough evaluation of new project listings before approving them. This means that many investors watch the upcoming Binance listings to pick digital assets for their portfolio.
Based on our research, some of the best upcoming Binance listings to monitor include FightOut, Dash 2 Trade, and IMPT. These projects already have an established user base and have managed to raise significant funding during the respective presale stages.
Investors keen on the metaverse can also consider exciting projects such as RobotEra, Calvaria, and Tamadoge – which also have a good chance of becoming the next Binance listings for 2023.
Image by Gerd Altmann from Pixabay