Ethereum has seen an extremely strong rally over the past few days. The asset reached a high of $310 on Saturday — the highest price in 2020 thus far.
ETH is up approximately 25% in the past days, having benefited from an extremely strong influx of capital inflows. Some think these inflows are from altcoins devaluing against BTC and ETH.
Unfortunately, the cryptocurrency may have reached a local high as Ethereum just formed a signal last seen at the March highs.
Ethereum's extremely strong rally over the past week may soon come to an end as a trend indicator suggests a top may be forming.
Ethereum May Be At a Top After Strong Rally
Although Ethereum's price action over recent days has convinced many that a bull run is in the works, the trend may be exhausted for the time being.
One trader noted that a private indicator he is using that tracks the persistence of trends is forming a reading last seen before the "March dump."
"Watch for a local top on $ETH based on 10 day trend persistence.. highest in Feb was 12.30, March dump highest was 12.25, we are currently at 12.21."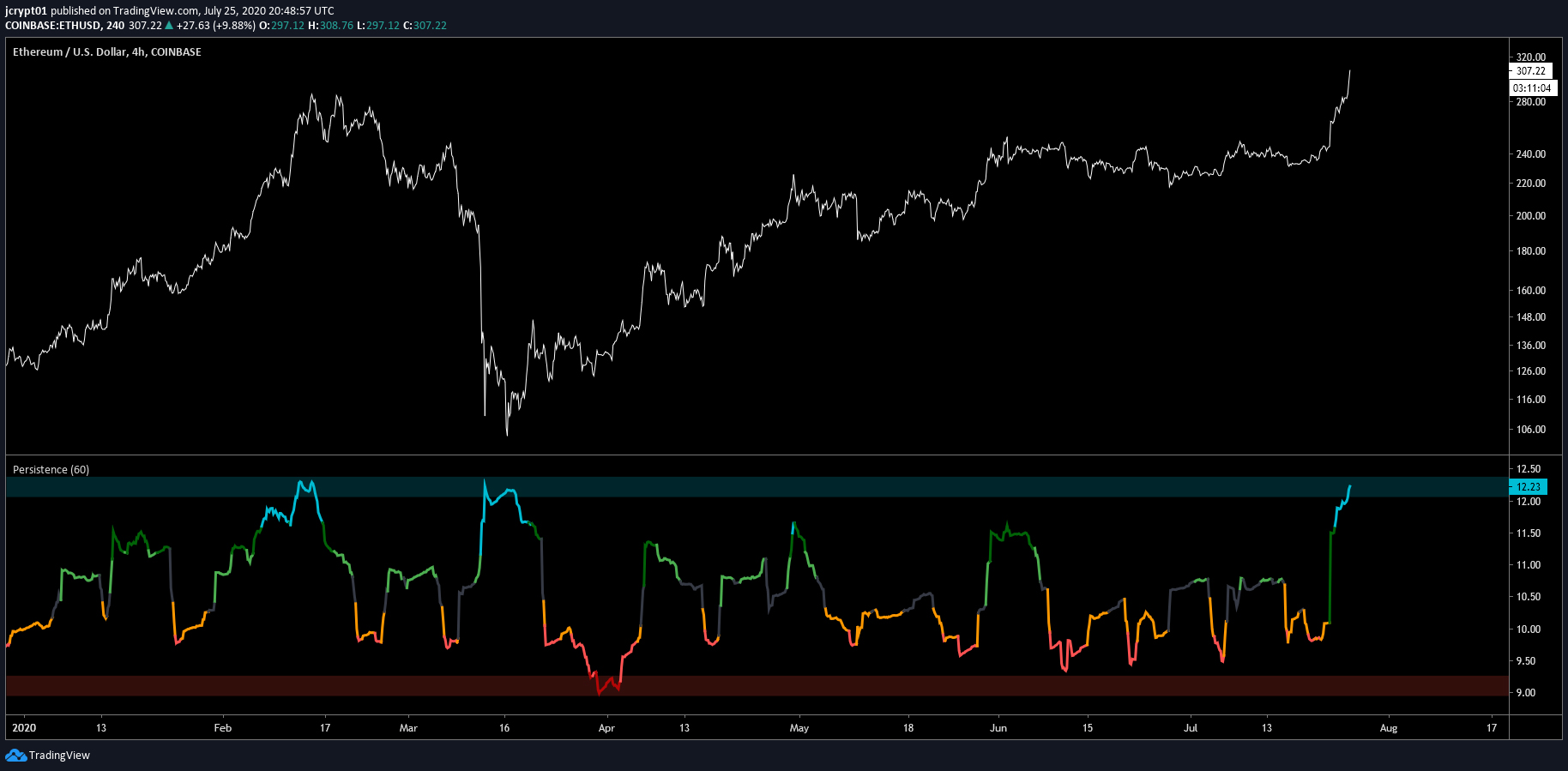 There are others expecting and other indicators signaling a chance at a retracement in the Ethereum price.
As reported by Bitcoinist previously, the Tom Demark Sequential just printed a sell "9" candle on Ethereum's chart against Bitcoin. The TD Sequential is a popular time-based indicator that prints "9" and "13" candles at inflection points in an asset's trend.
An analyst has also observed that a series of divergences formed on Ethereum's short-term charts. These divergences suggest that while ETH may be pressing higher, it is forming an underlying bearish trend.
"I am seeing a couple of divergences on ETH, both htf (3D) and ltf (4h) showing up now. But I don't see them on BTC, 1D 3D fine, slight one on the 4h (to be confirmed)… ETH going to go into an overextension now, maybe a blow off."
Don't Fade the Rally?
One trader who called the ongoing Ethereum rally, though, is saying that he doesn't think it's a good idea to fade the rally.
He seemingly made this comment from a macro time frame perspective, though. The trader has attributed the optimism to a number of fundamental trends, including increased DeFi adoption and a growing number of transactions.
Featured Image from Shutterstock
Price tags: ethusd, ethbtc
Charts from TradingView.com
After Surging 25% in 5 Days, Ethereum Forms Sign Last Seen Before March Dump