Stars of crypto gathered in Shanghai last Wednesday to inaugurate a new organization with a mission to forward and promote ideals of the industry. The dinner was hosted by hybrid fiat and crypto gateway pioneer, Alchemy Pay, alongside co-hosts Polygon Network, Near Protocol, Draper Dragon, and Bit.Store. The guests included over a hundred industry leaders from Tencent, Alipay, Mastercard, Binance, Huobi, OKEx, Polygon, NEAR, NEO and many others.
Alchemy Pay was center stage at the event as a leading founder member, taking the opportunity to present the company's achievements as well as announce latest developments.
In his keynote speech, Alchemy Pay CEO John Tan spoke expansively on the goals of BIA as an incubator for new blockchain projects and its commitment to share research and development for the overall benefit of crypto. He also spoke of the development of Alchemy Pay's own ecosystem, in which its vision is to provide seamless services between the crypto to fiat economies for enterprises and individuals – a vision very much aligned with that of BIA.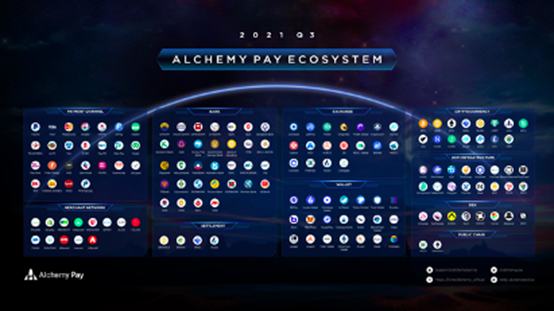 The Alchemy Pay Ecosystem in 2021
Tan revealed that Alchemy Pay will issue a limited-edition cryptocurrency virtual bank card that doubles as a collectible NFT, thanks to partnerships it has signed with six popular NFT artists. First among these artists is Song Ting, a "Forbes 30 under 30" star who currently holds the record in NFT sales in the Chinese market.
The premium card features 24-hour butler service, global airport first-class lounge, hotel perquisites, etc.
Alchemy Pay CEO, John Tan, gave the night's opening speech
Song presented a new piece at the event, entitled "<Non Fungible Heartbeat> We'll keep swimming, until we see the sea turn blue." She described it as a meditation on identity and celebration of crypto-backed art itself as a new way through which digital entrepreneurs express their values ​​to the world. She concluded the unveiling with a promise that "crypto art will herald a massive thought revolution".
Song Ting's NFT entitled "<Non Fungible Heartbeat>:We 'll keep swimming, until we see the sea turn blue."
 Other inaugural members of BIA who spoke at the event included Richard Wang, a partner of DraperDragon, fund of renowned Silicon Valley investor, Tim Draper. Wang remarked on the strength DraperDragon's relationship with Alchemy pay and the promising outlook of the new Alliance. Amos Zhang, Global Market CMO and Head of Asia Pacific at NEAR, and Charlie Hu, Head of Polygon Asia, similarly conveyed an optimism for the future of collaboration with Alchemy Pay as well as the new Alliance.
 Richard Wang of DraperDragon and Amos Zhang of Polygon
The event in Shanghai tells a story in China that is not well covered, reminding the world that the power and potential of blockchain technology is fully recognized there, and as fully engaged for development and leadership as anywhere else in the world.
Image: Alchemy Pay team alongside other BIA co-founders and supporters such as Polygon, NEAR and NEO.