Algorand's mission to become the world's most sustainable blockchain brought it to the limelight years back. This was a time when the blockchain industry was facing backlash from policymakers, environmentalists, and investors for its unfairly large carbon footprint. The high-profile team led by Turing Award-winning cryptographer Silvio Micali also built a lot of buzz for the project.
Source: Algorand
Has Algorand been able to retain its position as the greenest blockchain project over the years? And how does ALGO fare amid the broader market blues?
Blockchain with a Green Vision
Algorand is an institutional-grade Web3 infrastructure that sets out to solve the blockchain trilemma while staying environmentally sustainable. The ambitious goal has garnered massive crypto and non-crypto traction for the project since its launch, as revealed by Algorand's impressively large ecosystem. Algorand's top-tier users include global organizations, businesses, and governments.
For example, Algorand has joined forces with FIFA on a sponsorship and technical partnership deal for FIFA World Cup Qatar 2022™. As the official blockchain platform of the event, Algorand will provide an official Web3 wallet solution for FIFA.
NOW LIVE: @FIFAcom makes digital history with the launch of @FIFAPlusCollect powered by #Algorand! Fans around the world will now have the opportunity to affordably own the greatest moments in football https://t.co/2Pk9NdBGB5 pic.twitter.com/uN5k2hfBeu

— Algorand (@Algorand) September 22, 2022

On the green front, Algorand's top ally is ClimateTrade,  a blockchain marketplace dedicated to carbon offsetting. Francisco Benedito, CEO of ClimateTrade, cited Algorand's flexible architecture, low transaction fees, and scalability as the key reasons for choosing the blockchain. In September 2022, Algorand launched cross-chain communication with the latest upgrade to its protocol, which raised the processing speed from 1,200 to 6,000 TPS.
Algorand realizes its green vision through an energy-efficient network, partnerships with organizations focused on sustainable use cases, and offsetting small emission gaps. But is that enough?
Algorand Needs to Step Up the Game
The long-drawn crypto winter says little about the innovation going on in the blockchain industry. Over the last few months, Web3 projects have moved to energy-efficient solutions while drastically slashing their carbon footprint. The recent Ethereum Merge further quelled criticisms of the industry's environmental impact and energy consumption.
According to Crypto Carbon Ratings Institute (CCRI), Ethereum's electricity consumption has been reduced by 99.988% since the transition to Proof-of-stake, which in turn, will reduce its CO2 emission by 99.99%.
Ethereum energy consumption, 13 Oct 2022, Source: Digiconomist.net
ETH challengers like Solana, Avalanche, Elrond, and Cardano also put forward energy-efficient blockchain solutions. The market's move to a greener, cleaner path obscures Algorand's unique selling points. And the project has done little to revive its glory. It's surprising how ALGO's consistently poor performance hasn't kindled any initiatives from the project.
Algorand 1-year price chart, 13 Oct 2022, Source: CoinMarketCap
As far as Algorand's carbon offsetting initiatives go, the market has seen a wave of new green projects like KlimaDAO, Earthling, Chia, and IMPT with better vision and business models. Here's a look at Algorand's top competitors.
How KlimaDAO Stacks up Against Algorand
KlimaDAO is known for taking the market by surprise from time to time. The project launched in 2021 amid a lot of speculations, which propelled the token price to $3,946.02 at one point. If the world questions the sanity of crypto investors, this is why. Of course, the market soon burst the bubble and KLIMA is now 99.87% down from its all-time high.
But KLIMA has its way of staying in the limelight. KlimaDAO recently announced the launch of a carbon dashboard dedicated to "bringing unprecedented data transparency to the voluntary carbon market".
KlimaDAO 1-year price chart, 13 Oct 2022, Source: CoinMarketCap
With the launch of the dashboard, users can get immediate insight into the state of the on-chain carbon market. It covers information on the type and amount of carbon credits available and the pool prices of carbon credits, among other key market data.
The release of the dashboard marks a key milestone for the carbon market as a whole. This is the first time that industry participants, researchers, the press, and the public can access the carbon credit activity on the blockchain through informative dashboards.
In what has been until now an opaque market, Klima Data provides immediate, unprecedented insight into the state of on-chain carbon, aggregated and interactive on https://t.co/MBTPafDXzg.

Read more:
https://t.co/ExkMhLrM5p
Watch the walkthrough:
https://t.co/ekYM1V8zmP

— KlimaDAO (,) (@KlimaDAO) October 12, 2022
KlimaDAO has absorbed 17,398,768 tons of carbon so far through its native token, each of which is backed by a real-world carbon asset. To spur more engagement in the ecosystem, the platform automatically mints and distributes KLIMA tokens to staked KLIMA holders every 7 hours. However, the staking reward system diminishes the token's appeal as a long-term investment.
Date: 13 Oct 2022, Source: KlimaDAO
IMPT's NFT-powered Carbon Offset Program
IMPT presale is the latest crypto event to grab the eyes of investors. If the project maintains the pace, the tokens will sell out much ahead of its scheduled deadline on 25 Nov. The presale's success amid the macro market downturn comes as a surprise.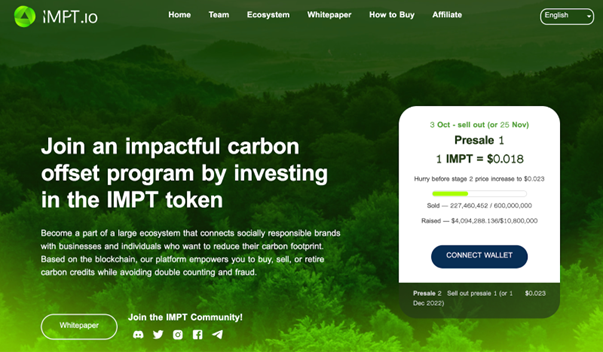 IMPT presale status as on 13 Oct 2022
At its heart, IMPT is a Web3 ecosystem that connects high-impact environmental projects with businesses and individuals who want to reduce their carbon footprint. It caters to both mandatory and volunteer users. Although IMPT is not the first green cryptocurrency, it stands apart with a focus on usability and engagement.
The key element of the ecosystem is the IMPT marketplace, where you can buy, sell, and retire carbon credits converted into NFTs. IMPT makes use of the traceable, transparent nature of NFTs to prevent double-spending and fraud that plague the carbon market.
Another interesting feature is the IMPT shopping app, which allows you to earn carbon credits in your everyday life. The app lists top global retailers who allocate a percentage of their sales margin to IMPT's carbon credit program. The fact that IMPT has already partnered with high-profile global retailers adds to its credibility.
Unlike KlimaDAO, IMPT doesn't rely on a staking reward system to create engagement in the ecosystem, as it proves to be unsustainable over time. Instead, the ecosystem has a social platform in the offing. It tracks the contribution of individuals and businesses to climate action through a new scoring system.
? DID YOU KNOW? – CO2 is at its highest in 2 million years!!

Pre-industrial CO2 levels were around 280 parts per million (ppm). Today, we stand close to 420 ppm. ❌

BE A PART OF THE SOLUTION! ♻️♻️♻️

Join #IMPT Today!
? https://t.co/3Yqgxt425Z#climatechange #bethesolution pic.twitter.com/SKEX9XzEVG

— IMPT.io (@IMPT_token) October 11, 2022
While IMPT optimizes the carbon offsetting solutions introduced by pioneering projects like Algorand, Chia, Cardano, and KlimaDAO with new functionalities, it is not without shortcomings. For example, NFT carbon credits don't make a difference unless they're retired. To address this, IMPT promises a specially-designed artwork in exchange for every retired NFT carbon credit. However, we will have to wait and see how effective that would be.
Another cause of concern is the impact of IMPT's price on carbon offsetting, as the tokens can be exchanged for carbon credits. Will the rising price of IMPT stop users from buying carbon credits on the marketplace? That's something to think about — the token is predicted to climb 50X next year.
| | | |
| --- | --- | --- |
| Presale – 1 | 600,000,000 tokens (20%) | $0.018 |
| Presale – 2 | 660,000,000 tokens (22%) | $0.023 |
| Presale – 3 | 540,000,000 tokens (18%) | $0.028 |
IMPT presale overview
Wrapping up
Algorand's long-term potential as a blockchain and a crypto investment remains dull. ALGO will struggle to break free from the horizontal resistance that began in June unless the project introduces more initiatives dedicated to climate action. The influx of new green projects like KlimaDAO, Earthling, and IMPT also makes the going tough for ALGO.
KlimaDAO shines with novel features and integrations, but its unsustainable tokenomics has already proven to be detrimental. IMPT, on the other hand, is one of the best cryptocurrencies to buy this year. Investors who grab the token for $0.018 during the first stage of the presale will be rewarded lucratively if the roadmap unfolds as planned. Then again, it is too early to say how the project will fare in the long run.