Altcoins, a collective name for all cryptocurrencies except bitcoin, have become the main point of attraction for cryptotraders around the world. The altcoin market, full of promising new coins, highly reputable old rivals of bitcoin, and downright scam coins, shows an equal potential for making someone a fortune or leaving them penniless.
---
Altcoin exchanges pop up like mushrooms after a summer rain, a fact that is predominantly attributed to the need of diversifying one's altcoin investments. After the Mt.Gox fiasco, everyone is understandably very cautious.
The collapse of Cryptsy has made matters even worse. After two years of operation marked with multiple technical failures and unpopular administrative policies, the exchange went down after a $7.5 million-worth hack. The litigation that ensued has revealed that the exchange's owner was stealing money for himself.
Even under increased caution and scrutiny, there are still many existing altcoin exchanges offer deals that involve downright swindling coins. Because of this, traders who lack a gargantuan appetite for risk-taking stick with the most reliable exchanges. Here are three of the most popular and top performing altcoin exchanges.
Poloniex
Poloniex, aka Polo, is probably the best-known altcoin exchange of them all. It offers a wide variety of cryptocurrency pairs, so a seasoned trader may compose a great portfolio of their choosing in no time.
Signing up with Poloniex is similar to other websites that don't offer instant registration via social networks. As with other online trading platforms, a new user has to undergo two levels of verification. Undergoing just the first level limits withdrawals to $2,000 a day. By providing further personal information like ID and home address, a user may extend the withdrawal limit to $25,000. In order to have an opportunity to withdraw more than that, a user would have to contact the exchange's support team.
Technical support is available via e-mail, tickets or direct chat. The latter is possibly the best way to get a response as fast as possible, however, the moderators do not tend to answer the queries right away, and some users have complained that the responses were not sufficient to answer their questions.
The website offers two-factor identification similar to other online exchanges.
Remarkably, Poloniex does not deal with fiat currencies. The USD exchange rate it presents is actually tied to Tether, an altcoin designed to cost exactly $1. This issue often confuses newbies who try to withdraw fiat from the exchange.
Another notable downside is that the Poloniex offers no mobile apps, though it does provide a mobile browser version instead. There have been reports suggesting that there is an app at Google Play for Android devices, however, the app has no affiliation with the exchange, and therefore considered dangerous.
The exchange's website is somewhat bulky and has been known to perform slowly compared to other exchanges. There have been reports of users' browsers freezing up if there are other tabs opened at the same time.
Most notably, despite the service's overall strong reputation, there have been numerous accusations of minor scams like supervising controllable and prearranged pumps and dumps, as well as meddling with Ethereum Classic supply. Additionally, DDoS attacks occur quite often to Poloniex, and its customers are more likely to receive phishing e-mails.
Takeaway: Overall, Poloniex is a great exchange for those interested in altcoin trading.
LiveCoin
LiveCoin does not focus on any particular part of the world, however, it supports USD, Euro-Russian Ruble withdrawals, so it might have the biggest appeal to those who mostly deal with those fiat currencies. However, altcoins traded at the platform are abundant.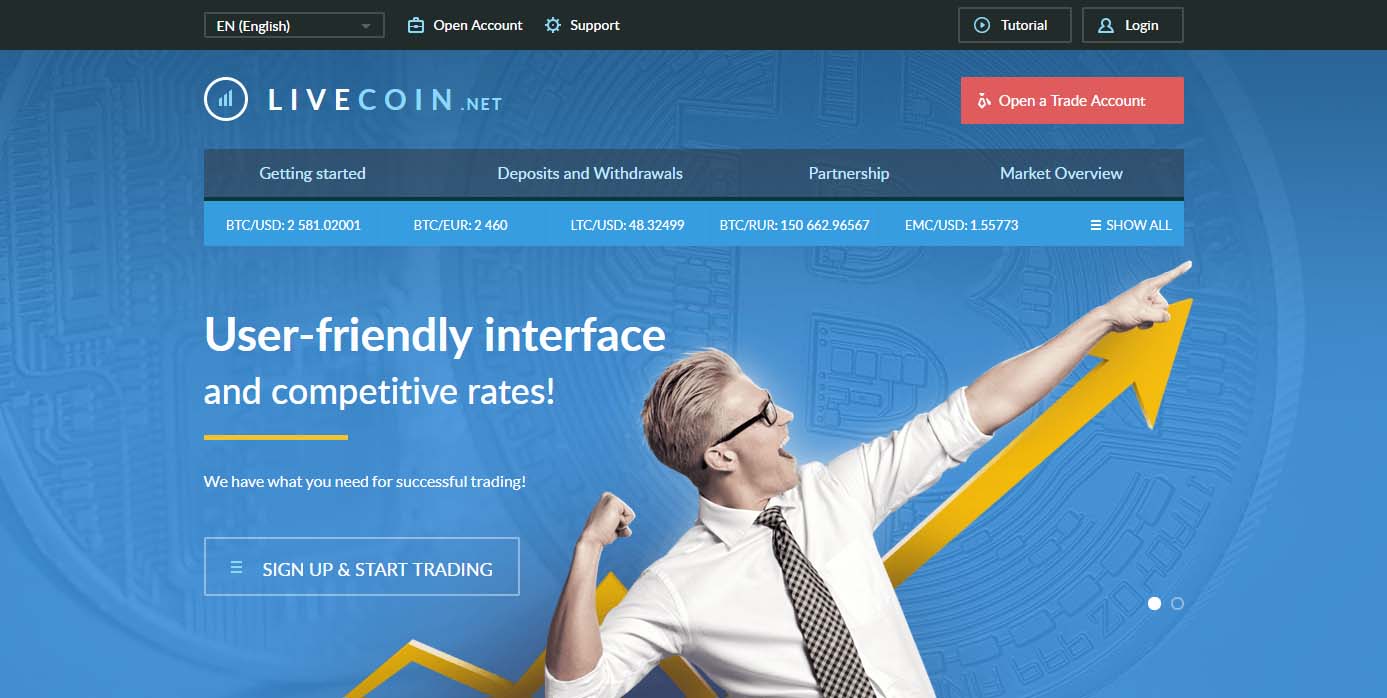 The exchange requests that those who use bank transfers for deposits undergo special verification, which should be addressed to the support team. For all other cases, no additional verification is required. The service also offers two-factor verification for log-in and withdrawals common with all trading platforms and additionally may enable text notifications sent directly to the customer's phone. Unlike Poloniex, LiveCoin does not use any withdrawal limits.
Similar to most other exchanges, LiveCoin offers standard market orders, limit orders, and, on top of that, pending orders, which is not common with its competitors. Pending orders are orders that essentially will activate only once the price of a selected currency reaches the value set forth by a trader. This may actually influence the trading by removing any influence from a particular trader. In fact, as long as nobody sees an order at a specified price, it cannot drive the market anywhere.
Another notable feature of LiveCoin is that the exchange offers fiat vs altcoin pairs, which most other currencies lack. This effectively removes the need to buy bitcoin for fiat, and then altcoin for bitcoin, thus paying transaction fees twice.
Unlike some other exchanges where users may wait a long time until the support team responds, LiveCoin's support team is quick to reply and remains strictly professional. Additionally, they maintain a FAQ section at Bitcointalk where everyone may ask their questions.
The user interface is quite convenient and the exchange works great in mobile browsers. Unfortunately, just like Poloniex, it has no apps for either iOS or Android. Another downside of the exchange is that some of the altcoins traded there have poor liquidity.
Takeaway: Both professional and amateur altcoin traders may find LiveCoin to be a great altcoin exchange with many useful and unique features.
Bittrex
Bittrex has been active since 2015 and features thousands of cryptocurrency pairs, two-factor authorization and cold storage of most user assets to protect them against possible system failures.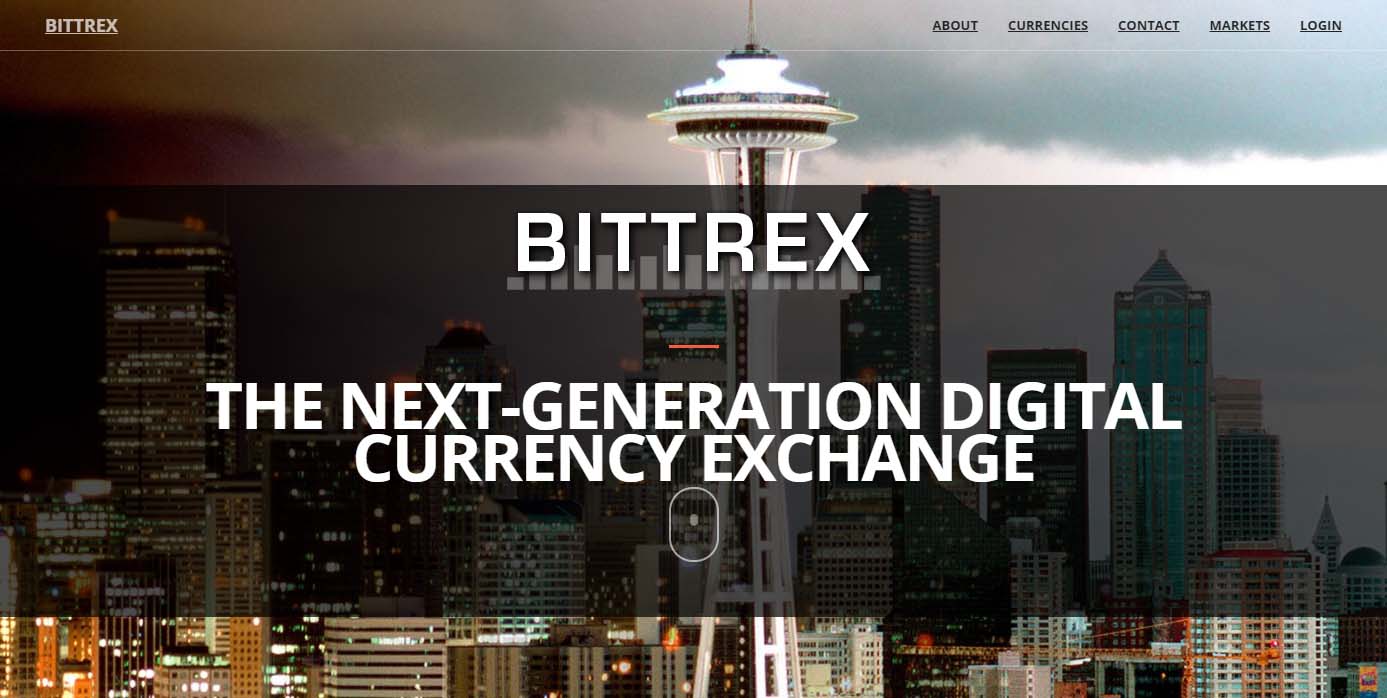 The exchange may be one of the safest platforms for online trading as its creators pride themselves on being "security freaks." Nevertheless, signing up with the exchange may scare anonymity advocates away due to those security reasons, as the new user has to specify their full name, date of birth, country, address, and ID number.
For the same security reasons, one cannot withdraw anything in the 24 hours following the change of password, and without two-factor authorization enabled, the amount of withdrawals will be limited to 1 BTC a day.
Even with all the security in place, there is still room for user complaints. Aside from the absence of an interface in any other language than English, the exchange's technical support also causes some users to express their discontent. Complaints remain unresolved for a long time, and there are even some accusations of non-transparent policies and withdrawal problems.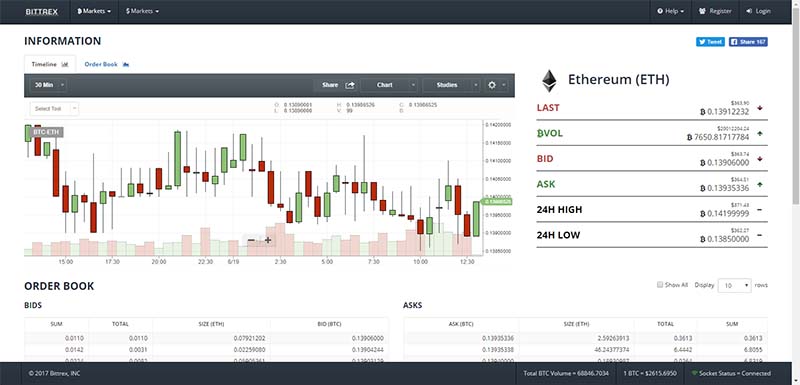 The exchange acts as a wallet and a trading platform at the same time, which, with all the security rolled out, might be convenient without involving any serious risks.
Bittrex may be the best solution for those who value security above comfort. While verification may take a long while, and the support team seems to be generally sluggish, the security of user accounts is beyond all praise. When the user database was hacked in April 2016, only those accounts that had not enabled two-factor verification were in fact compromised.
Takeaway: While generally being one of the top cryptocurrency exchanges, when it comes to matters beyond security, Bittrex still has something to improve.
What do you think of our Top 3 altcoin exchanges? Do you have a favorite exchange that isn't listed here? Let us know in the comments below.
---
Images courtesy of Bittrex, LiveCoin, Poloniex, Shutterstock