Bitcoin has seen a strong recovery since plunging nearly $1,000 in approximately 12 hours earlier this week. As of the time of this article's writing, the leading cryptocurrency trades for $9,500 — around 5% higher than the local lows.
Yet a number of analysts believe that it is only a matter of time before BTC returns under $9,000 as bulls fail to step in.
Bitcoin Is Primed to Return to Sub-$9,000 Levels
In the wake of immediately bouncing 5% after this week's $1,000 crash, Bitcoin has stabilized.
As the chart below shows, the cryptocurrency has been trading in a tight $100 range over the past day or two.
Bitcoin will soon break from this range, according to a top cryptocurrency trader's analysis. The chart he shared shows that with the lack of buy pressure, the cryptocurrency is likely to fall towards $8,900, a price point at which it may print a short-term bottom.
A move to $8,900 would be a mark a 5.5% drop from the current price of $9,400.
"Expecting this for BTC. Down before up again," the analyst commented in reference to the chart.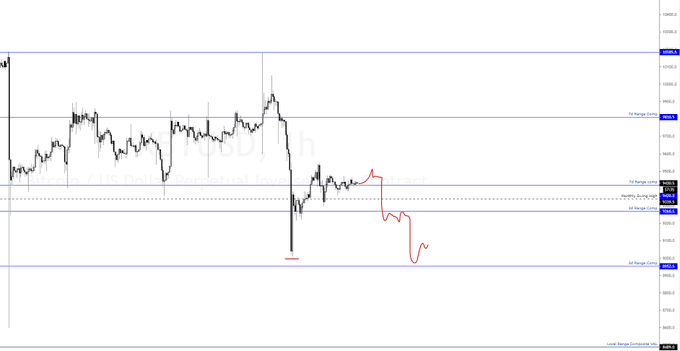 The call for a return toward the lows has been echoed by other market commentators.
One cryptocurrency trader, for instance, suggested that Bitcoin could return to the range lows of $8,575 in the coming week. He backed this sentiment by pointing to how BTC has crucially lost the support of a short-term uptrend.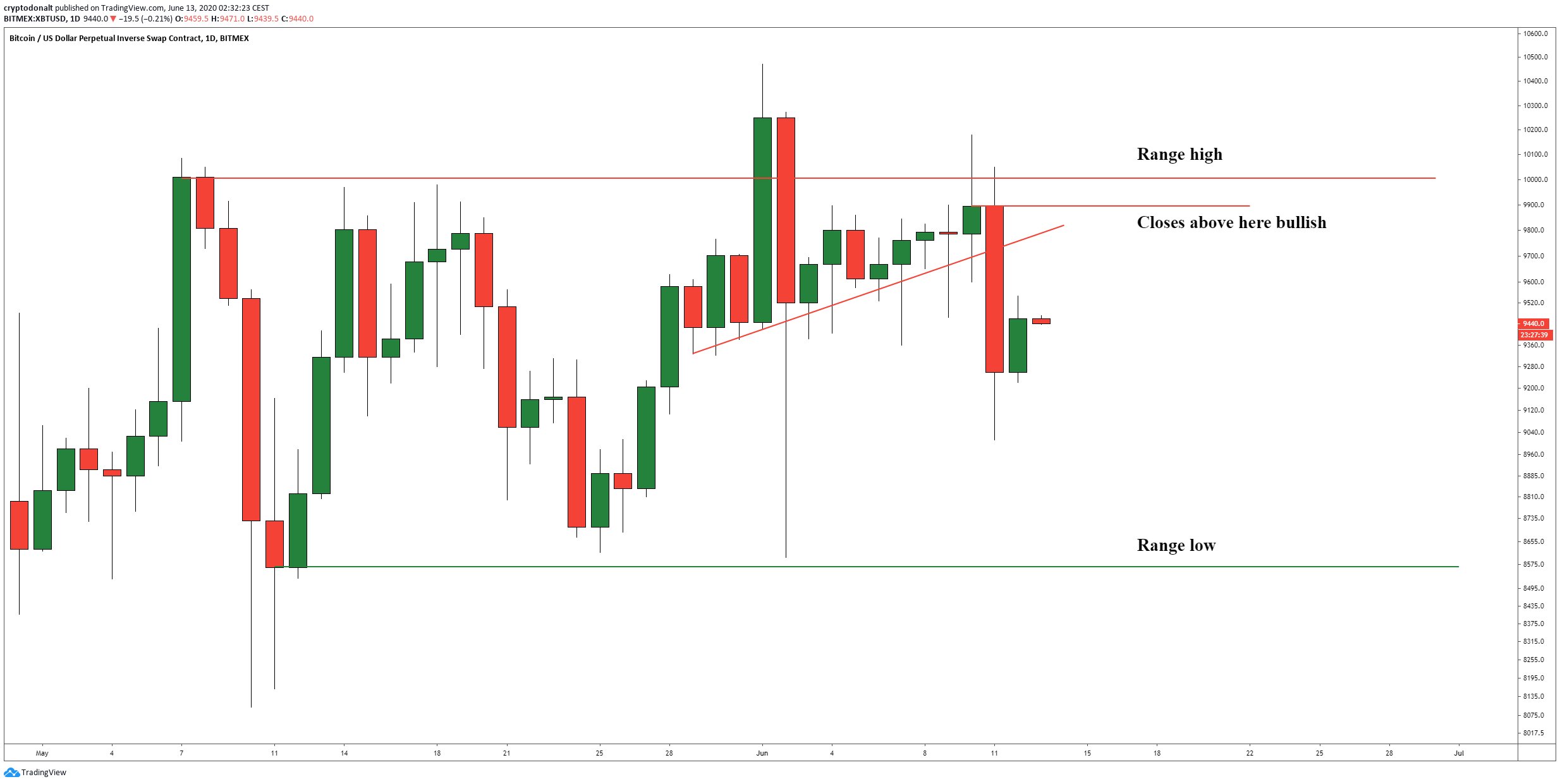 The Uptrend Is Intact
Even though analysts may be charting a drop back towards sub-$9,000 levels, that's not to say that the Bitcoin uptrend has been decisively invalidated.
A cryptocurrency trader shared the chart below after the drop with the following comment:  "This is not 'the big move'. Nothing significant happened."
This was in reference to the fact that while Bitcoin's move lower was violent, the cryptocurrency is still trading in a textbook bullish pattern: an ascending triangle. Ascending triangles are important as they have historically preceded strong BTC breakouts, like at the start of 2019's bull market and earlier this year.
Another analyst identified three more medium-term technical signs suggesting it is safe to "buy the dip." As reported by Bitcoinist previously, they are as follows:
BTC remains above the downtrend that formed during 2019's $14,000 high.
Volume is contracting while BTC trades in a bullish chart pattern, suggesting upward continuation.
The recent price action looks like a period of consolidation during the middle of 2019's rally.
Featured Image from Shutterstock
Price tags: xbtusd, btcusd, btcusdt
Analyst: Bitcoin Is Primed to Drop Under $9,000 Again After the Strong Bounce