Bitcoin has stagnated after surging as high as $11,500 on Monday. As of this article's writing, the asset trades for $10,950 — just under 5% below the local high.
Analysts remain optimistic about BTC, arguing that the asset is poised to rally further in the days ahead.
One trader is predicting that Bitcoin could hit $17,000 in the weeks and months ahead.
This is the same trader that has made historically accurate calls. For instance, the trader predicted BTC would see a V-shaped reversal in March, then it did.
BTC's price action may be somewhat dependent on that of gold, which is has been tracking over recent weeks and months.
Bitcoin Could Hit $17,000 in the Months Ahead: Trader
Bitcoin is on track to surge towards $17,000 by the end of the year, according to a top trader. The trader in question is one who predicted literal hours after Bitcoin crashed to $3,000 in March that a V-shaped reversal would be seen.
As to why he is predicting $17,000, the trader says that this will satisfy an ABC Elliot Wave pattern.
Elliot Wave is a type of technical analysis that predicts markets move in predictable waves that are "related to persistent changes in investor sentiment and psychology."
"$BTC giving the cleanest breakout-retest setup I have seen in a very long time whilst each corrective wave since 4K has been vertical re-accumulation This has all characteristics for a strongly extended fifth – aside from BTC generally loving extended fifths."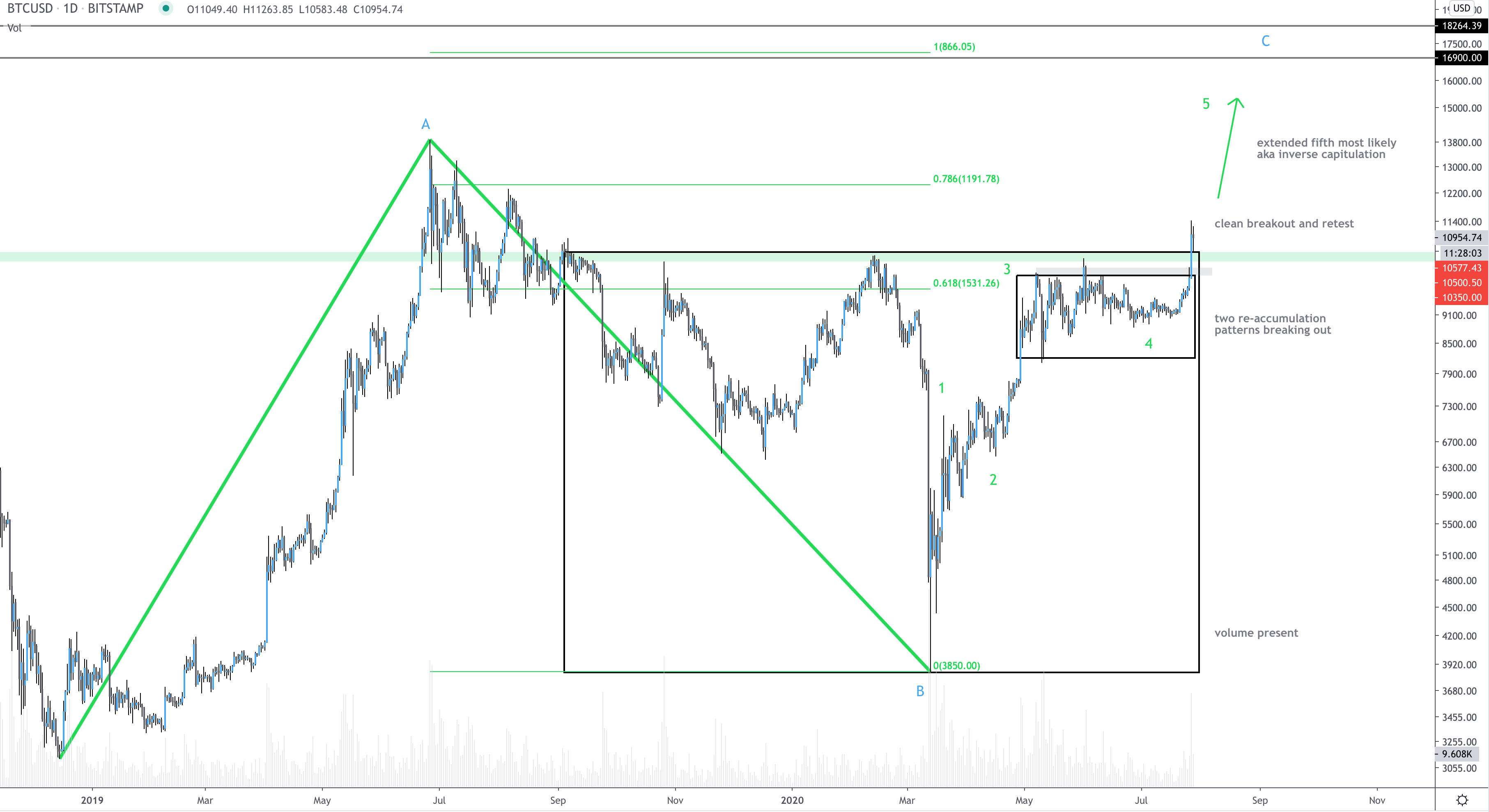 This latest analysis comes shortly after he said that the price of the leading crypto could hit $20,000 in 2020:
"A fair amount of '19/20 Bitcoin accumulation is happening by whales who bought the alt bottom My $BTC best guess for remainder of year: Parabolic 17K rally as alts hit distribution range followed by market wide shakeout, retest of 10.5K and grind to ATH Result: uber rektness."
Also backing this optimism is a fractal of the Nasdaq from the 2008 Great Recession onward. The fractal suggests that BTC will trade at $20,000 by the end of the year.
Bloomberg Analyst Thinks BTC Will Sustain Higher Prices
Mike McGlone, a senior commodity analyst at Bloomberg Intelligence, says that Bitcoin could move higher:
"Bitcoin is more likely to sustain higher levels than the Nasdaq due to increasing demand vs. declining supply and reduced volatility vs. the Nasdaq. Central-bank liquidity and fiscal stimulus may limit equity downside, but it's fuel for bull markets in the quasi-currencies…."
McGlone recently argued that BTC will reach $20,000 by the end of 2020, citing the block reward halving. That's a 80% rally from the current price to the end of the year.
Featured Image from Shutterstock
Price tags: xbtusd, btcusd, btcusdt
Charts from TradingView.com
Analyst Who Predicted Bitcoin's V-Bounce at $3,700 Thinks This Comes Next