It's been an explosive past few weeks for altcoins but not for Bitcoin.
As the leading cryptocurrency has stalled in the $8,000s and $9,000s as BTC investors have found themselves at an impasse, certain altcoins have ripped higher. Just look at the table below, shared by Taha Zafar.
It shows that over the past week and even over the past three months, decentralized finance-focused altcoins such as Aave's LEND and Kyber Network's KNC have dramatically outperformed Bitcoin.
Altcoins, in general, have also outperformed Bitcoin, with Ethereum and other large-caps forcing higher as BTC has stalled.
The chart below of the performances of  Bitcoin, small-cap altcoins, medium-cap altcoins, and large-cap altcoins, which was shared by a data analyst in crypto, displays this trend well.
Some say that this is the start of another "altseason," but there is a growing sentiment that altcoins are poised to correct lower.
Altcoins May Finally Correct Lower After Strong Rally
Analyst Eric "Parabolic" Thies believes that Bitcoin's market dominance is "ready to climb" after finding a local bottom around 66%.
Bitcoin dominance is the percentage of the cryptocurrency market made up of BTC: the lower the percentage, the more altcoins are worth relative to the original digital asset.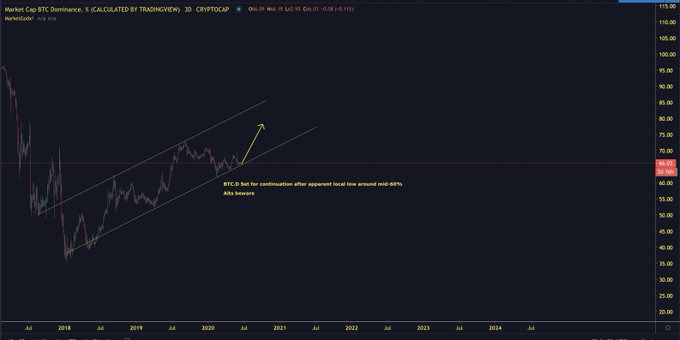 Backing this sentiment, Thies shared the chart above on June 20th.
It shows that after plunging from its May highs, BTC dominance is seemingly poised to reverse higher as the measure holds a crucial macro uptrend and flatlines around 66%.
"#BTC dominance sitting at 66% and ready to climb. This means money will flow out of alts regardless of #BTC direction," Thies explained on the matter.
Bitcoin Stands to Benefit
Bitcoin stands to benefit as the relative value of altcoins against BTC begins to revert to the downside. This is because the only viable way to cash out of a majority of altcoins, especially a majority of those that did well over recent weeks, is to buy the cryptocurrency market's "reserve assets."
This is not a foreign concept.
As reported by Bitcoinist previously, Kelvin "Spartan Black" Koh, a partner at The Spartan Group, said:
"We have seen a major re-rating in many of the smaller altcoins (esp DeFi ones) in the past 4-5 weeks while BTC has been range bound. At some point, the valuation of these alts will start to look frothy and the capital will flow back to BTC."
Featured Image from Shutterstock
Price tags: btcusd, btcusdt, xbtusd
Charts from TradingView.com
Analyst Explains Why Money Is Poised to "Flow Out of Altcoins" Into Bitcoin