When Bitcoin crashed to $3,700 in March, many were quick to throw in the towel.
There was one prominent analyst that said that looking at the charts, he saw a good likelihood the cryptocurrency was to fall under $1,000. That would have marked a more than 70% correction from the capitulation lows.
One trader, though, argued literally hours after $3,700 was hit that Bitcoin price was primed to see a V-shaped reversal to recover the losses it incurred. And as crazy that prediction was at the time, he was right, with BTC rallying back to pre-crash levels six weeks ago in dramatic fashion.
That same analyst is now saying he is "still long."
Bitcoin Price Could "Rocket" In July
The same analyst is "still long" on the cryptocurrency market, noting that there is a possibility that Bitcoin rockets to $17,000 in the months ahead. That would mark an 85% rally from current prices.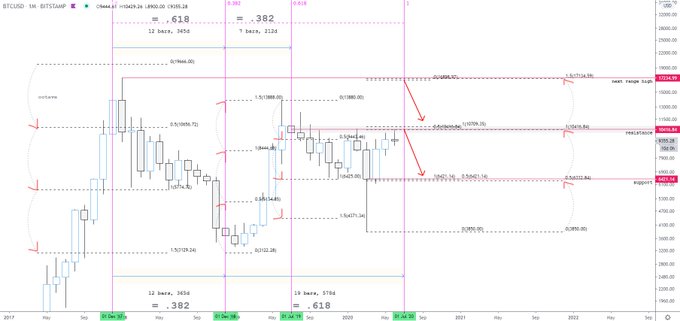 While he is long currently, he does expect Bitcoin to correct lower to conclude the third quarter:
"With or without a final rally, the remainder of the summer seems to be for a correction."
Importantly, if BTC does rocket in the coming months, the analyst's chart indicates that the correction won't be as deep as the cryptocurrency will have found more support.
The analyst suggested that if the rally tops at $10,500, the correction will be to $6,400. And if the rally tops at $17,000, the correction will be to $11,000.
He isn't the first to have suggested that Bitcoin has the potential to fall to $6,400 in the coming months.
The trader that predicted BTC would fall to $6,400 in 2019 months before it happened noted that there is a good likelihood the cryptocurrency re-enters the $6,000s before a long-term rally.
Don't Count Out the Bear Scenario
While the analyst who shared the above chart is "still long," there is a confluence of signs suggesting that the bearish correction scenario has a higher chance of playing out than the correction.
Per previous reports from Bitcoinist, one trader said there are three clear signs that Bitcoin is clearly bearish:
BTC has formed a rounded top after peaking at $10,400 earlier this month. The analyst noted that the exact same pattern was seen in February of this year. That preceded the drop to $3,700 in the weeks that followed.
There is more selling volume than buying volume, forcing prices lower.
The cryptocurrency is currently trading below its local Point of Control.
Adding to this, there are prominent investors expecting the equities market to retrace, forcing cryptocurrencies lower. One investor is Scott Minerd, the global CIO of Guggenheim Partners, who told CNBC that the S&P 500 is reaching bubble levels.
Featured Image from Shutterstock
Price tags: xbtusd, btcusd, btcusdt
Chart from TradingView.com
Analyst Who Predicted Bitcoin's 150% Bounce From March Lows Is "Still Long"