Bitcoin has exploded higher in the past week, moving as high as $15,975.
The coin currently trades for $15,600.
Though, analysts think that the cryptocurrency could drop toward $15,000.
One such analyst that called this is the same one that predicted Bitcoin's V-shaped reversal in March.
Bitcoin Could Retrace Toward $15,000, Analysts Say
Bitcoin has exploded higher in the past week. Since the weekly lows of $13,300 that was triggered due to the election, the coin has exploded as high as $15,975. The coin is up 50% in the past month and above 10% in the past seven days alone.
The price of the leading cryptocurrency currently is $15,600, with Bitcoin facing a slight retracement over the past few days. Bitcoin's drop has resulted in a rally in the price of altcoins, as capital is cycling from BTC profits into other cryptocurrencies.
Despite Bitcoin holding strong in the $15,000 range, some think that a further retracement will follow.
The crypto-asset analyst that predicted Bitcoin would see a V-shaped reversal in March shared the chart below on November 6th. The chart shows that the cryptocurrency is currently trading in the midst of a descending channel pattern, which suggests a move to $15,000 will take place shortly. $15,000 is rather close to the current price but it would still mark a notable retracement from current levels.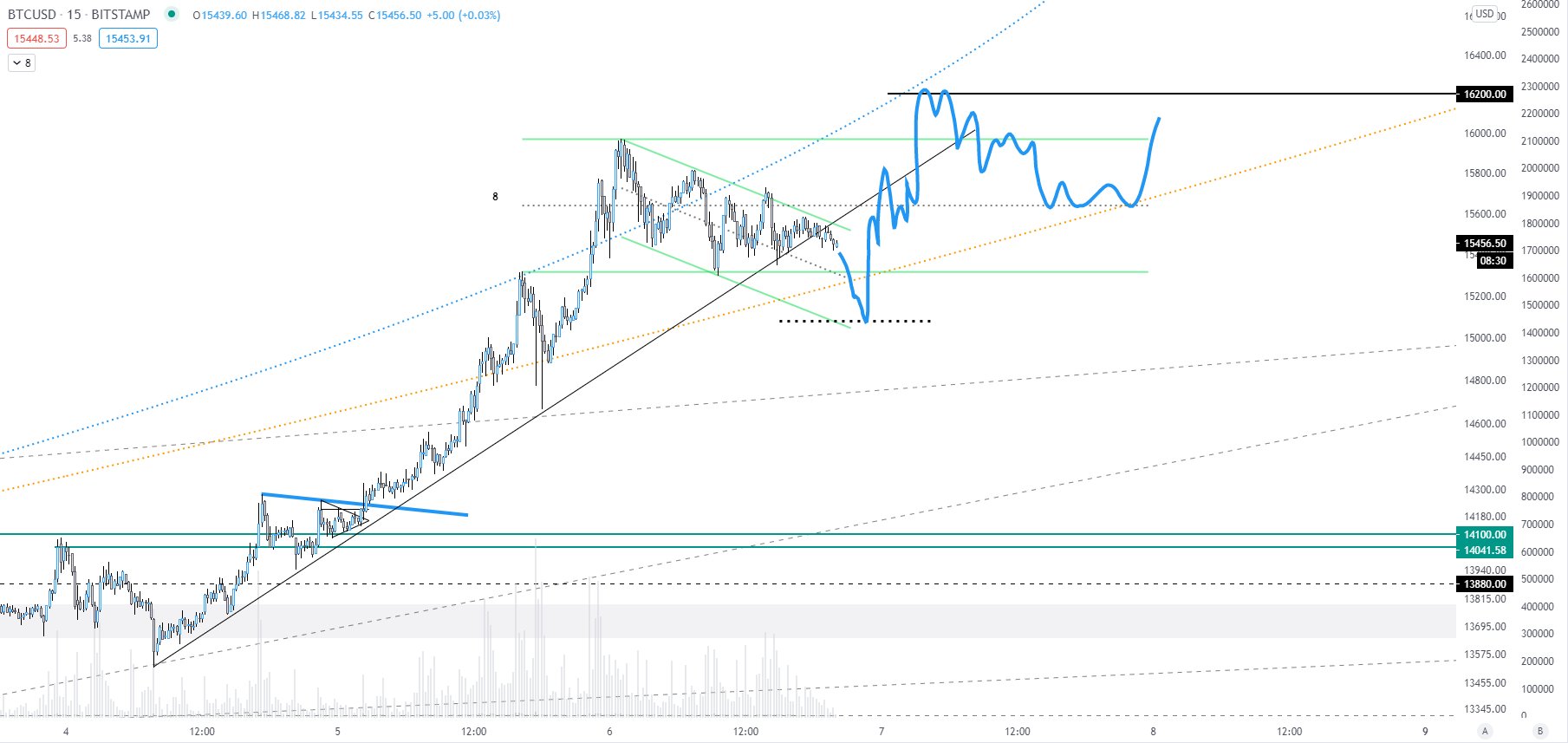 Chart of BTC's price action over the past few days with analysis by crypto trader Bitcoin Jack (@BTC_JackSparrow on Twitter).
Source; BTCUSD from TradingView.com
Of note, the chart does show that after Bitcoin retraces to the $15,000 region, it is likely to spring above $16,000 for the first time since early 2018. The chart shows that the coin will do so by breaking its short-term downtrend and reclaiming some important technical levels on a short-term basis.
Long-Term Bullish
Corroborating the expectations of a further move higher, the long-term trends for Bitcoin remain bullish.
Ikigai Asset Management's Hans Hague recently noted that per his analysis, Square and Grayscale have accumulated $2.3 billion worth of the leading cryptocurrency over the course of Q3 2020. This is relevant because, over that same time frame, Bitcoin miners created over $1 billion worth of BTC.
This means that there was more buying pressure from those two firms alone than natural selling pressure via mining.
"In 2020-Q3, #Bitcoin Miners brought in just under $1 Billion USD. That's new BTC + Fees. Square and Grayscale alone took in $2.3 Billion USD. That's a 1.3 Billion USD Shortfall. Supply and Demand."
Many expect this buying demand to eventually culminate in a rapid surge to new highs as Bitcoin buyers continue to dramatically outweigh sellers.
Featured Image from Shutterstock
Price tags: xbtusd, btcusd, btcusdt
Charts from TradingView.com
Analyst Who Called March's V-Shaped Reversal Says Bitcoin May Drop to $15k