Bitcoin has seen a strong retracement since the Monday highs of $12,500.
As of this article's writing, the leading cryptocurrency trades for $11,550, slightly above the daily lows at $11,500.
BTC is in a weak spot heading into the weekend, as the short-term support in the $11,700-11,800 region has been lost.
A historically accurate analyst remains optimistic that Bitcoin is in a good spot despite the ongoing retracement.
The analyst in question thinks BTC could fall in the coming days but that it will eventually bounce back and return to $13,000.
Bitcoin Could Soon Surge Towards $13,000: Historically Accurate Analyst
Bitcoin's ongoing drop has been scaring many crypto traders. Perusing forums where cryptocurrency traders meet, there are many analyses being shared suggesting that BTC could soon drop towards the pivotal $10,500 support level, then even lower.
But according to a historically accurate analyst, this isn't likely to pan out.
He noted in an analysis published on August 21st that Bitcoin is poised to drop towards the low-$11,000s, where there is pivotal support, before moving higher towards $13,000 by the first week of September:
"$btc is looking pretty bang average here, this is still my core scenario and the good news is there's a lot of support at 11.3k and 11k, these are areas I will be buying, I do not think this run is over yet, however, there are probably still some breakout buyers yet to be shaken out."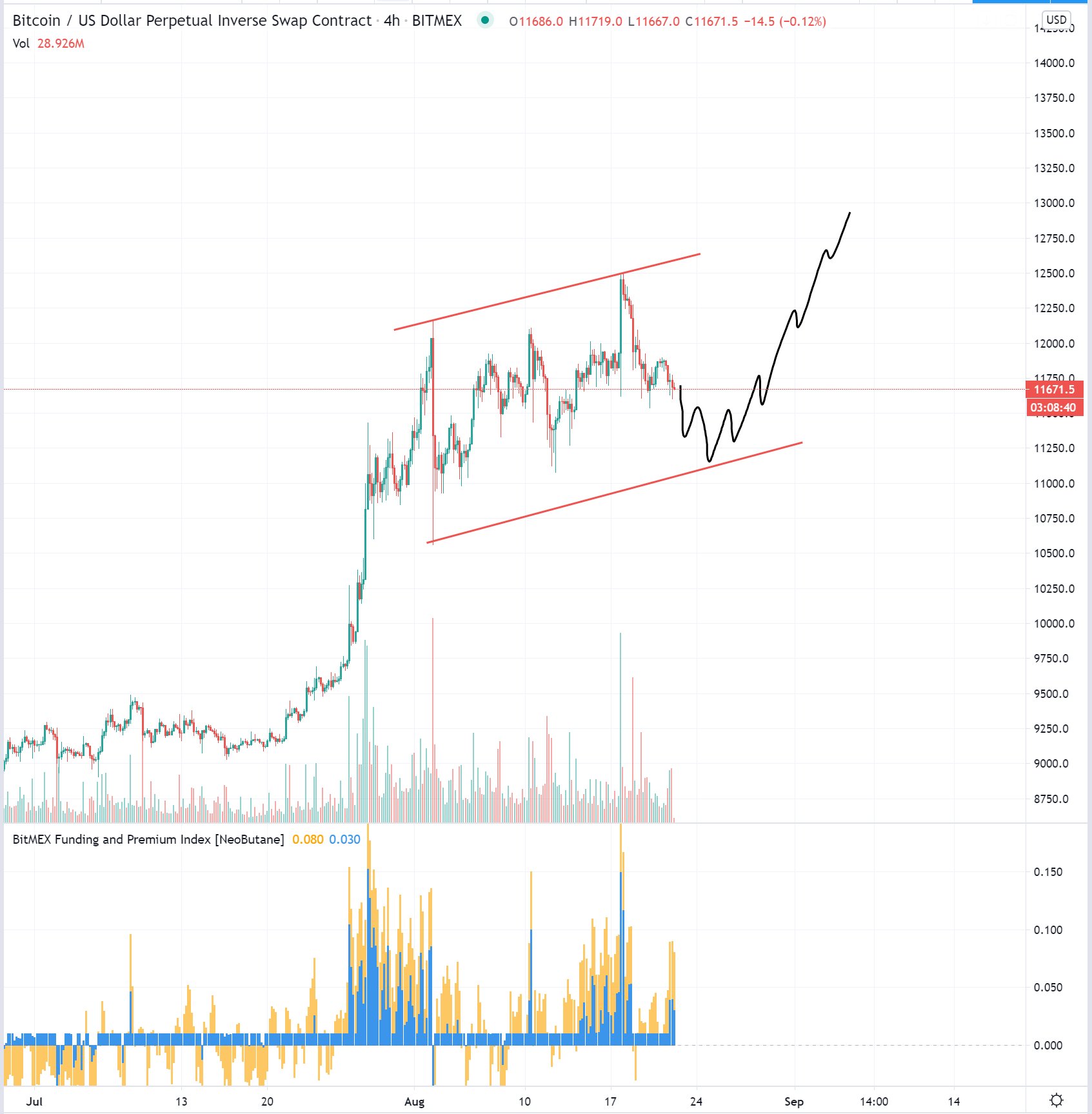 Chart of BTC's price action over the past few weeks with an analysis by crypto trader
"SmartContracter" (Twitter handle). Chart from TradingView.com
The trader that shared this analysis is the same one that predicted Bitcoin would bottom 2018's bear market at $3,200 six months before it actually did. He was seemingly the only one who made such an accurate prediction during the bear market.
Fundamentals Also Suggest More Upside Is Imminent
The fundamentals also suggest that Bitcoin is poised to move higher in the weeks ahead, likely above the local high at $12,500 that was established on Monday.
Prominent Bitcoin proponent "Vortex" noted that there are three clear signs that Bitcoin is primed to begin a "multi-year bull run" that is reminiscent of the one seen from 2015 to 2017.
These signs are as follows:
The adoption of Segregated Witness has reached an all-time high due to the implementation of the technology by service providers.
The hash rate of the Bitcoin network has reached a new all-time high.
More than half of all BTC in circulation has not moved in a year or more, which is important as the last time this metric was this high, the last bull run began.
Price tags: xbtusd, btcusd, btcusdt
Charts from TradingView.com
Photo by Afonso Coutinho on Unsplash
Analyst Who Predicted 2018's Bottom Predicts Bitcoin Could Hit $13,000