Few expected Bitcoin to bounce back after the crash in March. The cryptocurrency had basically halved within a single 24-hour time frame, leaving many convinced that the asset's life span was over.
But one trader predicted a reversal. He published a tweet amid the downturn noting that by the end of May or June, he expected Bitcoin to be trading at $10,000. At the time he posted the chart, the world was in chaos, with few knowing what would happen due to the pandemic.
That same trader now says that Bitcoin's fundamentals are stronger than ever.
Bitcoin's Fundamentals Are Better Than Ever
The trader recently published a thread on Twitter outlining some of the many reasons why Bitcoin is more bullish than ever before. The following are some of those reasons:
JP Morgan analysts are now bullish on Bitcoin, arguing that some investors are starting to see the coin as an alternative to gold.
Billionaire investors, both in Silicon Valley and Wall Street, are starting to acquire Bitcoin in mass. Stanley Druckenmiller, one of the world's best asset managers, is the latest billionaire to have joined the party.
PayPal now supports cryptocurrency
Iran's central bank is now dealing in Bitcoin, which some say may trigger other central banks to acquire the coin.
Grayscale is buying Bitcoin due to institutional demand for the cryptocurrency.
Technicals Also Bullish
Underscoring these fundamental trends is a positive technical outlook for the flagship cryptocurrency.
He recently shared the chart seen below, which shows that Bitcoin is likely to move toward $17,000 after the bounce at $14,300 last week.
Bitcoin rallying to $17,000 from the current levels would result in almost a 10% rally from current price levels:
"Breakout, retest, strong volume sweep down, retraced the entire volume zone and more. More dump would surprise me. Breakout trading time, above red. 15-15.3 would be an ideal place to bid."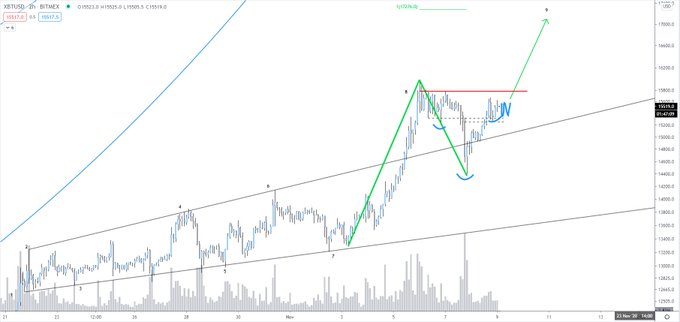 Chart of BTC's price action over the past two weeks with analysis by crypto trader Bitcoin Jack (@BTC_JackSparrow on Twitter).
Source: BTCUSD from TradingView.com
Other analysts are also eyeing a move toward $17,000 in the near future. One of the aforementioned analyst's contemporaries recently stated:
"I think there's a decent chance bitcoin breaches $17k and even into $18k in the next 10 days (next weekly candle). We are due for a decent mid timeframe blowoff and chill for a bit and wicking into the ATH cluster just feels so right… The path to $18k or ATH wick seems the path of least resistance. Nobody wants to sell until then and everybody is buying dips. Easiest way to create market balance is to do it quickly then let the market chop around a bit."
When exactly Bitcoin reaches $17,000, though, remains to be seen. Many thought it was going to be today with the breakout in the morning toward $15,900, though that ended abruptly.
Featured Image from Shutterstock
Price tags: xbtusd, btcusd, btcusdt
Charts from TradingView.com
Analyst Who Predicted Bitcoin's V-Shaped Reversal Explains Why BTC Is Bullish