Bitcoin has dropped since its highs of $15,975 set last week.
The coin trades for $15,300, which is still far above the lows of $14,300.
Analysts think that Bitcoin could resume its ascent above $16,000 in the coming days as the price holds the $15,000 region.
A trader shared a chart showing that Bitcoin could soon pass $16,000 for the first time since early 2018, then continue higher once it takes that support.
Per that chart, BTC remains in an uptrend, having bounced since the aforementioned lows and holding key support levels.
Boosting the bull case is the news that Stanley Druckenmiller, a legendary macro investor, has bought Bitcoin.
He explained in a CNBC interview that he thinks Bitcoin has "a lot of attraction in it" from millennial investors and "West Coast money."
Bitcoin Could Soon Move Above $16,000: Analysts
Analysts think that Bitcoin could resume its ascent above $16,000 in the coming days as the price holds the $15,000 region. One crypto-asset analyst recently shared the chart below, noting that the cryptocurrency is primed to move higher due to the coin remaining in a clear uptrend.
The chart suggests that Bitcoin could soon pass $16,000 for the first time since early 2018, then continue higher once it takes that support.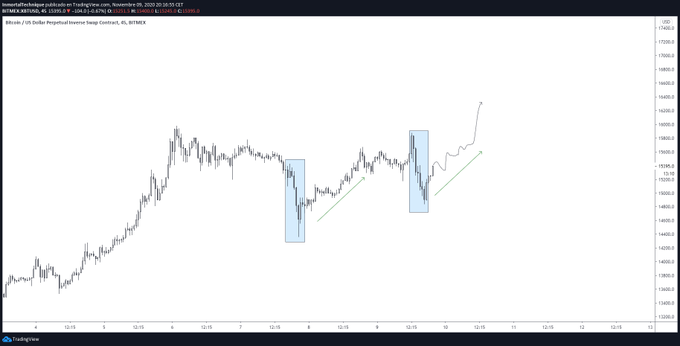 Chart of BTC's price action over the past few weeks with analysis by crypto trader Inmortal Technique (@inmortalcrypto on Twitter).
Source: BTCUSD from TradingView.com
Boosting the BTC bull case is the news that Stanley Druckenmiller, a legendary macro investor, has bought Bitcoin. He explained in a CNBC interview that he thinks Bitcoin has "a lot of attraction in it" from millennial investors and "West Coast money."
He added that the cryptocurrency should perform even better than gold moving forward, as long as gold actually works well as an inflation bet. Druckenmiller added that from how he sees it, the U.S. dollar is likely to slide against foreign currencies, boosting the BTC bull case moving forward.
Not Everyone is Convinced
Not everyone is convinced of this rally, though.
One crypto-asset analyst shared the chart seen below just recently. It shows that while Bitcoin has bounced strongly from its local lows, a strong drop may follow due to the trend of the price of Bitcoin on Coinbase compared to the price of the cryptocurrency on perpetual futures markets.
Chart of BTC's price action over the past few weeks with analysis of the futures market by crypto trader Byzantine General (@byzgeneral on Twitter).
Source: BTCUSD from TradingView.com
Photo by pixpoetry on Unsplash
Price tags: xbtusd, btcusd, btcusdt
Charts from TradingView.com
Analysts Eye Bitcoin Move Past $16,000 as Buying Pressure Continues