new day, a new initial coin offering. But this time one that looks very prospective: HydroMiner.org; mining in the Austrian Alps! They are already listed on various ICO lists. So let us begin.
[Note: This is a press release.]
---
What is HydroMiner?
HydroMiner is a cryptocurrency mining company using green energy drawn from hydropower stations in the Alpine region of Europe. Hydropower is generally thought to be one of the most effective and lowest-cost renewable energy resources. It is environmentally friendly, carbon-neutral and natural. Hydropower allows them to manage resources sustainably and enables low-emission production.
Not only is hydropower mining ecologically friendly, but it is also profitable.
Expected ROI = 8 months.
What is the Current Status?
The mining roots of the Damblon sisters go back to 2015 when they built their first rig. Since then they have managed to scale the operation by renting out two hydropower plants and connecting more than 1000 GPUs in sea freight containers.
Why an ICO?
This initial coin offering is about scaling the mining operation by acquiring more hydro-power-plants and thus enabling eco-friendly mining and profits for investors.
So the token created out of their ICO will be used to generate a % for the token holders, while the HydroMiner team gets a share of this mining profits. For this to be fair, the team behind HydroMiner will be:
Ordering Equipment
Assembling hardware
Maintaining and renewing the hardware
Identifying and leasing new hydropower stations
H2O Tokens
Token Price
Normal (none discounted Price): 0.01 ETH
Presale
Start: Monday, September 25, 2017 at 10:00 UTC
How Long: 1 week.
Minimum participation: $10.000
Discount for the Pre-Sale: 25%
Token Cap: 500.000 H2O Tokens (1.500 ETH)
Their Initial Coin Offering (ICO)
Start: Tuesday, October 3, 2017 at 10:00 UTC
How Long: 5 weeks
Minimum participation: 1 Token
Discount for the Pre-Sale: From 20% to 0%
Week one: 20%
Week two: 15%
Week three: 10%
Week four: 5%
Week five: 0%
Token Cap: 25.500.000 H2O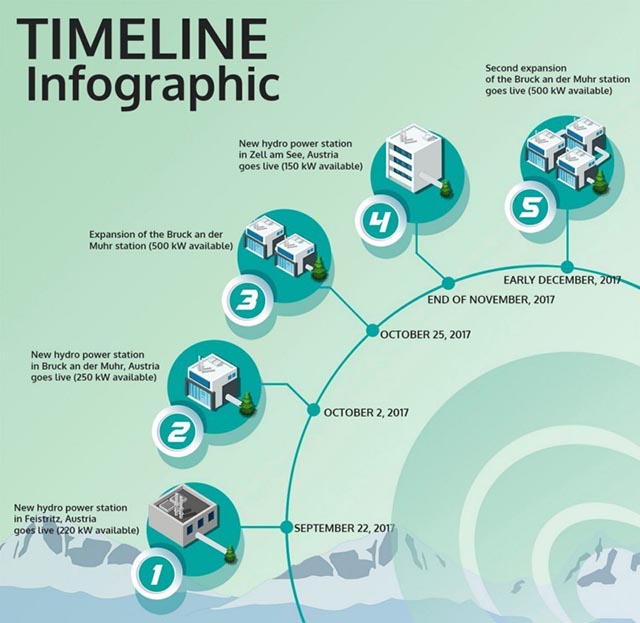 Timeline
To stay up to date with the latest news, subscribe online at https://www.hydrominer.org/token-sale/
---
Images courtesy of HydroMiner